Fox & Hounds, 178 Forest Lane, Forest Gate.
Forest Gate pub history index
The address changes again to 178 Forest Lane by 1906. It is listed as 11 Prospect Row in the 1851 census. * At Prospect Place, Forest Lane in the 1870's and at 145 Forest Lane by 1886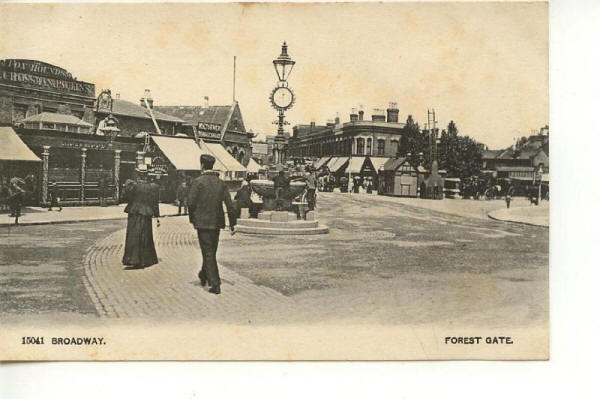 Fox & Hounds, Broadway, Forest Gate
Kindly provided by Colleen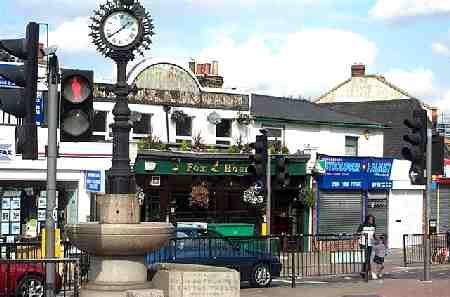 27th September 2002
Taken by Brian Berry
The following entries are in this format:
Year/Publican or other Resident/Relationship to Head and or Occupation/Age/Where Born/Source.
1851/Charles Atkin/beer retailer/../../Post Office Directory *

1851/Mary Atkin/Beer Shop Keeper (Widow)/40/Suffolk/Census *
1851/Sarah Elizabeth Atkin/Daughter/13/Clerkenwell, Middlesex/Census
1851/Thomas Atkin/Son/10/Rotherham, Yorkshire/Census
1851/Mary Ann Atkin/Daughter/8/Walthamstow, Essex/Census
1851/William Cornelius Atkin/Son/5/West Ham, Essex/Census
1851/John Charles Atkin/Son/2/West Ham, Essex/Census

1856/Mrs Mary Atkin/beer retailer/../../Post Office Directory *

1861/Mary Atkin/Beer Shop Keeper (Widow)/50/Barnardiston, Suffolk/Census *
1861/Mary A. Atkin/Daughter/18/Walthamstow, Essex/Census
1861/William C. Atkin/Son/15/Forest Gate, Essex/Census
1861/John C. Atkin/Son/12/Forest Gate, Essex/Census

1862/Mrs Mary Atkins/beer retailer/../../Post Office Directory *

1867/Mrs Mary Atkin/beer retailer/../../Post Office Directory *

1871/Mrs Mary Atkin/beer retailer/../../Post Office Directory *

1871/Alfred Boby/Beer House Keeper/40/Lavenham, Suffolk/Census ****
1871/Sarah E Boby/Wife/32/London, Middlesex/Census
1871/Lewis Boby/Son/10/London, Middlesex/Census
1871/Frederick Boby/Son/8/London, Middlesex/Census
1871/Robert Boby/Son/6/London, Middlesex/Census
1871/Alice Boby/Daughter/1/London, Middlesex/Census

13/9/1872/Edward Stone/Beer Retailer/../../Petty Sessions ****

1874/Edward Stone/Beer Retailer/../../Post Office Directory ****

1878/Edward Stone/Beer Retailer/../../Post Office Directory ****

1886/Edward Stone/Beer Retailer/../../Post Office Directory ****

1896/George Offwood/beer retailer/../../Kelly's Directory *

1906/Emanuel Enrique Caminara/beer retailer/../../Kelly's Directory *

1911/George Woolley/Manager of Beer House/41/Stifford, Essex/Census ****
1911/Louisa Winifred Woolley/Wife, Assistant/34/Kingham, Norfolk/Census
1911/George Prosper Woolley/Son, Junior Clerk/18/Marylebone, London/Census
1911/Amelia Kezia Woolley/Daughter/12/Tidal Basin, Essex/Census
1911/Ernest Ebbon Browme/Barman/20/Camberwell, London/Census
1911/Gertrude Kane/General Servant/17/Leytonstone, Essex/Census

1914/George Woolley/beer retailer/../../Kelly's Directory *

1917/George Woolley/beer retailer/../../Kelly's Directory *

1922/George Woolley/beer retailer/../../Kelly's Directory *

1934/Wm C Hyam/Beer Retailer/../../Kellys Directory ****

1938/William C. Hyam/beer retailer/../../Post Office Directory *

1944/Thos A Chandler/Beer Retailer/../../Post Office Directory ****

1988 - 90/Mr F Bright/../../../Watney Truman publicans list



* Provided by Ewan

**** Provided by Kevan