Bell Inn, High street, Great Bardfield
Great Bardfield pub history index
Directory of Pubs in the UK, historical public houses, Taverns, Inns, Beer Houses and Hotels in Essex . The Essex listing uses information from census, Trade Directories and History to add licensees, bar staff, Lodgers and Visitors.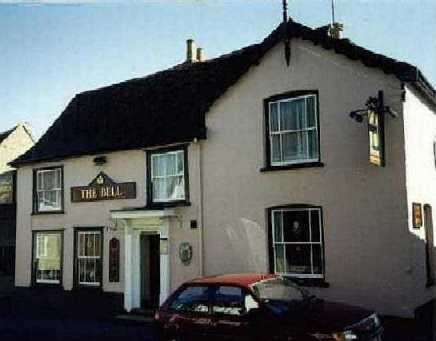 Bell Inn, High street, Great Bardfield - in 1992
Taken by Penny Crofts Allen. Penny's parents ran the Bell in the 1960's
The following entries are in this format:
Year/Publican or other Resident/Relationship to Head and or Occupation/Age/Where Born/Source.
1851/Samuel Dodd/../../../Post Office

1852/J. Dodd/../../../Kelly's*

1855/J. Dodd/../../../Kelly's*

1861/John Millbank/innkeeper/32/Little Bardfield, Essex/Census ***
1861/Emma Millbank/wife/28/Hempstead, Essex/Census
1861/Henry Millbank/grocer's apprentice/16/Finchingfield, Essex/Census

1862/John Milbank/../../../Kelly's

1867/Abraham Ward/../../../Post Office

1870/Mrs. Charlotte Ward/../../../Kelly's

1871/Mrs. Charlotte Ward/../../../Post Office

1871/James Wash/publican/48/Toppesfield, Essex/census ***
1871/Louise Wash/wife/40/Toppesfield, Essex/Census
1871/Edwin Wash/son, wheelwright/19/Toppesfield, Essex/Census
1871/Eliza Wash/niece/17/Finchingfield, Essex/Census

1874/Thomas Smith/../../../Kelly's

1878/Thomas Adcock/../../../Kelly's

1881/Thomas Adcock/Publican/71/Saling, Essex/Census
1881/Susan Adcock/Wife/56/Tilbury, Essex/Census
1881/Harriett Aylon/General Servant/18/Twickenham, Middlesex/Census
1881/John Perry/Lodger, Timber Buyer/30/../Census

1882/Thomas Adcock/../../../Kelly's

1886/Thomas Adcock/../../../Kelly's

1890/Mrs. Susan Adcock/../../../Kelly's

1891/Susan Adcock/Licensed Victualler, Widow/63/Tilbury, Essex/Census
1891/Agnes L Adcock/Grand Daughter, Assistant/18/Great Saling, Essex/Census
1891/Harriet H Adcock/Grand Daughter, Dressmaker/17/Great Saling, Essex/Census
1891/Winifred B Adcock/Grand Daughter/15/Great Saling, Essex/Census
1891/Thomas D Adcock/Grandson/12/Stratford, Essex/Census

1894/Mrs. Susan Adcock/../../../Kelly's

1895/Mrs. Susan Adcock/../../../Kelly's

1898/Sidney Ben Holland/Plumber & Painter/../../Kelly's

1899/Sidney Ben Holland/Plumber & Painter/../../Kelly's

1901/Sidney Ben Holland/House Decorator/31/Stetchwort, Cambs/Census**
1901/Jane Ann Holland/Wife/36/Manchester, Lancs/Census
1901/Dorothy I. Holland/Daughter/20/Great Bardfield, Essex/Census
1901/Francis A. Holland/Daughter/10/Great Bardfield, Essex/Census
1901/Edith Townsend/Domestic Nursemaid/14/Great Bardfield, Essex/Census
1901/Maria Green/General Servant/13/Great Bardfield, Essex/Census

1902/Sidney Ben Holland/Plumber & Painter/../../Kelly's

1906/Sidney Ben Holland/Plumber & Painter/../../Kelly's

1908/Sidney Ben Holland/Plumber & Painter/../../Kelly's

1910/Sidney Ben Holland/../../../Kelly's

1911/Sidney Ben Holland/Publican & House Decorator/41/Stetchworth/Census
1911/Jane Ann Holland/Wife/47/Manchester, Lancashire/Census
1911/Dorothy Mabel Holland/Daughter/12/Great Bardfield, Essex/Census
1911/Frances Holland/Daughter/11/Great Bardfield, Essex/Census
1911/Arthur Paget Holland/Son/9/Great Bardfield, Essex/Census
1911/Agnes Robinson/Visitor/61/Peasonhall, Suffolk/Census

1912/Sidney Ben Holland/../../../Kelly's

1914/Alfred Venn/../../../Kelly's

1922/Harry Tarvin/../../../Kelly's

1925/Harry Tarvin/../../../Kelly's

1929/Percy G. Deekes/Proprietor/../../Kelly's

1933/Ernest John Hibbitt/Proprietor/../../Kelly's

1937/Ernest John Hibbitt/Proprietor/../../Kelly's



* Provided by the Pubs, Inns and Taverns Index for England, 1801-1900

** Provided by Adrian Gray

*** Provided by John Mead


And Last updated on: Wednesday, 03-Jul-2019 18:28:50 BST