Crown, Great Bardfield
Great Bardfield pub history index
The address appears to be Brook street in the 1891 census
Directory of Pubs in the UK, historical public houses, Taverns, Inns, Beer Houses and Hotels in Essex . The Essex listing uses information from census, Trade Directories and History to add licensees, bar staff, Lodgers and Visitors.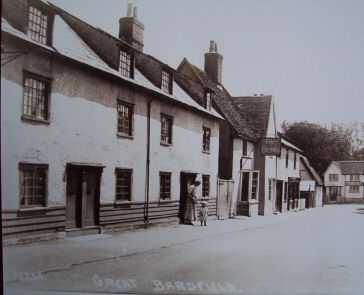 The Crown, Crown Street, Great Bardfield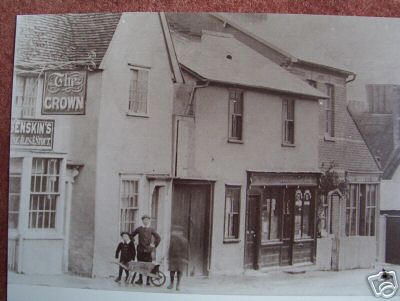 The Crown & T J Daveys shop, Great Bardfield
Both kindly provided by Colleen
The following entries are in this format:
Year/Publican or other Resident/Relationship to Head and or Occupation/Age/Where Born/Source.
1881/Robert Cowper/Fitter & Publican/34/Romford, Essex/Census
1881/Susannah Cowper/Wife/32/Chelmsford, Essex/Census
1881/Kate Cowper/Daughter/5/Chelmsford, Essex/Census

1891/Eli Howland/Beer House Keeper & Dealer/34/Little Saling, Essex/Census
1891/Catherine Howland/Wife/33/Little Saling, Essex/Census

1901/Albert Ward/Inn Keeper & Coal Dealer/33/Glemsford, Suffolk/Census
1901/Annie Ward/Wife/28/Corsham, Wiltshire/Census
1901/Maud Ward/Daughter/2/Great Bardfield, Essex/Census
1901/Florence Ward/Daughter/10 months/Great Bardfield, Essex/Census

1902/Albert Ward/beer retailer/../../Kelly's

1911/George Chapman/Beer House Keeper/64/Finchingfield, Essex/Census
1911/Hannah Chapman/Wife/65/Finchingfield, Essex/Census
1911/Bertie Chapman/Son, Milkman & Roadman/26/Finchingfield, Essex/Census
1911/Walter John Bright/Lodger, Labourer on Farm, Widow/48/Great Bardfield, Essex/Census



And Last updated on: Wednesday, 03-Jul-2019 18:28:50 BST