Horse Shoes, Great Bardfield
Great Bardfield pub history index
Directory of Pubs in the UK, historical public houses, Taverns, Inns, Beer Houses and Hotels in Essex . The Essex listing uses information from census, Trade Directories and History to add licensees, bar staff, Lodgers and Visitors.
Also known as the Three Horse Shoes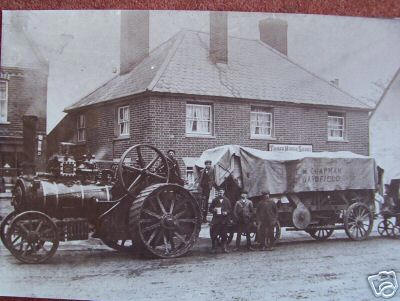 The Three Horse Shoes & E W Chapmans' Traction Engine, Great Bardfield
Kindly provided by Colleen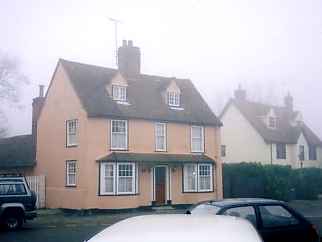 February 2003
Taken by Adrian Gray
The following entries are in this format:
Year/Publican or other Resident/Relationship to Head and or Occupation/Age/Where Born/Source.
1878/George Wenden Stock/Beer Retailer & Bricklayer/../../Kelly's

1881/George W. Stock/Publican & Bricklayer/59/Sampford, Essex/Census
1881/Rhoda Stock/Wife/60/Bardfield, Essex/Census
1881/Naomi Stock/Daughter, Dressmaker/18/Bardfield, Essex/Census

1882/George Wenden Stock/Beer Retailer & Bricklayer/../../Kelly's

1886/George Wenden Stock/Beer Retailer & Bricklayer/../../Kelly's

1890/George Wenden Stock/Beer Retailer & Bricklayer/../../Kelly's

1891/George W Stock/Bricklayer/69/New Sampford, Essex/Census
1891/Rhoda Stock/Wife/68/Little Bardfield, Essex/Census

1894/George Wenden Stock/Beer Retailer & Bricklayer/../../Kelly's

1895/George Wenden Stock/Beer Retailer & Bricklayer/../../Kelly's

1937/Henry Austin Robinson/../../../Kelly's

Note: Premises only named in 1881 & 1937