White Hart, High street, Great Bardfield
Great Bardfield pub history index
Directory of Pubs in the UK, historical public houses, Taverns, Inns, Beer Houses and Hotels in Essex . The Essex listing uses information from census, Trade Directories and History to add licensees, bar staff, Lodgers and Visitors.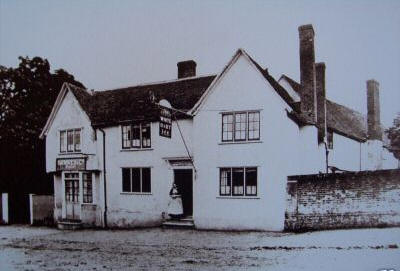 White Hart, Great Bardfield circa 1878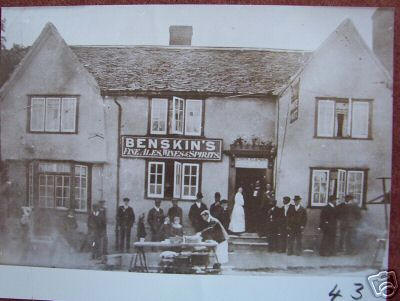 White Hart, Great Bardfield - Edwin Clapson name over the door
Both kindly provided by Colleen
Now a private residence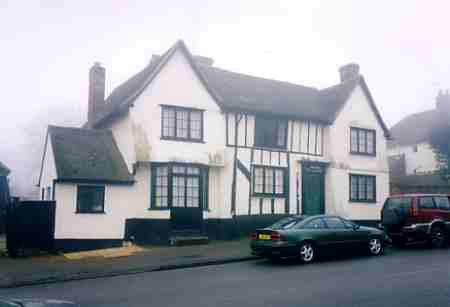 White Hart, High street, Great Bardfield in February 2003
Taken by Adrian Gray
The following entries are in this format:
Year/Publican or other Resident/Relationship to Head and or Occupation/Age/Where Born/Source.
October 1757/The Creditors of Thomas White, late of Great-Bardfield, in Essex, Surgeon, … at Richard Townsend's, at the Sign cf the New White Hart, in Great- Bardfield, … where they may be assured of meeting with all agreeable Entertainment, civil …/General Evening Post *+

1769/Robert Richmond/Licensee/../../Alehouse Recognizances**

1775/Robert Richmond/Licensee/../../Alehouse Recognizances**

1779/Robert Richmond/Licensee/../../Alehouse Recognizances**

1785/Robert Richmond/Licensee/../../Alehouse Recognizances**

1791/Robert Richmond/Licensee/../../Alehouse Recognizances**

1832-3/Thomas Norris/../../../Pigot's

1839/Thomas Norris/../../../Pigot's

1841/Thomas Norris/head/innkeeper/48/Essex/Census ***
1841/Elizabeth Norris/wife/35/Essex/Census
1841/Emma Norris/20//Essex/Census
1841/Elizabeth Norris/daughter/15/Essex/Census
1841/Susan Norris/daughter/11/Essex/Census
1841/Samuel Clarke//60/Essex/Census
1841/William Rumsey/servant/40/Essex/Census

1845/Charles Nunn/../../../Post Office

1848/William Warters/Victualler/../../White's

1851/William Warters/Horse Dealer/../../Post Office

1852/W. Warters/../../../Kelly's*

1855/W. Lamprell/../../../Kelly's*

1861/John Crabb/innkeeper/45/Harlow, Essex/Census ***
1861/Eliza Crabb/wife/42/Bishops Stortford, Hertfordshire/Census
1861/William Crabb/son, saddler/21/Bishops Stortford, Hertfordshire/Census
1861/Henrietta Crabb/daughter, scholar/13/Bishops Stortford, Hertfordshire/Census
1861/John S Smith/lodger, corn factor/56/Stebbing, Essex/Census
1861/William Aylett/lodger, groom/17/Great Bardfield, Essex/Census
1861/Charles Child/lodger, coachman/21/Takeley, Essex/Census

1862/John Crabb/../../../Kelly's

1867/John Crabb/../../../Post Office

1870/John Crabb/../../../Kelly's

1871/John Crabb/../../../Post Office

1871/John Crabb/publican/55/Harlow, Essex/Census ***
1871/Eliza Crabb/wife/51/Bishops Stortford, Hertfordshire/Census
1871/Henrietta Crabb/daughter, barmaid/23/Bishops Stortford, Hertfordshire/Census
1871/William Aylett/lodger, valet/24/Great Bardfield, Essex/Census

1874/John Crabb/../../../Kelly's

June 1878/Transfer from John Crabb, deceased to Mary Ann Williams/Petty Sessions///Chelmsford Chronicle ****

1878/Mrs. Mary Ann Williams/../../../Kelly's

1881/James Goldstone/Saddler, Publican & Parish Clerk/52/London/Census
1881/Elizabeth Goldstone/Wife/47/Shalford, Essex/Census
1881/Jessie Goldstone/Daughter, Barmaid/14/Bardfield, Essex/Census
1881/Jim Goldstone/Son, Saddler/13/Bardfield, Essex/Census
1881/Fritz Goldstone/Son/11/Bardfield, Essex/Census
1881/Eva Goldstone/Daughter/11/Bardfield, Essex/Census
1881/Ethel Goldstone/Daughter/5/Bardfield, Essex/Census
1881/Mary A. Goldstone/Niece/10/London/Census

1882/James Goldstone/Carrier/../../Kelly's

1886/James Goldstone/Saddler/../../Kelly's

1890/James Goldstone/../../../Kelly's

1891/James U Goldstone/Licensed Victualler & Dealer, Widow/63/Bermondsey, London/Census
1891/Jessie Goldstone/Daughter, Housekeeper/24/Great Bardfield, Essex/Census
1891/Jim Goldstone/Son, Harness Maker/23/Great Bardfield, Essex/Census
1891/Ethel Goldstone/Daughter/15/Great Bardfield, Essex/Census
1891/Charles Holland/Lodger, Drover/45/Great Bardfield, Essex/Census
1891/John Bush/Lodger, Greengrocer/38/Barkingside, Essex/Census

October 1891/Transfer from James Goldstone to Herbert Bothamley, late of Foalmire, Cambridgeshire////Chelmsford Chronicle ****

1894/Edwin Clapson/../../../Kelly's

1895/Edwin Clapson/Carrier/../../Kelly's

1898/Edwin Clapson/Carrier/../../Kelly's

1899/Edwin Clapson/Carrier/../../Kelly's

1901/Edwin Clapson/Carrier & Jobmaster/42/Shadoxhurst, Kent/Census
1901/Alice Clapson/Wife/40/Kemsing, Kent/Census
1901/Ted Clapson/Son, Jobmasters Assistant/18/Sittingbourne, Kent/Census
1901/Ann Clapson/Daughter/12/Sittingbourne, Kent/Census
1901/Hilda Clapson/Daughter/9/Sittingbourne, Kent/Census
1901/Edwin Clapson/Son/7/Great Bardfield, Essex/Census
1901/Harry Clapson/Son/5/Great Bardfield, Essex/Census
1901/Charles Clapson/Son/3/Great Bardfield, Essex/Census
1901/Ellen Clapson/Daughter/1/Great Bardfield, Essex/Census

1902/Edwin Clapson/Carrier/../../Kelly's

1906/Edwin Clapson/Carrier/../../Kelly's

1908/Edwin Clapson/Carrier/../../Kelly's

1910/Ted Clapson/../../../Kelly's

1911/Ted Clapson/Job Master & Publican/29/Sittingbourne, Kent/Census
1911/Hilda Clapson/Sister, Housekeeper/29/Kemsing, Kent/Census
1911/Edwin Clapson/Brother, Coachman/18/Bardfield, Essex/Census
1911/Harry Clapson/Brother, Coachman/16/Bardfield, Essex/Census
1911/Stanley Clapson/Brother, Coachman/20/Kemsing, Kent/Census

1912/Ted Clapson/../../../Kelly's

1914/Ted Clapson/../../../Kelly's

1917/Ted Clapson/../../../Kelly's

1922/Edwin James Clapson/../../../Kelly's

1925/Edwin James Clapson/../../../Kelly's

1929/Edwin James Clapson/../../../Kelly's

1933/Edwin James Clapson/../../../Kelly's

1937/Albert Clapson/../../../Kelly's
* Provided by the Pubs, Inns and Taverns Index for England, 1801-1900

*+ Provided by Brenda Jones

** Provided by Ken Harrison

*** Provided by John Mead

**** Provided by Brenda Jones