Victory, Plough Road, Great Bentley
Great Bentley pub history index
Great Bentley in earlier mappings
Directory of Pubs in the UK, historical public houses, Taverns, Inns, Beer Houses and Hotels in Essex . The Essex listing uses information from census, Trade Directories and History to add licensees, bar staff, Lodgers and Visitors.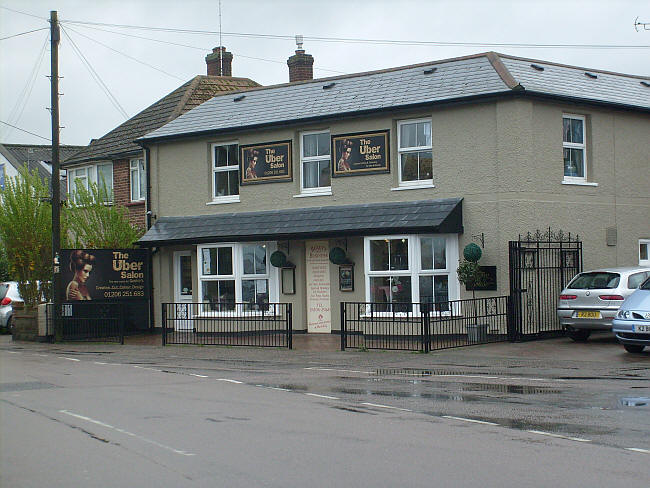 Victory, Plough Road, Great Bentley - in 2012
Kindly provided by Mick Hearn
Year/Publican or other Resident/Relationship to Head and or Occupation/Age/Where Born/Source.
1862/Jeremiah Hayho/Beer Retailer & Chimney Sweeper/../../Kelly's

1867/Jeremiah Hayho/Beer Retailer & Chimney Sweeper/../../Post Office

Note: Premises not named prior to 1870

1870/Jeremiah Hayho/Chimney Sweeper/../../Kelly's

1871/Jeremiah Hayhoe/chimney sweep/40/Weeley/Essex/Census
1871/Julia Hayhoe/wife/37/Great Bentley/Essex/Census
1871/Elizabeth White/niece/barmaid/15/Deal/Kent/Census

1871/Jeremiah Hayho/Chimney Sweeper/../../Post Office

1874/Jeremiah Hayhoe/Chimney Sweeper/../../Kelly's

1878/John B. Doyland/../../../Kelly's

1881/William J. Nevard/Innkeeper & Threshing Machine Driver/25/Langham, Essex/Census
1881/Mary Agnes Nevard/Wife/25/Bures, Suffolk/Census
1881/Lilly Agnes Nevard/Daughter/1/Great Bentley, Essex/Census
1881/William J. Nevard/Son/2m/Great Bentley, Essex/Census
1881/William Scossen/Father, Formerly Bootmaker/71/Bures, Suffolk/Census
1881/Hannah Smith/General Servant/14/Weeley, Essex/Census

1882/John William Nevard/../../../Kelly's

1886/John William Nevard/../../../Kelly's

1890/William John Nevard/../../../Kelly's

1891/William J. Nevard/Licensed Victualler/35/Langham, Essex/Census
1891/Mary A. Nevard/Wife/35/Bures St. Mary, Suffolk/Census
1891/Lily A. Nevard/Daughter/11/Great Bentley, Essex/Census
1891/William J. Nevard/Son/10/Great Bentley, Essex/Census
1891/Frank A. Nevard/Son/8/Great Bentley, Essex/Census
1891/Sidney T. Nevard/Son/7/Great Bentley, Essex/Census
1891/Violet Nevard/Daughter/4/Great Bentley, Essex/Census
1891/Harry J. Nevard/Son/2/Great Bentley, Essex/Census
1891/Walter S. Nevard/Son/4m/Great Bentley, Essex/Census

1894/William John Nevard/../../../Kelly's

1895/William John Nevard/../../../Kelly's

1898/William John Nevard/../../../Kelly's

1899/William John Nevard/../../../Kelly's

1902/Thomas Slowgrove/Bricklayer/../../Kelly's

1906/Mrs. Eliza Slowgrove/../../../Kelly's

1908/Mrs. Eliza Slowgrove/../../../Kelly's

1910/Mrs. Eliza Slowgrove/../../../Kelly's

1912/Alfred William Henry Hailstone/../../../Kelly's

1914/William Hockley/../../../Kelly's

1917/William Hockley/../../../Kelly's

1922/Mrs. William Hockley/../../../Kelly's

1925/Harry Robert Taylor/../../../Kelly's

1929/Ernest B. Cook/../../../Kelly's

1933/Ernest B. Cook/../../../Kelly's

1937/Ernest B. Cook/../../../Kelly's



And Last updated on: Sunday, 19-Jul-2020 16:26:49 BST