Pub history and pub wiki
Black Boy, Great Bromley
Great Bromley pub history index
Directory of Pubs in the UK, historical public houses, Taverns, Inns, Beer Houses and Hotels in Essex . The Essex listing uses information from census, Trade Directories and History to add licensees, bar staff, Lodgers and Visitors.
Latterly known as the Old Black Boy, but now known as the Old Court House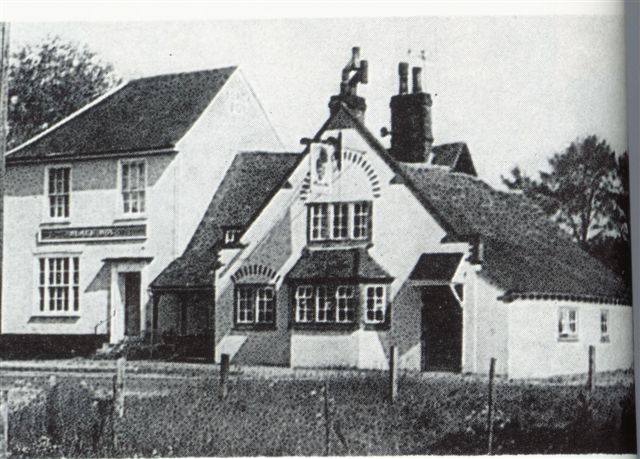 Kindly donated by Colleen
The following entries are in this format:
Year/Publican or other Resident/Relationship to Head and or Occupation/Age/Where Born/Source.
1841/John Lugar/Inn Keeper/20/Essex/Census ****
1841/Sarah Ann Lugar/../20/Essex/Census
1841/James Graving/Male Servant/40/Essex/Census
1841/Ann Pendrey/Female Servant/15/Essex/Census
+ Boarders

1845/John Chapman/../../../Post Office

1848/John Stevenson/Victualler/../../White's

1851/John Stevenson/../../../Post Office

1851/Thomas Leggett/innkeeper and wheelwright/40/Gislingham, Suffolk/Census **
1851/Maria Leggett/wife/33/Bury St Edmunds, Suffolk/Census **
1851/Thomas Leggett/son/08/Gislingham, Suffolk/Census **
1851/Edwin Leggett/son/04/Gislingham, Suffolk/Census **
1851/Mary Leggett/daughter/01/Gislingham, Suffolk/Census **
1851/Lucy Boyd/visitor/20/Bury St Edmunds, Suffolk/Census **
1851/Elizabeth Leggett/house servant/20/Gislingham, Suffolk/Census **
1851/George Welby/ostler/18/Gislingham, Suffolk/Census **

1855/G Philbrick/../../../Post Office

1861/Thomas Simons/Victualler/52/Great Bromley, Essex/Census ****
1861/Elizabeth A Simons/Wife/36/Great Bromley, Essex/Census
1861/Peace Simons/Visitor, House Proprietor, Widow/71/Little Bentley, Essex/Census
1861/Thomas Womer/Hostler/15/Great Bromley, Essex/Census
1861/James Knowles/Lodger, Cattle Drover/27/Little Bentley, Essex/Census
1861/Hezekiah Beckworth/Lodger, Thatcher/45/Tolleshunt D'Arcy, Essex/Census

1862/James Croply/../../../Kelly's

1867/William Scott Donkins/../../../Post Office

1870/John Church/../../../Kelly's

1871/John Church/../../../Post Office

1871/John Church/Inn Keeper/37/Little Bentley, Essex/Census ****
1871/Hariett Church/Wife/47/Wivenhoe, Essex/Census
1871/Dinah Goodrum/Relative, widow/80/East Donyland, Essex/Census
1871/Robert Frost/Lodger, Ag Labourer, Widow/78/Great Bromley, Essex/Census

1874/Theophilus Ruffles/../../../Kelly's

1878/Maurice Goss/../../../Kelly's

1881/Maurice Goss/Dealer & Innkeeper/40/Bradfield, Essex/Census
1881/Sarah Goss/Wife/30/Ardleigh, Essex/Census
1881/Herbet Goss/Son/11/Ardleigh, Essex/Census
1881/Florence Goss/Daughter/9/Ardleigh, Essex/Census
1881/Edith Goss/Daughter/5/Great Bentley, Essex/Census
1881/Gertrude Goss/Daughter/3/Great Bromley, Essex/Census
1881/Eliza Soucten/General Servant/14/Little Bentley, Essex/Census
1881/Joseph Causton/Lodger, Agricultural Labourer/69/Tendring, Essex/Census

1882/William Frederick Barker/../../../Kelly's

1886/William Frederick Barker/../../../Kelly's

1891/William F Barker/Licensed Victualler/33/Ardleigh, Essex/Census ****
1891/Emily Barker/Wife/35/West Bergholt, Essex/Census
1891/Mabel Lily Barker/Daughter/2/Great Bromley, Essex/Census

1894/Joseph Hazell/../../../Kelly's

1895/Joseph Hazell/../../../Kelly's

1898/Joseph Carver/../../../Kelly's

1899/Joseph Carver/../../../Kelly's

1901/James Carver/Horseman on Farm & Beer Retailer, Widow/64/Great Oakley, Essex/Census ****
1901/Jane Carver/Daughter, Housekeeper/36/Great Oakley, Essex/Census

1902/James Carver/../../../Kelly's

1912/James Carver/../../../Kelly's

1917/Arthur George Mason/../../../Kelly's

1925/George Catchpool/../../../Kelly's

1933/Henry Daines/../../../Kelly's



** Provided by John Mead
Search for a pub, an address or person
And Last updated on: Wednesday, 03-Jul-2019 18:28:54 BST