Kings Head, North Street, Dunmow
Great Dunmow pub history index
Apparently now demolished.
Directory of Pubs in the UK, historical public houses, Taverns, Inns, Beer Houses and Hotels in Essex . The Essex listing uses information from census, Trade Directories and History to add licensees, bar staff, Lodgers and Visitors.
Also known as the Old Kings Head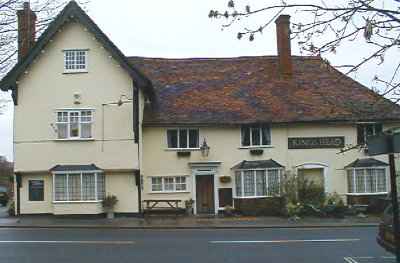 Kings Head, North Street, Dunmow
10th March 2001
The following entries are in this format:
Year/Publican or other Resident/Relationship to Head and or Occupation/Age/Where Born/Source.
1814/George Sandicott/Licensee/../../Alehouse Recognizances**

1815-7/William Cock/Licensee/../../Alehouse Recognizances**

1822/William Cock/../../../Pigot's*

1823-4/William Cock/Tavernkeeper/../../Pigot's

1826-8/William Cock/Licensee/../../Alehouse Recognizances**

1828-9/William Cock/../../../Pigot's

1832-3/James Morrey/../../../Pigot's

1839/William Thorn/../../../Pigot's

1845/William Thorn/../../../Post Office

1848/Roger Haywood/../../../White's

1851/Roger Hayward/../../../Post Office

1855/R. Hayward/../../../Kelly's*

1861/Roger Hayward/Inn Keeper/64/Suffolk/Census ***
1861/Sarah Hayward/Wife/58/Stebbing, Essex/Census
1861/Emma Hayward/Daughter/24/Halstead, Essex/Census
1861/James Smith/Lodger, Travelling Confectioner/43/Essex/Census
1861/Ellen Smith/wife/39/../Census
1861/unknown child Smith/Son/10/../Census

1862/Roger Hayward/../../../Post Office

1867/Mrs. Sarah Hayward/../../../Post Office

1870/John Read/../../../Kelly's

1871/John Read/../../../Post Office

1874/Mrs. Sarah Read/../../../Kelly's

1878/Mrs. Sarah Read/../../../Kelly's

1881/John Kendall/Licensed Victualler/62/Castle Hedingham, Essex/Census
1881/Susan Kendall/Wife/61/Bures Hamlet, Essex/Census
1881/Louisa Kendall/Daughter, Formerly Laundress/32/Hatfield Broad Oak, Essex/Census
1881/Ernest Kendall/Grandson/12/Great Dunmow, Essex/Census
1881/Frank Kendall/Grandson/6/Great Dunmow, Essex/Census
1881/William Savill/Ostler/17/Thaxted, Essex/Census
1881/Sarah A. Tyler/General Servant/15/Great Dunmow, Essex/Census

1882/John Kendall/../../../Kelly's

1886/James Clark/../../../Kelly's

1890/James Clark/../../../Kelly's

1894/James Clark/../../../Kelly's

1895/James Clark/../../../Kelly's

1898/James Clark/../../../Kelly's

1899/James Clark/../../../Kelly's

1902/James Clark/../../../Kelly's

1906/William Henry Cooke/../../../Kelly's

1908/James P. Watson/../../../Kelly's

1910/James F. Watson/../../../Kelly's

1912/James Manton/../../../Kelly's

1914/James Munton/../../../Kelly's

1917/William G. Saggs/../../../Kelly's

1922/Albert Stacey/../../../Kelly's

1925/Albert Stacey/../../../Kelly's

1929/Albert Stacey/../../../Kelly's

1933/Albert Stacey/../../../Kelly's

1937/Albert Stacey/../../../Kelly's

1956/S. Hoy/Landlord/../../Notebook of a Director of Dunmow Brewery 1957-1967


* Provided by the Pubs, Inns and Taverns Index for England, 1801-1900

** Provided by Mike Smith

*** Provided by Kevan