Search London wiki and Pub wiki history sites
Headley Arms, Great Warley
The Headley Arms is currently a Chinese Restaurant where you can eat all you like for a set price (2013). The Headley Arms was previously the Magpie until at least 1845.
Great Warley pub history index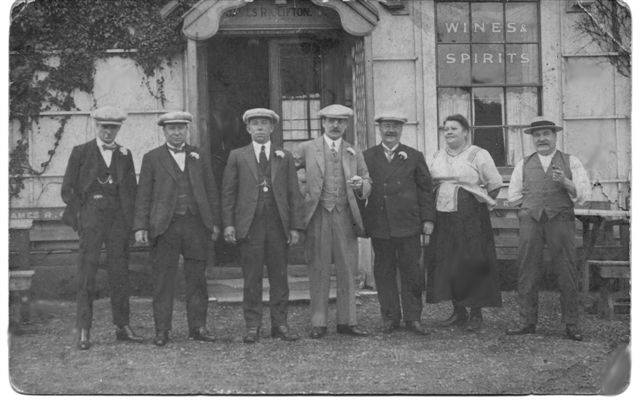 My g grandfather, Allan George (Bob) Carter was a publican and had the Walnut Tree and later the Angel and Trumpet in Stepney, Middlesex. Here is a picture of him and his two sons on a day trip to a pub, which appears to be the Headley Arms, as the name of the landlord appears to be James R Clifton (name over the door and on the bench).
We have a long family connection with the trade. My gggg grandfather, William Carter, was an Ostler at a pub in Wickford, Essex between about 1810 and 1850. ***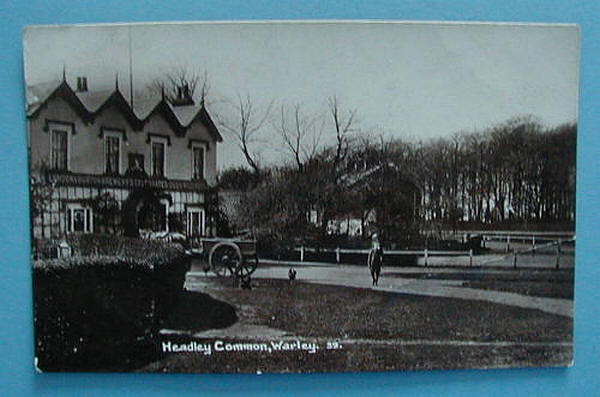 The Headley Arms, Headley Common, Warley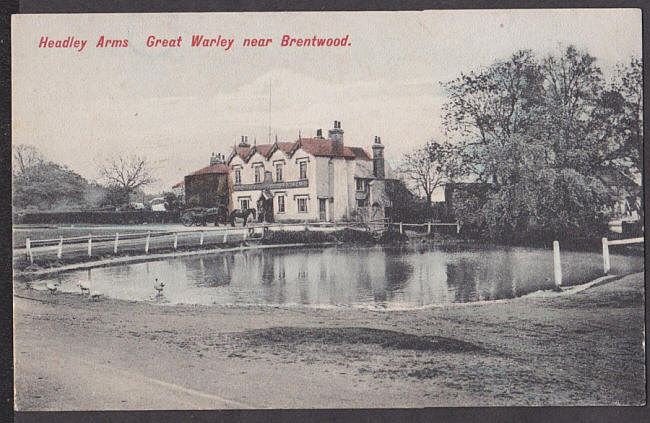 Headley Arms, Great Warley near Brentwood
Both kindly provided by Colleen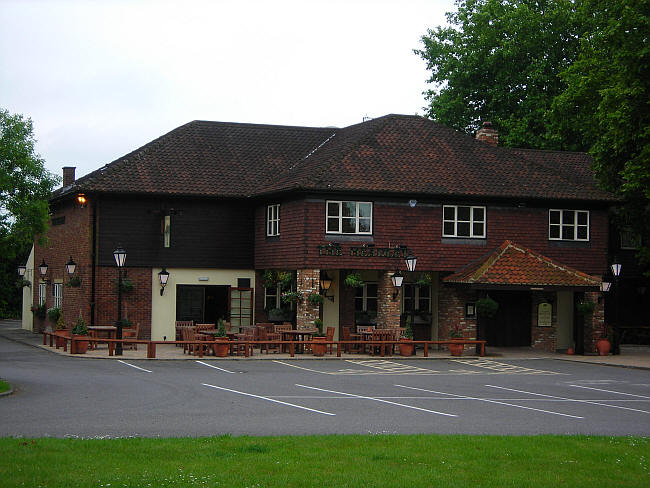 Headley Arms, Great Warley - in 2005
The following entries are in this format:
Year/Publican or other Resident/Relationship to Head and or Occupation/Age/Where Born/Source.
July 1846/Mr Hammond/Meeting of the Brentwood Branch of the Essex Provident Society at the Headly Arms (late the Magpie Inn)/../../Chelmsford Chronicle *+

1848/John Hammond/Builder & Victualler/../../White's

1851/John Hammond/../../../Post Office

1851/John Hammond/victualler, builder, farmer (widower)/39/Great Warley, Essex/Census **
1851/Henry John Hammond/son, scholar/09/Great Warley, Essex/Census **
1851/Sarah Hammond/daughter, scholar/08/Great Warley, Essex/Census **
1851/Walter Thomas Hammond/son, scholar/07/Great Warley, Essex/Census **
1851/George Hammond/son, scholar/05/Great Warley, Essex/Census **
1851/Frederick Hammond/son/04/Great Warley, Essex/Census **
1851/Sarah Green/sister in law, housekeeper/38/South Weald, Essex/Census **
1851/Ann Radley/house servant/18/Great Warley, Essex/Census **
1851/William Roberts/errand boy/18/Brompton, Kent/Census **

10th February 1854/Death of Mrs Hammond, wife of John Hammond/../../../Essex Standard *+

1855/J Hammond/../../../Post Office ****

27th December 1856/John Hammond/Outgoing Licensee/../../Essex Standard *+

27th December 1856/William Fitch/Incoming Licensee/../../Essex Standard *+

1861/Robert Day/Publican/39St Herts, Hunton//Census ****
1861/Mary A Day/Wife/39/Paddington, Beds/Census
1861/Robert Day/Son/14/St Clements, Middx/Census
1861/Maria Wilkins/Sister in Law, Dress Maker/34/Paddington, Beds/Census
1861/Eliza Wilkins/Sister in Law, Bar Maid/24/Paddington, Beds/Census

1862/Robert Day/../../../Kelly's

1867/Robert Day/../../../Post Office

1870/Robert Day/../../../Kelly's

1871/Robert Day/../../../Post Office

1874/Robert Day/../../../Kelly's

1878/Richard Comber/../../../Kelly's

1881/Richard Comber/Licensed Victualler/51/Ardingly, Sussex/Census
1881/Charlotte Comber/Wife/42/Raskham, Sussex/Census
1881/Harold Comber/Son/13/Parham, Sussex/Census
1881/Lily Comber/Daughter, Scholar/8/Great Warley, Essex/Census
1881/James Redgewell/Lodger, Gardener & Laborer/71/Great Totham, Essex/Census
1881/Mary Redgewell/Lodger/70/Great Braxted, Essex/Census
1881/William Kempster/Lodger, Retired Publican/51/Hornchurch, Essex/Census
1881/Catherine Kempster/Lodger/49/Great Warley, Essex/Census

1882/William Kempster/../../../Kelly's

1886/Jones Brothers/../../../Kelly's

1890/Albert Carey/../../../Kelly's

1891/Richard G. Rider/Licensed Victualler/47/Islington, London/Census
1891/Emma C. Rider/Wife/48/Woodbridge, Suffolk/Census
1891/Charles B. Perle/Boarder, 2nd Lieutenant, Essex Regiment/21/Hanover Square, London/Census
1891/Edward L. Calveley/Boarder, 2nd Lieutenant, Essex Regiment/26/Paraquay/Census

1894/John Alfred Leach Munday/../../../Kelly's

1895/John Alfred Leach Munday/../../../Kelly's

1898/William Parrish/../../../Kelly's

1899/William Parrish/../../../Kelly's

1901/Charles Curry/Licensed Victualler/55/Shoreditch, London/Census
1901/Bessie A. Curry/Wife/49/Wick St. Lawrence, Somerset/Census
1901/Lilly B. Curry/Daughter/21/Wood Green, Middlesex/Census
1901/Ernest A. Curry/Son, Gardener/17/Wood Green, Middlesex/Census
1901/Millicent A. Ives/General Servant/15/Colchester, Essex/Census

1902/Charles Curry/../../../Kelly's

1906/Charles Curry/../../../Kelly's

1908/Charles Curry/../../../Kelly's

1910/Charles Curry/../../../Kelly's

1911/Charles Curry/Licensed Victualler/65/Shoreditch, Middlesex/Census ****
1911/Betsy Anne Curry/Wife/59/Wick St Lawrence, somerset/Census
1911/Emily Anne Smith/Daughter, Widow/38/Clerkenwell, Middlesex/Census
1911/Bessie Florence Mansfield/Daughter/35/Crouch End, Middlesex/Census
1911/Mary Ann Curry/Mother in Law, Widow/92/Bleadon, Somerset/Census
1911/Frederick William Smith/Grandson, Gardener/17/Ponders End, Middlesex/Census
1911/Elsie Mabel Smith/Grand Daughter/13/Tottenham, Middlesex/Census
1911/Alfred John Harrison/Boarder, Staff Sergeant Pay Corps, widow/31/Pateley Bridge, Yorkshire/Census

1912/Charles Curry/../../../Kelly's

My grandmother lived in The Headley in her teenage years with her 9 brothers and sisters. John Holloway was her father and my Great grandfather. John was the licensee, born in 1865 we think, and was therefore aged 49 in 1914 as listed on your known residents. He lost his licence eventually because he let people in after hours! There is another good picture of the Headley circa 1955 in the Francis Frith Collection. *

1914/John Holloway/../../../Kelly's

1917/John Holloway/../../../Kelly's

1922/Mrs. Mary Ann Barton/../../../Kelly's

1925/James Richard Clifton/../../../Kelly's

1929/James Richard Clifton/../../../Kelly's

1933/A. J. Busby/../../../Kelly's

1937/Arthur John Busby/../../../Kelly's



* Provided by Zina Preston

*+ Provided by Ian Miles

** Provided by John Mead

*** Provided by Kevin Carter

**** Provided by Kevan