White Hart, Hare Street / Main Road, Romford
Also see the History of Romford
Although the White Hart is demolished a long time ago, it must be at the same site as the current Archers. I will add this to the Romford pages.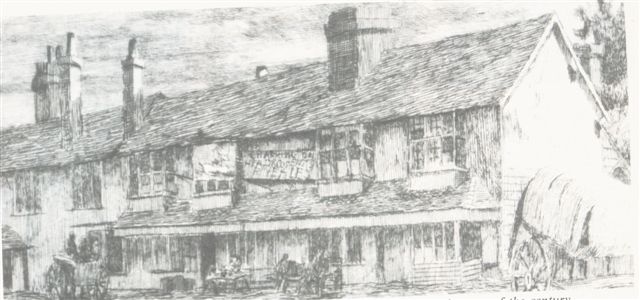 Demolished about 1900
Kindly provided by Colleen
The following entries are in this format:
Year/Publican or other Resident/Relationship to Head and or Occupation/Age/Where Born/Source.
1826/Rd Sharp/../../../Pigot's

1828-9/Richard Sharpe/../../../Pigot's

1832-3/Richard Sharpe/../../../Pigot's

1839/Richard Sharpe/../../../Pigot's

1845/Richard Sharpe/../../../Post Office

1848/Richard Sharpe/../../../White's

1851/Richard Sharpe/Farmer/../../Post Office

1851/Richard Sharp/Inn Keeper/82/Sandhurst, Kent/Census
1851/Susanna Sharp/Wife/72/Upminster, Essex/Census
1851/Jane Sharp/Daughter/56/Romford, Essex/Census
1851/James Pratt/Ostler/21/Stock, Essex/Census
1851/Rosina Ann Thomas/Visitor, Dress maker/19/Woolwich, Kent/Census

1852/R. Sharpe/../../../Kelly's*

1855/R. Sharpe/../../../Kelly's*

1861/James Lines/Publican/42/Bramford, Suffolk/Census
1861/Mary Ann Lines/Wife/33/Stedbrook, Suffolk/Census
1861/George Lines/Son/19/Romford, Essex/Census
1861/William Lines/Son/3/Romford, Essex/Census
1861/Ester Ellen Lines/Daughter/9 months/Romford, Essex/Census
1861/Eliza Buldens/Servant/13/Hornchurch, Essex/Census

1862/William Estaugh/../../../Kelly's

1863/William Eastaugh/../../../White's

1867/William Estaugh/../../../Post Office

1870/William Estaugh/../../../Kelly's

1871/William Estaugh/../../../Post Office

1871/William Estaugh/Publican/47/Sudbourne. Suffolk/Census**
1871/Mary A. Easthaugh/Wife/39/Romford, Essex/Census
1871/Francis H. Easthaugh/Son/5/Romford, Essex/Census
1871/Edgar Easthaugh/Son/3/Romford, Essex/Census
1871/Charles Moletto? Easthaugh/Son/11m/Romford, Essex/Census
1871/Sophia Whitehead/13/General Servant/Romford, Essex/Census
1871/John Oliver/Visitor/13/Romford, Essex/Census
1871/Phillip Mead/Lodger/21/Labourer/Romford, Essex/Census
1871/Thomas Mead/Lodger/19/Labourer/Chelmsford, Essex/Census
1871/William Ramsey/Lodger/55/Labourer/Suffolk/Census

1874/William Estaugh/../../../Kelly's

1878/William Estaugh/../../../Kelly's

1881/William Estaugh/Publican/60/Suffolk/Census
1881/Mary A. Estaugh/Wife/49/Romford, Essex/Census
1881/Francis H. Estaugh/Son/15/Romford, Essex/Census
1881/Edgar Estaugh/Son/13/Romford, Essex/Census
1881/Herbert Estaugh/Son/8/Romford, Essex/Census
1881/John Royston/Lodger, Blacksmith/19/Bethnal Green, Middlesex/Census
1881/Walter Withy/Lodger, Boot Maker/30/Shenfield, Essex/Census
1881/John Thurlow/Lodger, Colt Breaker/54/Diss, Norfolk/Census

1882/William Estaugh/../../../Kelly's

22/03/1883/Mary Ann Estaugh/../../../Petty Sessions Victuallers Records

1886/Exors. of William Estaugh/../../../Kelly's

04/02/1886/Thomas Staines (as exor)/../../../Petty Sessions Victuallers Records

29/04/1886/Edward Veyse/../../../Petty Sessions Victuallers Records

1890/Edward Vyse/../../../Kelly's

1891/Edward Vyse/Innkeeper/45/Redgrave, Suffolk/Census
1891/Ann Vyse/Wife/40/Spam(?) Lane, Staffordshire/Census
1891/Rowland C. Vyse/Son, Assistant/19/Redgrave, Suffolk/Census
1891/Harry J. Vyse/Son, Chemists Assistant/17/Redgrave, Suffolk/Census
1891/Bassett G. Vyse/Son/13/Redgrave, Suffolk/Census

09/03/1893/George Saggers/../../../Petty Sessions Victuallers Records

25/01/1894/Davey Shaw/../../../Petty Sessions Victuallers Records

1894/Pain Brothers/../../../Kelly's

1895/Pain Brothers./../../../Kelly's

19/09/195/Pain Ada/../../../Petty Sessions Victuallers Records



* Provided by the Pubs, Inns and Taverns Index for England, 1801-1900

** Provided by CG