George Hotel, High Street, Harlow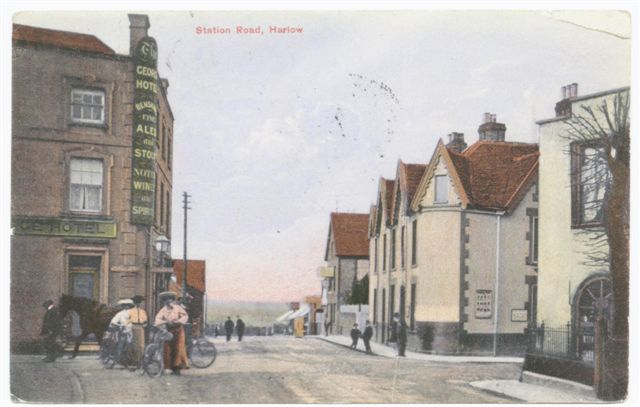 The George, an old coaching inn, pre 1908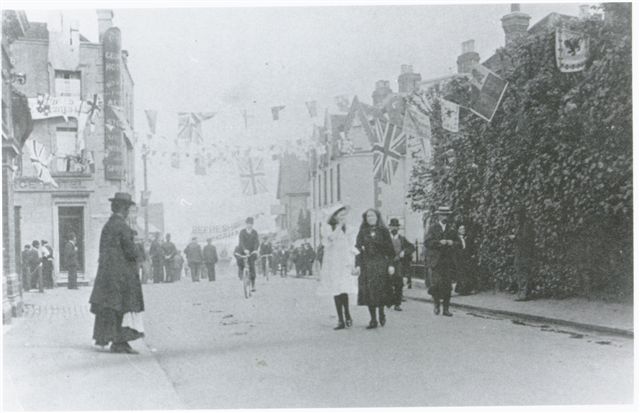 The George, on the day of the Essex Show in 1909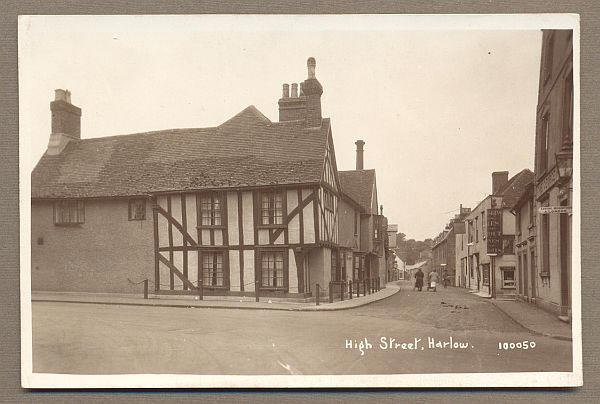 This postcard of Harlow High Street - information is as follows:
Looking directly across across the road from where the photographer was standing, the gabled building you see on the left hand corner is he Gables Inn. On the right hand, corner just behind the lamp post is the George hotel, an old coaching inn. Behind the George and on the same side of the street, with a long sign on its corner advertising ales etc is the Marquis Of Granby pub. If you walked through the gap between the George and the Marquis, you'd be facing the Chequers Pub in Back Street. Walk 30 yards or so to the left of the Chequers and you come to the Crown Pub in Back Street. This part of Harlow probably had so many pubs for a (then) smallish village because the road directly in front of the photographer is the old London Road which runs up to Cambridge and Harlow would have been one of the stopovers on this old coaching route. All five pubs mentioned are still there, though only the Marquis, Crown and Chequers still trade as pubs. The George was at one time a wool shop and is now an estate agents and mortgage brokers. The Gables is now a restaurant.
All are kindly donated by Colleen including the walk through Harlow High Street
Now an Estate Agents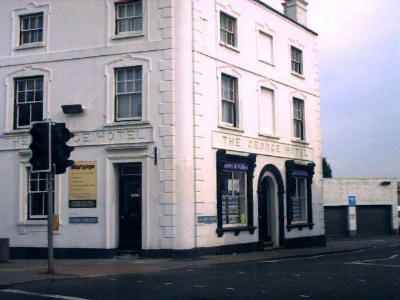 13th August 2000
Taken by Ken Rose.
The following entries are in this format:
Year/Publican or other Resident/Relationship to Head and or Occupation/Age/Where Born/Source.
1791/John Baker/Innkeeper/../../Universal British

1822/George Crane/../../../Pigot's**

1823-4/George Crane/../../../Pigot's

1827-8/George Crane/../../../Pigot's*

1828-9/George Crane/../../../Pigot's

1832-3/George Crane/../../../Pigot's

1839/George Crane/../../../Pigot's

1840/George Crane/../../../Pigot's**

1845/Mrs. Susannah Crane/../../../Post Office

1848/Susannah Crane/../../../White's

1851/Mrs. Susannah Crane/../../../Post Office

1851/Susan Crane/innkeeper (widow)/58/Stanstead, Essex/Census ****
1851/Jane Crane/daughter, resident governess/37/Harlow, Essex/Census ****
1851/Elizabeth Crane/daughter/34/Harlow, Essex/Census ****
1851/William Jackson/servant, postillion/27/Bishops Stortford, Hertfordshire/Census ****
1851/Emma Sheppard/general servant/33/Parndon, Essex/Census ****
1851/George Puncher/errand boy/13/Harlow, Essex/Census ****

1855/Mrs. Susan Crane/../../../Kelly's**

1856/Mrs. Susannah Crane/../../../Post Office

1862/James Casidy/../../../Kelly's

1867/James Casidy/../../../Post Office

1870/William Rider/../../../Kelly's

1871/William Rider/../../../Post Office

1874/William Rider/Agent for Inman's Line of Steamers/../../Post Office

1878/William Rider/../../../Kelly's

1881/William Rider/Licensed Victualler/47/Bishops Stortford, Hertford/Census
1881/Martha Rider/Wife/47/Hallingbury, Essex/Census
1881/Eliza Ann Judd/Niece/13/Harlow, Essex/Census
1881/Jessie Bull/Barmaid/23/Bishops Stortford, Hertford/Census
1881/Sophia Wood/General Servant/25/Sawbridgeworth, Hertford/Census
1881/John Bayford/Ostler/21/Harlow, Hertford/Census

1882/William Rider/../../../Kelly's

1886/William Rider/../../../Kelly's

1890/William Rider/../../../Kelly's

1891/William Rider/Publican/57/Bishops Stortford, Hertford/Census
1891/Martha Rider/Wife/57/Hallingbury, Essex/Census
1891/Horace Rider/Nephew, Groom/21/Braughing, Herts/Census
1891/Eliza Ann Judd/Niece, Barmaid/23/Harlow, Essex/Census
1891/Anna Grey/Barmaid/16/Brockenhurst, Hants/Census
1891/Mary Newman/General Servant/17/Ferneaux Pelham, Herts/Census
1891/John Pages(?)/Visitor/15/Bacton, Suffolk/Census

1894/William Rider/../../../Kelly's

1895/William Rider/../../../Kelly's

1898/William Rider/../../../Kelly's

1899/William Rider/../../../Kelly's

1901/Arthur Catton/Hotelkeeper/50/Carbrook, Norfolk/Census***
1901/Fanny Catton/Wife/30/Epping, Essex/Census***
1901/Charles Catton/Son, Cab Driver/21/Coopersale, Essex/Census***
1901/Emily Boulton/Daughter/8/Waltham Abbey, Essex/Census***
1901/Elsie Catton/Daughter/7m/Harlow, Essex/Census***
1901/Alice Burton/Servant/17/Hammersmith, London/Census***
1901/James Poulton/Yard Lad/17/Finchley, London/Census***

1902/Edwin Butcher/../../../Kelly's

1906/William Darnwood/../../../Kelly's

1908/William Darnwood/../../../Kelly's

1910/William Darnwood/../../../Kelly's

1912/William Darnwood/../../../Kelly's

1914/Sidney Cliff/../../../Kelly's

1917/Sidney Cliff/../../../Kelly's

1922/Harry Smith/../../../Kelly's

1925/Mrs. Kate Smith/../../../Kelly's

1929/Frederick John Hyde/../../../Kelly's

1933/George Brewster Stapleford/../../../Kelly's

1937/George Brewster Stapleford/../../../Kelly's



* Provided by Ken Harrison

** Provided by the Pubs, Inns and Taverns Index for England, 1801-1900

*** Provided by Sue Dean

**** Provided by John Mead