Globe, King's Quay Street, Harwich
A listing of historical public houses, Taverns, Inns, Beer Houses and Hotels in Essex. The Essex listing uses information from census, Trade Directories and History to add licensees, bar staff, Lodgers and Visitors.
Harwich pub history index
Also visit the Harwich and Dovercourt site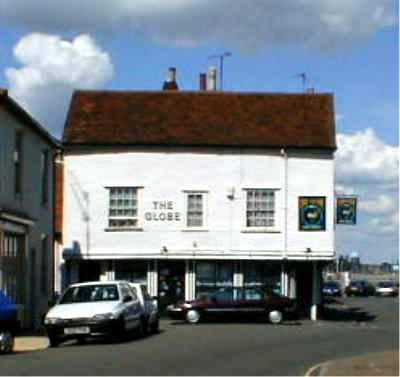 22nd August 2000
The following entries are in this format:
Year/Publican or other Resident/Relationship to Head and or Occupation/Age/Where Born/Source.
1791/Robert Grisnett/Victualler/../../Universal British

1823-4/John Etherden/../../../Pigot's

1827-8/John Etherden/../../../Pigot's*

1828-9/John Etherden/../../../Pigot's

1832-3/John Etherden/../../../Pigot's

1839/John Etherden/../../../Pigot's

1845/John Etherden/Shipwright & Dealer in Cement Stone/../../Post Office

1848/Robert Orvis/../../../White's

1851/Robert Orvis/../../../Post Office

1851/Robert Orvis/publican/40/St Osyth, Essex/Census **
1851/Eliza Orvis/wife/38/Bradfield, Essex/Census **
1851/Philip Scott/nephew, mariner's son/13/Manningtree, Essex/Census **
1851/Sarah Chipperton/servant/19/Bromley, Essex/Census **
1851/Esther Palmer/lodger, mariner's wife/30/Mistley, Essex/Census **
1851/Daniel Cock/lodger, shipwright/40/Ipswich, Suffolk/Census **
1851/James Cock/lodger, shipwright/26/Ipswich, Suffolk/Census **

1862/Robert Orvis/../../../Kelly's

1867/Robert Orvis/../../../Post Office

1870/Robert Orvis/../../../Kelly's

1871/Robert Orvis/../../../Post Office

1874/Robert Orvis/../../../Kelly's

1878/William Kettle/../../../Kelly's

1881/William Kettle/Licensed Victualler/30/Kersey, Suffolk/Census
1881/Elizabeth Kettle/Wife/30/Blackwall, Middlesex/Census
1881/Maud E. Kettle/Daughter/7/Harwich, Essex/Census
1881/Frederick W. Kettle/Son/6/Dovercourt, Essex/Census
1881/George H. Kettle/Son/4/Harwich, Essex/Census
1881/Robert R. Kettle/Son/1/Harwich, Essex/Census
1881/Emma I. Campion/Sister in Law, Servant/20/Poplar, Middlesex/Census
1881/Amelia M. Felgate/Servant/11/Harwich, Essex/Census

1882/William Kettle/../../../Kelly's

1886/William Kettle/../../../Kelly's

1890/William Kettle/../../../Kelly's

1891/William Kettle/Licensed Victualler/40/Kersey, Suffolk/Census
1891/Elizabeth Kettle/Wife/40/Blackwall, London/Census
1891/Maude Kettle/Daughter/17/Harwich, Essex/Census
1891/Frederick Kettle/Son, Tailors Apprentice/16/Harwich, Essex/Census
1891/George Kettle/Son/14/Harwich, Essex/Census
1891/Robert Kettle/Son/11/Harwich, Essex/Census
1891/Alfred Kettle/Son/9/Harwich, Essex/Census
1891/Henrietta Kettle/Daughter/4/Harwich, Essex/Census
1891/Edgar Kettle/Son/1/Harwich, Essex/Census
1891/Jane Carne/General Servant/19/Penzance, Cornwall/Census
1891/William Ward/Boarder, Tailors Assistant/18/?, Suffolk/Census

1894/William Kettle/../../../Kelly's

1895/William Kettle/../../../Kelly's

1898/William Kettle/../../../Kelly's

1899/William Kettle/../../../Kelly's

1901/William Kettle/Inn Keeper& Tailor/50/Kersey, Suffolk/Census ****
1901/Elizabeth Kettle/Wife/50/London/Census
1901/Robert Kettle/Son, Tailors Assisatnt/21/Harwich, Essex/Census
1901/Alfred Kettle/Son, Tailors Assisatnt/19/Harwich, Essex/Census
1901/Bertha Kettle/Daughter/14/Harwich, Essex/Census
1901/Edgar Kettle/Son/11/Harwich, Essex/Census
1901/Edith Mills/Domestic Servant/21/Harwich, Essex/Census
1901/Maud Howe/Domestic Servant/16/Harwich, Essex/Census

1902/William Kettle/../../../Kelly's

1906/Albert Lake/../../../Kelly's

1908/Albert Larke/../../../Kelly's

1910/Albert Larke/../../../Kelly's

1912/Albert Larke/../../../Kelly's

1914/Albert Larke/../../../Kelly's

1917/Albert Larke/../../../Kelly's

1922/Mrs. Ethel Phillips/../../../Kelly's

1925/Mrs. Ethel Phillips/../../../Kelly's

1929/Mrs. Ethel Phillips/../../../Kelly's

1933/Mrs. Ethel Phillips/../../../Kelly's

1937/James Phillips/../../../Kelly's



* Provided by Ken Harrison

** Provided by John Mead