Search London and Pub history
Spread Eagle, West Street, Harwich
A listing of historical public houses, Taverns, Inns, Beer Houses and Hotels in Essex. The Essex listing uses information from census, Trade Directories and History to add licensees, bar staff, Lodgers and Visitors.
Harwich pub history index
At 75 West Street in 1901 census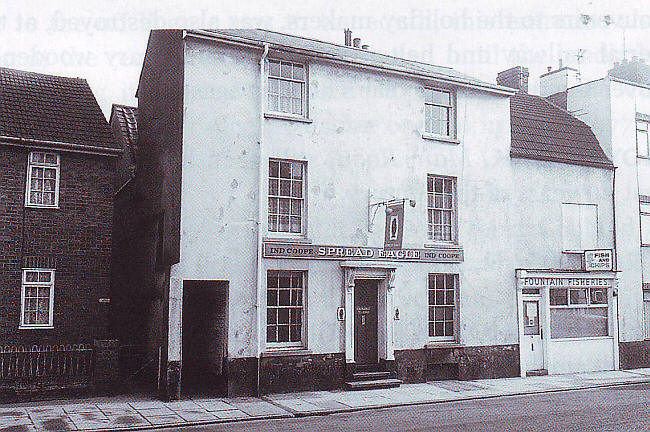 Spread Eagle, West Street, Harwich
Kindly provided by Harwich and Dovercourt
Known Residents
The following entries are in this format:
Year/Publican or other Resident/Relationship to Head and or Occupation/Age/Where Born/Source.
1791/John Death/Victualler/../../Universal British

1823-4/James Bull/../../../Pigot's

1827-8/Charles Joyce/../../../Pigot's*

1828-9/Charles Joyce/../../../Pigot's

1832-3/Mary Joyce/../../../Pigot's

1839/Mary Joyce/../../../Pigot's

1841/Mary Joyce/innkeeper/50/Essex/Census **
1841/Harriet Robinson/20/Essex/Census **
1841/Emma Robinson/[her daughter]/03/Essex/Census **
1841/Ann Brown/female servant/20/Essex/Census **
1841/Samuel Campion/male servant/60/Essex/Census **

1845/Mrs. Mary Joyce/../../../Post Office

1848/William Rumsey/../../../White's

1851/William Rumsey/../../../Post Office

1851/William Rumsey/innkeeper/47/Colchester, Essex/Census **
1851/Louisa Rumsey/wife/39/Harwich, Essex/Census **
1851/William J Rumsey/son, ship broker's clerk/17/Brighton, Sussex/Census **
1851/Mary L Rumsey/daughter, scholar/15/Brighton, Sussex/Census **
1851/Charles Rumsey/son, scholar/13/Brighton, Sussex/Census **
1851/Emma Rumsey/daughter, scholar/07/Dovercourt, Essex/Census **
1851/Georgiana Rumsey/daughter, scholar/05/Dovercourt, Essex/Census **
1851/Harriett Rumsey/daughter/15m/Harwich, Essex/Census **
1851/Emma Roberson/niece, scholar/14/not known/Census **
1851/James Hardy/lodger, Trinity Pilot/47/Shadwell, Middlesex/Census **

1856/William Rumsey/../../../Post Office

1862/Mrs. Louisa Rumsey/../../../Kelly's

1867/Mrs. Louisa Rumsey/../../../Post Office

1870/Mrs. Louisa Rumsey/../../../Kelly's

1871/Mrs. Louisa Rumsey/../../../Post Office

1871/Louisa Rumsey/Licensed Victualler, Widow/63/Harwich, Essex/Census ****
1871/Emma Rumsey/Daughter/28/Dovercourt, Essex/Census
1871/Georgean Rumsey/Daughter/25/Dovercourt, Essex/Census
1871/Mary L Freeman/Grand Daughter/11/Harwich, Essex/Census
1871/Ann Fisher/General Servant/25/Great Clacton, Essex/Census
1871/James Hewitt/General Servant/32/Thorpe, Essex/Census

1874/Mrs. Louisa Rumsey/../../../Kelly's

1878/Mrs. Louisa Rumsey/../../../Kelly's

1881/Louisa Rumsey/Retired Hotel Keeper/72/Harwich, Essex/Census
1881/Georgiana Rumsey/Daughter/32/Dovercourt, Essex/
1881/Eliza A. Pratt/General Domestic Servant/19/Harwich, Essex/Census

Note: Although Louisa is described as retired, she was still at the premises in 1881

1882/Joseph Henry Kersey/../../../Kelly's

1886/Lewis Tovell/../../../Kelly's

1890/Lewis Tovell/../../../Kelly's

1891/Lewis Tovell/Licensed Victualler/29/Mistley, Essex/Census
1891/Jane Tovell/Wife/41/Somerleyton, Suffolk/Census
1891/Jane Pettitt/Daughter/14/Great Yarmouth, Norfolk/Census
1891/Daniel Morgan/Boarder, Horse Dealer/19/Armagh, Ireland/Census

1894/Louis Tovell/../../../Kelly's

1895/Louis Tovell/../../../Kelly's

1898/Louis Tovell/../../../Kelly's

1899/Louis Tovell/../../../Kelly's

1901/Jane Tovell/Inn Keeper, Widow/51/Somerton Leyton/Census ****
1901/John Kenny/Boarder, Barrack Warden/48/Belfast, ireland/Census
1901/Violet Wharton/Barmaid/21/Norwich, Norfolk/Census
1901/Louisa Mills/General Servant/20/Harwich, Essex/Census

1902/Louis Tovell/../../../Kelly's

1906/Mrs. Jane Tovell/../../../Kelly's

1908/Mrs. Jane Tovell/../../../Kelly's

1910/James Ernest Eaton/../../../Kelly's

1912/James Ernest Eaton/../../../Kelly's

1914/James Ernest Eaton/../../../Kelly's

1917/Charles Hills Jun./../../../Kelly's

1922/Charles Hills Jun./../../../Kelly's

1925/Arthur B. Heron/../../../Kelly's

1929/John Robert Kidney/../../../Kelly's

1933/John Robert Kidney/../../../Kelly's

1937/George John Baker/../../../Kelly's



* Provided by Ken Harrison

** Provided by John Mead