Three Cups, Church Street, Harwich
A listing of historical public houses, Taverns, Inns, Beer Houses and Hotels in Essex. The Essex listing uses information from census, Trade Directories and History to add licensees, bar staff, Lodgers and Visitors.
Harwich pub history index
Also visit the Harwich and Dovercourt site
Also known as the Cups. At 64 Church Street in 1901 census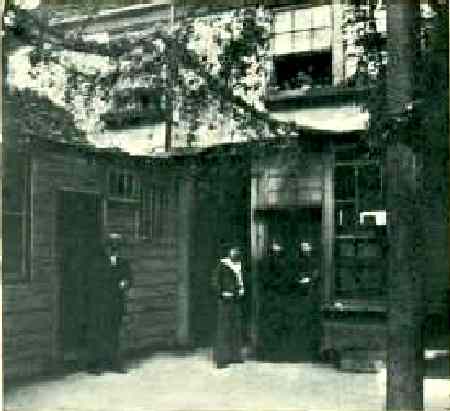 Courtyard showing, upper left, the window of the room Lord Nelson stayed in when in Harwich.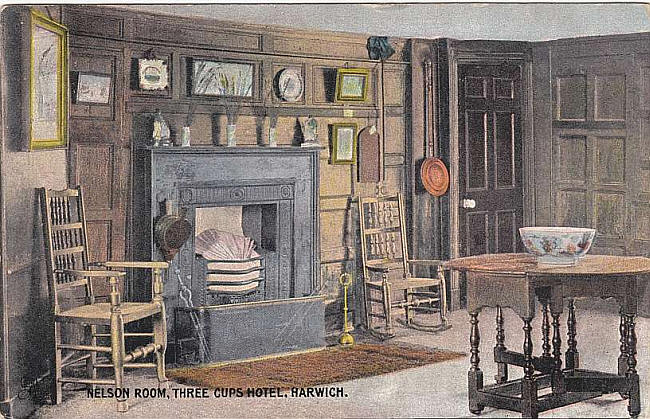 Nelsons Room, Three Cups Hotel, Harwich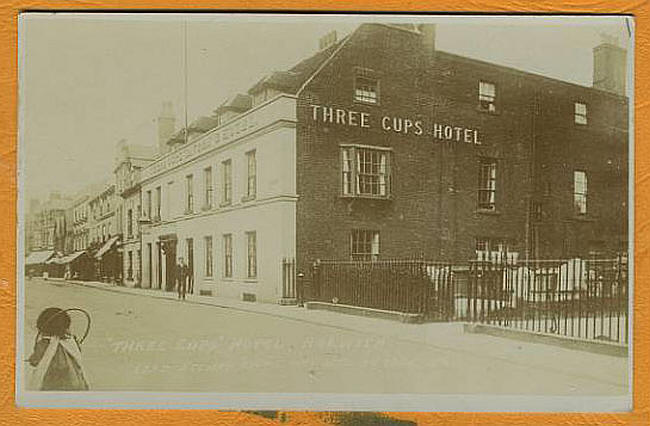 Three Cups Hotel, Harwich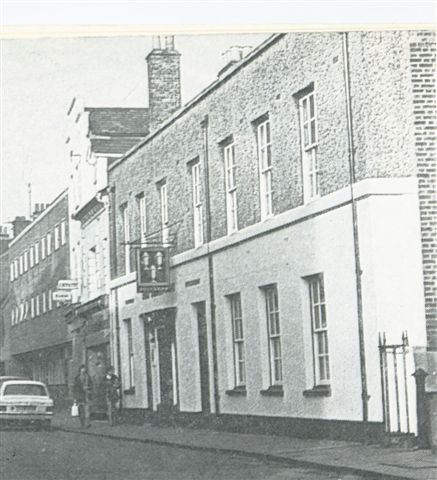 Three Cups
Both kindly provided by Colleen
Known Residents
The following entries are in this format:
Year/Publican or other Resident/Relationship to Head and or Occupation/Age/Where Born/Source.
1791/Abraham Hinde/Innkeeper/../../Universal British

1823-4/William Bull/../../../Pigot's

1828-9/William Bull/../../../Pigot's

1832-3/Ann Bull/../../../Pigot's

1839/Ann Bull/../../../Pigot's

1841/Ann Bull/innkeeper/55/not Essex/Census **
1841/Joseph Bull/son/30/Essex/Census **
1841/Fanny Bull/daughter/20/Essex/Census **
1841/Sarah Bull/daughter/20/Essex/Census **
1841/Richard Marshall/[visitor]/13/not Essex/Census **
1841/Ellen Cook/female servant/40/Essex/Census **
1841/Sarah Jarvis/female servant/18/Essex/Census **
1841/Eliza Jopple/female servant/18/not Essex/Census **
1841/Robert Lay/male servant/18/Essex/Census **

1845/Mrs. Ann Bull/../../../Post Office

1848/Ann Bull/Spirit Merchant/../../White's

1851/Mrs. Ann Bull/../../../Post Office

1851/Ann Bull/widow, innkeeper/66/Shoreditch, Middlesex/Census **
1851/Joseph Leech Bull/son, innkeeper and farmer/41/Harwich, Essex/Census **
1851/Fanny Bull/daughter/32/Harwich, Essex/Census **
1851/Sarah Bull/daughter/30/Harwich, Essex/Census **
1851/George Bull/grandson, scholar/14/Harwich, Essex/Census **
1851/William Bull/grandson, scholar/13/Dovercourt, Essex/Census **
1851/Charles J Andrews/visitor, traveller/32/Greenock, Renfrewshire/Census **
1851/Mary Ann Johncox/cook/31/Harwich, Essex/Census **
1851/Catherine Green/kitchenmaid/28/Harwich, Essex/Census **
1851/Martha Johncox/housemaid/19/Ireland/Census **
1851/William Hadgrass/porter/18/Harwich, Essex/Census **

1856/Mrs. Ann Bull & Co./../../../Post Office

1862/Mrs. Ann Bull/Wine & Spirit Merchant/../../Kelly's

1867/Mrs. Ann Bull/Wine & Spirit Merchant/../../Post Office

1870/Joseph Leech Bull/Wine & Spirit Merchant/../../Kelly's

1871/Joseph Leech Bull/Wine & Spirit Merchant/../../Post Office

1874/Joseph Leech Bull/Livery Stables/../../Post Office

1878/John Bull/Livery Stables/../../Post Office

1881/John Bull/Hotel Proprietor & Farmer/66/Harwich, Essex/Census
1881/Agnes Bull/Daughter/37/London, Middlesex/Census
1881/Henrietta Leslie/Visitor/30/London, Middlesex/Census
1881/Elizabeth Parker/General Servant/48/Darsham, Suffolk/Census
1881/Sarah Jervis/General Servant/19/Harwich, Essex/Census
1881/Emma Chapman/General Servant/18/Laxfield, Suffolk/Census
1881/Frederick Chambers/Barman/22/Laxfield, Suffolk/Census
1881/Raymond Leggett/Boots/17/Laxfield, Suffolk/Census

1882/John Bull/../../../Kelly's

1886/John Bull/../../../Kelly's

1890/John Tye/../../../Kelly's

1891/John Tye/Hotel Proprietor/61/Banbridge, Suffolk/Census
1891/Maud Tye/Wife/62/Banbridge, Suffolk/Census
1891/Jane Clinton/Sister, Barmaid/40/Lansguard(?), Suffolk/Census
1891/Amy Clinton/Niece/13/Lansguard(?), Suffolk/Census
1891/Ernest R. Clinton/Nephew/12/Lansguard(?), Suffolk/Census
1891/Laura White/Niece/20/Harwich, Essex/Census
1891/Alice White/Niece/17/Harwich, Essex/Census
1891/Jessica Nottage/Cook/20/Walmer, Kent/Census
1891/Lucy Pells/Domestic Servant/19/Harwich, Essex/Census
1891/William Norris/Commercial Traveller/52/Ramsgate, Kent/Census

1898/John Broadbent/../../../Kelly's

1899/John Broadbent/../../../Kelly's

1901/John Broadbent/Licensed Victualler/47/Manchester, Lancashire/Census
1901/Helen Broadbent/Wife/35/Ramsey, Isle of Man/Census
1901/John S Broadbent/Son/6/Glasgow, Scotland/Census
1901/Cyril H Thorn/Visitor, Electrical Engineer/24/London/Census
1901/James D Green/Visitor, Traveller (Fancy Goods)/25/Germany, British subjecr/Census
1901/Loydore Horze/Visitor, Traveller (Fancy Goods)/31/Warsaw, Poland/Census
1901/Thomas Bennett/Boots/40/Butley, suffolk/Census
1901/Matha Bennett/Cook/42/Grays/Census
1901/Minnie Chamberlain/Waitress/20/Harwich, Essex/Census
1901/Elsie Mead/Barmaid/18/Dovercourt, Essex/Census
1901/Sarah Chamberlain/Housemaid/16/Harwich, Essex/Census

1902/John Broadbent/../../../Kelly's

1906/Carnie & Cartmale/../../../Kelly's

1908/Thomas West Carnie/../../../Kelly's

1910/Thomas West Carnie/../../../Kelly's

1912/Thomas West Carnie/../../../Kelly's

1914/Bertie Edward Bussey/../../../Kelly's

1917/Bertie Edward Bussey/../../../Kelly's

1922/Mrs. Alice Maud Dorton/../../../Kelly's

1925/Mrs. Alice Maud Dorton/../../../Kelly's

1929/William G. Kitson/Manager/../../Kelly's

1933/William G. Kitson/Manager/../../Kelly's

1937/Edmond Charles Jules Guignard/Proprietor/../../Kelly's

Edmond Charles Jules Guignard was born in Switzerland in 1899 *

1988/R J Good/../../../Watney Truman List ****




* Provided by Bernie Guignard

** Provided by John Mead