White Hart, West Street & George Street, Harwich
A listing of historical public houses, Taverns, Inns, Beer Houses and Hotels in Essex. The Essex listing uses information from census, Trade Directories and History to add licensees, bar staff, Lodgers and Visitors.
Harwich pub history index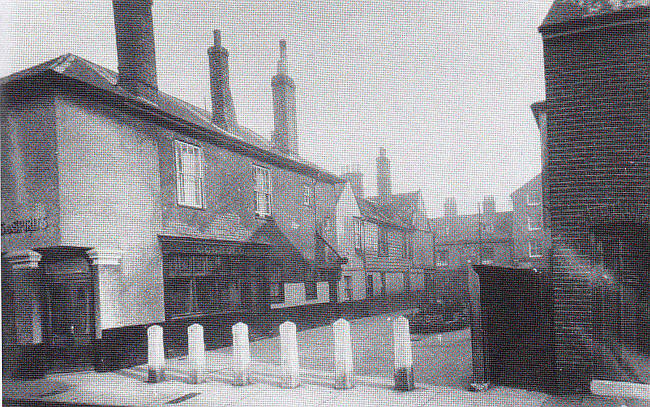 White Hart, Harwich
Kindly provided by Harwich and Dovercourt
This pub is now demolished, although it is remembered by a modern street name.

White Hart Lane, Harwich - in September 2013
Kindly provided by Stephen Harris
Known Residents
The following entries are in this format:
Year/Publican or other Resident/Relationship to Head and or Occupation/Age/Where Born/Source.
1791/George White/Innkeeper/../../Universal British

1822/William Blizard/../../../Pigot's*

1823-4/William Blizard/../../../Pigot's

1828-9/William Blizard/../../../Pigot's

1832-3/William Blizard/../../../Pigot's

1839/Isaac Nicholls/../../../Pigot's

1845/Richard Coppinger/../../../Post Office

1851/Richard Coppinger/ropemaker/59/Harwich, Essex/Census **
1851/Sarah Coppinger/wife/47/Yarmouth, Norfolk/Census **
1851/Sarah Coppinger/daughter, domestic duties/17/Harwich, Essex/Census **
1851/Sarah Waller/widow, mother in law, pauper, formerly the beerhouse keeper/86/Colchester, Essex/Census **

1855/J. Smith/../../../Kelly's*

1862/Mrs. Susan Catherine Harrison/../../../Kelly's

1867/Henry Cole/../../../Post Office

1870/George King/../../../Kelly's

1871/George King/Licensed Victualler/59/Norwich, Norfolk/Census ****
1871/Agnes King/Daughter/25/London/Census
1871/Arthur King/Son/19/London/Census
1871/Elizabeth A Cooper/General Servant/32/West Harling, Norfolk/Census
1871/Louis Swaine/General Servant/18/Harlgrave, Suffolk/Census
1871/Ann M Turner/General Servant/18/Ipswich, Suffolk/Census
1871/Ellen Woollard/General Servant/23/Barking, Suffolk/Census
1871/Emma Batley/General Servant/30/Ipswich, Suffolk/Census
1871/William H Johnson/Visitor, Wiredrawer/21/Manchester, lancashire/Census
1871/Henry C Sutcliffe/Visitor, Assistant Control Depot/22/India/Census

1871/George King/../../../Post Office

1874/George King/../../../Kelly's

1878/George King/../../../Kelly's

1881/Isaac C. Pratt/Licensed Victualler/36/Ipswich, Suffoilk/Census
1881/Matilda A. Pratt/Wife/29/Harwich, Essex/Census
1881/Alice M. Pratt/Daughter/7/Harwich, Essex/Census
1881/Matilda Pratt/Daughter/5/Harwich, Essex/Census
1881/Charles T. Pratt/Son/3/Harwich, Essex/Census
1881/Claude V. Pratt/Son/1/Harwich, Essex/Census
1881/Julia H. Cooke/Barmaid/20/Guildford, Surrey/Census
1881/Ellen Killick/Barmaid/18/Mistley, Essex/Census
1881/William Bines/Boots/20/Great Clacton, Essex/Census
1881/Mary Ann Plumb/Chambermaid/32/Baylham, Suffolk/Census
1881/Esther A. Dale/Nursemaid/17/Harwich, Essex/Census

1882/Isaac Charles Pratt/../../../Kelly's

1886/George Mercer/../../../Kelly's

1890/George Mercer/../../../Kelly's

1891/George Mercer/Innkeeper, Smack Owner & Corn Agent/57/Bath, Somersetshire/Census
1891/Frederick J. Mercer/Son, Millwright Apprentice/20/Belper, Derbyshire/Census
1891/Minnie L. Mercer/Daughter/16/Colchester, Essex/Census
1891/Alice M. Mercer/Daughter/13/Colchester, Essex/Census
1891/Louisa Mercer/Daughter/11/Colchester, Essex/Census
1891/Dora Mercer/Daughter/8/Colchester, Essex/Census
1891/Kate Mercer/Daughter/6/Colchester, Essex/Census
1891/Helena Mercer/Daughter/7/Colchester, Essex/Census
1891/Elizabeth M. Chissell/Housekeeper/26/Mistley, Essex/Census
1891/Agnes Gray/Barmaid/21/Woodbridge, Suffolk/Census

1894/George Mercer/Auctioneer, Commission Agent & Fish Salesman/../../Kelly's

1895/George Mercer/Auctioneer, Commission Agent & Fish Salesman/../../Kelly's

1898/George Mercer/Auctioneer/../../Kelly's

1899/George Mercer/Auctioneer/../../Kelly's

1901/Richard Miller/Hotel Keeper/60/Dovercourt, Essex/Census ****
1901/Caroline Miller/Wife/50/Ireland/Census
1901/Minnie Maude Miller/Daughter/23/Swanage, Dorset/Census
1901/Richard Edwin Miller/Son, Grocers Apprentice/15/Seatown, Dorset/Census
1901/Oswald George Miller/Son/9/Bridport, Dorset/Census
1901/Elsie Elizabeth Allen/Barmaid/28/Woodbridge, Suffolk/Census
1901/Laura Jane Bennet/Cook/22/Harwich, Essex/Census
1901/Rupert Stanley Day/Boots/23/Stowmarket, Suffolk/Census

1902/Richard Miller/../../../Kelly's

1906/Joseph George Bragg Sprake/Proprietor/../../Kelly's

1908/Joseph George Bragg Sprake/../../../Kelly's

1910/Joseph Bragg Sprake/../../../Kelly's

1912/Joseph Bragg Sprake/../../../Kelly's

1914/Alfred Goodall/../../../Kelly's

1917/Alfred Goodall/../../../Kelly's

1922/Alfred Goodall/../../../Kelly's

1925/Alfred Goodall/../../../Kelly's

1929/John H. Birch/../../../Kelly's

1933/John H. Birch/../../../Kelly's

1937/Herbert Watkinson/../../../Kelly's



* Provided by the Pubs, Inns and Taverns Index for England, 1801-1900

** Provided by John Mead