Fox & Goose, Cooksmill Green, Highwood CM1 3SN
Highwood pub history index
The modern address is at Wyses Road, Highwood, Chelmsford, Essex,CM1 3SN.
In 2013 the Fox and Goose which had very recently re-opened after refurbishment and closure - and still named the Fox & Goose. It was a busy pub, getting a good name for its food. Almost 200 years on, open, and still with the same name. It was also a social history lesson as the pub stands at a crossroads, as many rural pubs do. Also at the crossroads stands a windmill, now residential only, but of course working in the early 1800s. ***
The maps of the nls site showing this area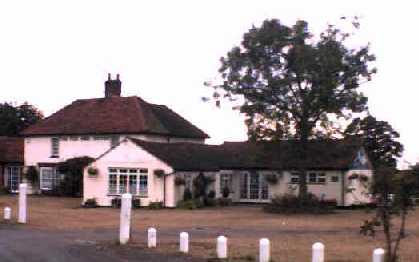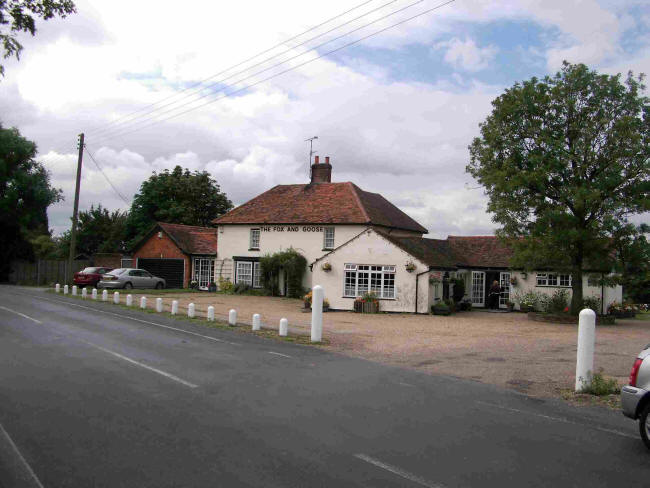 Fox & Goose, Cooksmill Green, Highwood - in 2005
The following entries are in this format:
Year/Publican or other Resident/Relationship to Head and or Occupation/Age/Where Born/Source.
Oliver Jonathan Webster, born around 1858, was my great grandfather. Oliver Jonathan Webster's father was Francis Webster (born around 1810), publican from 1832 at the Fox and Goose, Cooks Mill Green near Writtle, Essex. I am 99% sure that Francis was OJ's father although so far I haven't found a cause or date of death for Francis. Francis didn't make old bones and his wife is shown as a widow in the 1861 census. ***

1832-3/Francis Webster/../../../Pigot's

1845/Francis Webster/../../../Post Office

1848/Francis Webster/../../../White's

1851/Francis Webster/../../../Post Office

1851/Francis Webster/farmer, baker and publican/41/Writtle, Essex/Census **
1851/Henrietta Webster/wife/26/Great Cornard, Suffolk/Census
1851/Mary Webster/daughter/16/Writtle, Essex/Census
1851/Harriet Webster/daughter/14/Writtle, Essex/Census
1851/Arthur Webster/son, scholar/08/Writtle, Essex/Census
1851/Julia E H Webster/daughter/02/Writtle, Essex/Census
1851/Priscilla Webster/1m/Writtle, Essex/Census

1852/F. Webster/../../../Kelly's*

19 March 1852/'To Be Let. the Fox & Goose Public House with 22 acres of land at Cook's Mill Green, Writtle....' /Chelmsford Chronicle ****

1855/J. Nicolls/../../../Kelly's*

1861/Walter C Bright/Inn Keeper/30/Willingdale Spain, Essex/Census
1861/Lucy Bright/Wife/25/Good Easter, Essex/Census
1861/Harry Bright/Son/2/Writtle, Essex/Census
1861/Harriet Bright/Daughter/1/Writtle, Essex/Census
1861/Sarah A Lee/Domestic Servant/14/Roxwell, Essex/Census

1862/Walter Bright/Farmer/../../Kelly's

1867/Walter Bright/Farmer/../../Post Office

1870/William Porter/Farmer/../../Kelly's

1871/William Porter/Farmer/../../Post Office

1871/George Phillips/Publican, Farmer of 21 acres/40/Cambridge/Census
1871/Ellen Phillips/Wife/32/Doddinghurst, Essex/Census
1871/Fanny M Mullocks/Niece, Companion/15/High Ongar, Essex/Census
1871/George Harris/Servant, Agr Labourer/21/Writtle, Essex/Census
1871/William Baker/Lodger, Agr Labourer, Widow/50/Norfolk/Census

1874/George Phillips/Farmer/../../Kelly's

1878/James Lucking/../../../Kelly's

1881/James Lucking/Farmer & Licensed Victualler etc./35/High Ongar, Essex/Census
1881/Hannah Lucking/Wife/27/Colchester, Essex/Census
1881/Blanche Annie Lucking/Daughter/2/Writtle, Essex/Census
1881/Owen Lucking/Son/10m/Writtle, Essex/Census

1882/Arthur Ellis/../../../Kelly's

1886/Arthur Ellis/Farmer/../../Kelly's

1890/Thomas Edwin Dartnell/../../../Kelly's

1891/William Hart/Manager/72/Hottelsy, Suffolk/Census
1891/Amelia Hart/Wife/74/Great Hanningfield/Census

1894/George Turney/../../../Kelly's

1895/George Turney/../../../Kelly's

1898/William Westwood/../../../Kelly's

1899/William Westwood/../../../Kelly's

1901/William Westwood/Licensed Victualler/55/Abbots Roding, Essex/Census
1901/Sarah Westwood/Wife/57/Abbots Roding, Essex/Census
1901/Edwin Westwood/Son, Carpenter/30/Abbots Roding, Essex/Census
1901/Charles Westwood/Son, Printer/24/Abbots Roding, Essex/Census
1901/Maude Westwood/Daughter/22/Abbots Roding, Essex/Census
1901/Florence Westwood/Daughter/20/Abbots Roding, Essex/Census
1901/Laura Westwood/Daughter, Servant/18/Hertford, Hertfordshire/Census

1902/William Westwood/../../../Kelly's

1906/William Westwood/../../../Kelly's

1908/William Westwood/../../../Kelly's

1910/William Westwood/../../../Kelly's

1912/Alfred George Willis/../../../Kelly's

1914/Alfred George Willis/../../../Kelly's

1917/Joseph J. Shonk/../../../Kelly's

1922/Francis Brooker/../../../Kelly's

1925/Albert E. Gates/../../../Kelly's

1929/Hugh Richardson Cave/../../../Kelly's

1933/Walter Turrell/../../../Kelly's

1937/Walter Turrell/../../../Kelly's



* Entries provided by the Pubs, Inns and Taverns Index for England, 1801-1900

** Provided by John Mead

*** Provided by Eileen Blythe