King's Head, 189 High Street, Hornchurch RM11 3XT
Hornchurch pub index
The address is also sometimes given as Church Street in 1917 and earlier. *+ Long gone as a pub, and now a Pizza restaurant
Also see the History of Hornchurch
The History of the Public Houses in the Parish of Hornchurch - Tony Benton
About to close its doors, and become another Pizza shop - 2007. Now a Prezzo restaurant (2013).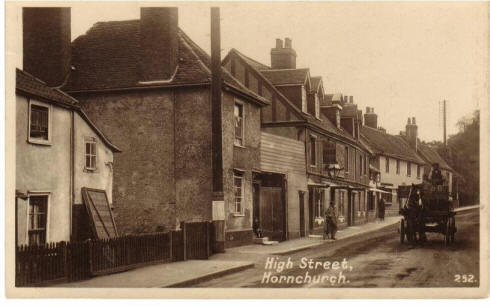 Kings Head, High Street, Hornchurch, circa 1917
Kindly provided by Tony Benton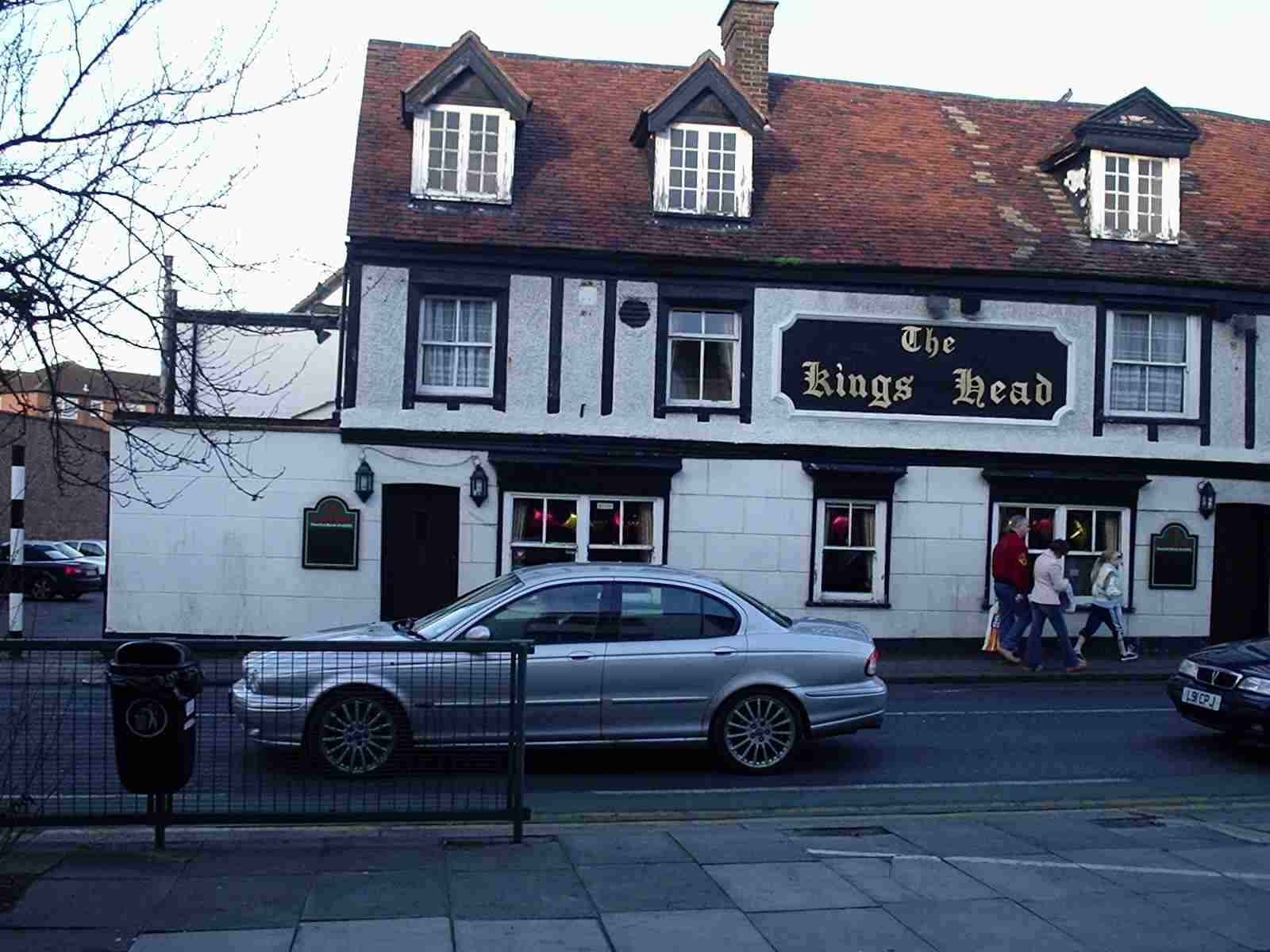 30/12/2004
Provided by Kevan
The following entries are in this format:
Year/Publican or other Resident/Relationship to Head and or Occupation/Age/Where Born/Source.
1828-9/Mary Harrison/../../../Pigot's

1832-3/Elizabeth Tanner/../../../Pigot's

1839/Jane Buckland/../../../Pigot's

1840/Jane Buckland/../../../Pigot's*

1841/William Chapman/Publican/30/../Census
1841/Jane Chapman/../30/../Census
1841/Lee Buckland/../14/Essex/Census
1841/Phoebe Barker/Female Servant/15/Essex/Census
1841/William Rice/Carpenter/25/Essex/Census
1841/James King/Bricklayer/20/../Census
1841/John Harvey/Shoemaker/25/Essex/Census
1841/Charles Willis/Shoemaker/35/Essex/Census

1845/Matthew Playle/../../../Post Office

1848/Matthew Playle/../../../White's

1851/Matthew Playle/../../../Post Office

1851/Abraham Carter/licensed victualler/41/Layer Marney, Essex/Census **
1851/Amelia Carter/wife/35/Birch, Essex/Census **
1851/John Allen/ostler/49/Rayleigh, Essex/Census **

1855/A. Carter/../../../Kelly's*

1861/James Olley/Publican/49/Warley, Essex/Census ****
1861/Eliza Olley/Wife/48/Warley, Essex/Census
1861/Eliza Foster/Niece/26/Hampstead, Essex/Census
1861/John Patten/Lodger, Agr Labourer/62/Hornchurch, Essex/Census
1861/Henry Prior/Lodger, Iron Moulder/40/Romford. Essex/Census
1861/John Moye/Lodger, Painter/40/St Nicholas, Suffolk/Census
1861/Rosina Taylor/Lodger, Needlewoman/28/Hornchurch, Essex/Census

1862/Lewis Cook/../../../Kelly's

1867/Daniel Grout/../../../Post Office

1870/John Jellis/../../../Kelly's

1871/John Jellis/../../../Post Office

1871/John Jellis/Victualller/58/Bardfiled, Essex/Census ****
1871/Elizabeth Jellis/Wife/41/Romford, Essex/Census
1871/Henry Golding/Boarder, Gardener/17/Romford, Essex/Census
1871/Eliza Barnard/General Servant/17/Stapleford Abbots, Essex/Census
1871/James Drew/Lodger, Labourer/84/Halsted, Essex/Census
1871/James Austen/Lodger, Painter/36/Brighton, Sussex/Census

30/08/1872/John Jellis/../../../Petty Sessions Victuallers Records

1874/John Jellis/../../../Kelly's

1878/John Jellis/../../../Kelly's

1881/John Jellis/Publican/65/Great Maplestead, Essex/Census ****
1881/Anne Golding/Barmaid/27/Romford, Essex/Census

01/12/1881/George Wolfe/../../../Petty Sessions Victuallers Records

1882/George Wolfe/../../../Kelly's

23/03/1882/John Franklin/../../../Petty Sessions Victuallers Records

1886/John Franklyn/../../../Kelly's

24/10/1889/Charles Lynes/../../../Petty Sessions Victuallers Records

1890/Charles Lynes/../../../Kelly's

1891/Charles C. Lynes/Publican/48/Lewisham/Census
1891/Jane M. Lynes/Wife/49/St. Pancras, London/Census
1891/Herbert W. Lynes/Son/14/Islington, London/Census

27/08/1891/Harry Hamblin/../../../Petty Sessions Victuallers Records

Note: Premises not named in 1891

09/03/1893/William Mann/../../../Petty Sessions Victuallers Records

1894/William Mann/../../../Kelly's

1895/William Mann/../../../Kelly's

1898/William Mann/../../../Kelly's

1899/William Mann/../../../Kelly's

1901/William Mann/Innkeeper/45/Hornchurch, Essex/Census
1901/Sarah Ann Mann/Wife/43/Purleigh, Essex/Census
1901/William J. Mann/Son/6/Hornchurch, Essex/Census
1901/Alice G. Lodge/General Servant/19/Little Canfield, Essex/Census

1902/William Mann/../../../Kelly's

1906/Samuel Goodenough/../../../Kelly's

1908/Thomas Mayne/../../../Kelly's

1910/Thomas Mayne/../../../Kelly's

1911/Thomas Mayne/Publican/40/Willesden, Middlesex/Census *+
1911/Amelia Caroline Mayne/Wife/40/Paddington/Census
1911/Thomas Albert Mayne/Son/6/Willesden, Middlesex/Census
1911/William Ernest Mayne/Son/5/Paddington/Census
1911/Donald Arthur Mayne/Son/3 months/Hornchurch, Essex/Census

1912/Thomas Mayne/../../../Kelly's

1914/Thomas Mayne/../../../Kelly's

1917/Mrs. Thomas Mayne/../../../Kelly's

1922/Mrs. Thomas Mayne/../../../Kelly's

1925/Mrs. Thomas Mayne/../../../Kelly's

1929/Mrs. Amelia Mayne/../../../Kelly's

1933/Mrs. Amelia Mayne/../../../Kelly's

1937/Mrs. Amelia Mayne/../../../Kelly's


* Provided by the Pubs, Inns and Taverns Index for England, 1801-1900

*+ Provided by Ewan

** Provided by John Mead

**** Provided by Kevan