Red Lion, High Street/Ilford Hill, Ilford
Ilford pub history index
Latterly know as Mainstreet, then the Rat & Carrot , and in 2002 the Red Lion. By 2014 it is a trendy bar called Lush, but now closed.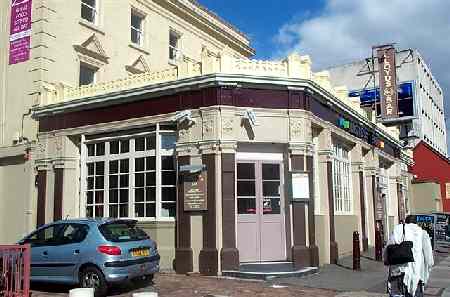 September 2002
Taken by Brian Berry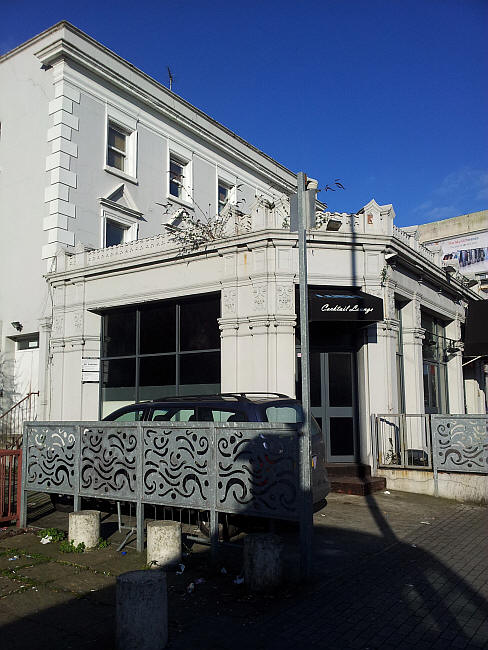 The Red Lion, (now Lush), Ilford Hill, High Street, Ilford - in February 2015
Kindly provided by Al Skinns
Year/Publican or other Resident/Relationship to Head and or Occupation/Age/Where Born/Source.
1826/Ann Hone/../../../Pigot's

1832-3/Ann Hone/../../../Pigot's

1839/Ann Hone/../../../Pigot's

1845/Mrs. Ann Hone/../../../Post Office

1848/Ann Hone/../../../White's

1851/Aaron Jones/licensed victualler/46/London, Middlesex/Census **
1851/Sarah Servington/barmaid/23/Kent/Census **
1851/Richard [Dulley]/ostler/21/Barking, Essex/Census **
1851/Mary Bateman/cook/14/Hornchurch, Essex/Census **
1851/Henry Pilkington/pot boy/16/Ilford, Essex/Census **
1851/Amelia Wilson/visitor, artificial flower maker/23/City, Middlesex/Census **

I was interested in these people as Mary Rees married an ancestor of mine, James Wheatley (1823) who was a blacksmith. Mary Rees & Martha Rees are sisters ***

1861/Joseph Mabe/Licensed Victualler/58/Tewkesbury, Gloucestershire/Census ***
1861/Hortensia Mabe/Wife/30/Norwich, Norfolk/Census
1861/Ann Newby/Visitor/64/Barholm, Lincolnshire/Census
1861/Mary Rees/Cook/24/Johnstone, South Wales/Census
1861/Martha Rees/Housemaid/19/Caermarthen, Wales/Census
1861/John Clements/Ostler/23/Chelmsford, Essex/Census

1862/Joseph Mabe/../../../Kelly's

1870/Edwin Newman/../../../Kelly's

1871/Edwin Newman/../../../Post Office

1871/Edwin Newman/Licensed Victualler/42/Stepney, Middx/Census
1871/Annie W Newman/Wife/41/Stepney, Middx/Census
1871/Edwin J Newman/Son/17/Stepney, Middx/Census
1871/James J Newman/Son/15/Stepney, Middx/Census
1871/Henry W Newman/Son/13/Stepney, Middx/Census
1871/Albert M Newman/Son/10/Mile End, Essex/Census
1871/Frederick W Newman/Son/8/Stepney, Middx/Census
1871/Ernest W Newman/Son/6/Bromley, Essex/Census
1871/Alfred Newman/Son/3/Bromley, Essex/Census
1871/Elizabeth A Govan?/BarMaid/20/Poplar, Essex/Census
1871/Clara Towers/General Servant/19/Newbury, Berks./Census
1871/Elizabeth Hockny/General Servant/16/Stratford, Essex/Census


1874/Edwin Newman/../../../Kelly's

1878/William Apedaile Turnbull/../../../Kelly's

1881/William A. Turnbull/Licensed Victualler/39/Middlesex/Census
1881/Elizabeth Turnbull/Wife/43/Melbourne, Cambridge/Census
1881/Ellen Hewes/Niece/14/Herne Hill, Surrey/Census
1881/Agnes King/Niece/11/Royston, Hertford/Census
1881/Harriett Mary Lancaster/Cousin, Barmaid/22/Stepney, Middlesex/Census
1881/Mary Sarah Strunk/Cousin, Barmaid/27/Stepney, Middlese/Census
1881/Mary Richer/Domestic Servant/17/Little Maplestead, Essex/Census

1882/William Apedaile Turnbull/../../../Kelly's

1891/James Rothenburg/Publican/45/Croydon, Surrey/Census
1891/Ellen Rothenburg/Wife/34/Whitechapel, London/Census
1891/James W Rothenburg/Son/14/Mile End, London/Census
1891/Alice Lucy/Bar Maid/21/London/Census
1891/Serena J Hackshall/Bar Maid/24/St Georges, London/Census
1891/Roseanna Joslin/Bar Maid/21/Childerditch, Essex/Census
1891/Elizabeth Ramage/General Servant/19/Poplar, London/Census
1891/James Goldstone/Potman/31/Ilford, Essex/Census
1891/Fred Marstill?/Gardener/24/Willingdon, Cambs/Census

1894/James Rothenburg/../../../Kelly's

1896/William Charles White/../../../Petty Sessions

01/1/1898/Thomas William Ferris/../../../Petty Sessions

1898/T. W. Ferres/../../../Kelly's

10/12/1898/George Thomas Hastler/../../../Petty Sessions

17/2/1900/Henry Reginald Rayne/../../../Petty Sessions

31/8/1901/Harry Marchant Warner/../../../Petty Sessions

1902/Harry M Warner/../../../Kelly's

11/10/1902/William James Colwill/../../../Petty Sessions

1908/William James Colwill/../../../Kelly's

1912/William James Colwill/../../../Kelly's

24/7/1915/Elizabeth Hole Colwill/../../../Petty Sessions

1917/Mrs. Elizabeth Hole Colwill/../../../Kelly's

19/8/1919/Elizabeth Hole Webster/../../../Petty Sessions

27/9/1924/Maurice William Drewry Rainer/../../../Petty Sessions

1925/Maurice Ranier/../../../Kelly's

08/3/1933/William Davis/../../../Petty Sessions

1937/Wm Davis/Red Lion, 71 High Road/../../Kelly's



* Provided by Al Skinns

** Provided by John Mead

*** Provided by Roderick Wheatley