Greyhound, Langham
My father did a lot of research on the pub, which he thought had stopped being one in about 1910/12. After that it became a private house - but it did still have the cellar and bar area. It had been a pub for a very long time - the house itself was over 500 years old with a date of 1624 burnt by a poker into the beams in the oldest part of the place - and probably was by far the longest existing pub in the village since both the Fox (late Victorian house) and the Shepherd & Dog (1930/50's house) were much younger. The large fireplace in the 'old hall' part had a heap of original spits and bread ovens built into it.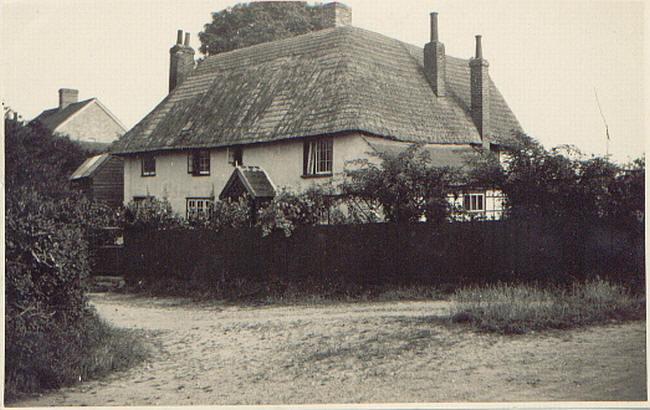 An image from Greyhound Hill - circa 1930s
Copyright unknown
Known Residents
The following entries are in this format:
Year/Publican or other Resident/Relationship to Head and or Occupation/Age/Where Born/Source.
1839/Robert Ransdale/../../../Pigot's

1840/Robert Ransdale/../../../Pigot's*

1845/Robert Ransdell/../../../Pigot's

1848/William Burleigh/..Victualler/../../White's

1851/William White/../../../Post Office

1851/William White/innkeeper/35/Ardleigh, Essex/Census ***
1851/Elizabeth White/wife/34/Ardleigh, Essex/Census ***
1851/James White/visitor/67/Ardleigh, Essex/Census ***
1851/Abraham Bones/lodger, ag lab/22/Ardleigh, Essex/Census ***

1855/John Emerson/../../../Kelly's**

1859/John Cooper/../../../Kelly's**

1861/John Cooper/../54/../Census**
1861/Elizabeth Cooper/../54/../Census**

1862/John Cooper/../../../Post Office

1867/John Cooper/../../../Post Office

1871/John Cooper/../../../Post Office

1874/John Cooper/../../../Post Office

1878/John Cooper/../../../Post Office

1881/John Cooper/Innkeeper/74/Elmstead, Essex/Census
1881/Elizabeth W. Cooper/Wife/75/Gt. Bromley, Essex/Census
1881/Charles Clark/Grandson, Agricultural Labourer/13/Beaumont, Essex/Census
1881/Louisa Clark/Granddaughter/11/Witham, Essex/Census

Note: Premises not named in 1881

1882/Henry Leeks/../../../Kelly's

1886/Frederick Downes/../../../Kelly's

1894/Robert Cason/../../../Kelly's

1894/Mrs. Ellen Cason/../../../Kelly's

1895/Mrs. Ellen Cason/../../../Kelly's

1898/Mrs. Ellen Cason/../../../Kelly's

1899/Mrs. Ellen Cason/../../../Kelly's

1902/Mrs. Ellen Cason/../../../Kelly's

1906/Cator Watson/../../../Kelly's

1908/Cator Watson/../../../Kelly's

1910/Cator Watson/../../../Kelly's



* Provided by the Pubs, Inns and Taverns Index for England, 1801-1900

** Provided by Simon Gallup

*** Provided by John Mead

**** Provided by Simon Langton