Beaumont Arms, 31 Beaumont Road, Leyton E10
Leyton pub history index
The address was formerly given as 81 Beaumont Road (83 Beaumont Road in 1911 census). As can be seen, the pub was rebuilt when the area was redeveloped after WWII. This pub closed in 2007. ** It is now demolished.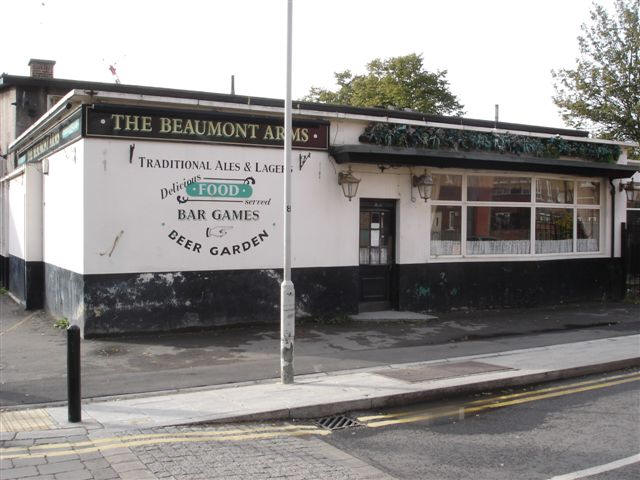 Beaumont Arms, 31 Beaumont Road, Leyton, E10 - in November 2006
Kindly provided by Stephen Harris
The following entries are in this format:
Year/Publican or other Resident/Relationship to Head and or Occupation/Age/Where Born/Source.
1870/William Lawrence/Beer Retailer/../../Kelly's

1871/William Lawrence/Beer Retailer/../../Post Office

1872/William Lawrence/Beer Retailer/../../Petty Sessions

1874/William Lawrence/Beer Retailer/../../Kelly's

1878/William Lawrence/Beer Retailer/../../Kelly's

1880/William Showler Cavill Lawrence / Beerhouse Keeper /../../London Gazette, 19 May 1896 **

1881/William Lawrence/Beerhouse Keeper/40/Middlesex/Census
1881/Jane Lawrence/Wife/40/Devon/Census
1881/Edith Lawrence/Daughter, No Occupation/19/Middlesex/Census
1881/Annie Lawrence/Daughter/12/Essex/Census
1881/Jenny Lawrence/Daughter/8/Essex/Census
1881/Mary Lawrence/Daughter/5/Essex/Census
1881/Emily Lawrence/Daughter/3/Essex/Census

1882/William Lawrence/Beer Retailer/../../Kelly's

1886/William Lawrence/Beer Retailer/../../Kelly's

1888/William Lawrence / Retailer of Beer, Bankrupt /../../London Gazette, 19 May 1896 **

16/2/1889/William Lawrence/Beer Retailer/../../Petty Sessions

1890/Henry Coe/Beer Retailer/../../Kelly's **

09/7/1892/William Nie/Beer Retailer/../../Petty Sessions

6/10/1894/Henry Langley/Beer Retailer/../../Petty Sessions

14/2/1895/William Hy Townsend/Beer Retailer/../../Petty Sessions

12/12/1896/Walter Samuel Fitch/Beer Retailer/../../Petty Sessions

05/6/1898/Benjamin Terry/Beer Retailer/../../Petty Sessions

1910/Wm Appleby Warricker/Beer Retailer/../../Kelly's **

1911/William Appleby Warricker/Licensed Victualler/63/East Ham/Census
1911/Mary Ann Warricker/Wife, Assistant/65/Upminster, Essex/Census
1911/Annie Warricker/Daughter, Assistant/39/Manor Park/Census
1911/Emma Warricker/Daughter, Assistant/35/Manor Park/Census
1911/Nellie Warricker/Daughter, Assistant/25/East Ham/Census

1922/George Orson/../../../Kelly's Essex Directory **

1941/Tharance Patrick Crawley/../../../Essex Licensing Committee records **



** Provided by Stephen Harris

Provided by Kevan