Search London wiki and Pub wiki history sites
Rodney, North Hill, Little Baddow CM3 4TQ
The Rodney had been opened as a Pleasure Garden about 1885 and the Danbury Griffin was responding with stabling and garages for cars. First the bicycle, then the bus and ultimately the motorcar were to help change the two parishes between 1900 and 1930. The low population figures for 1901 were dramatically transformed by 1931.
This eighteenth century building was described as a cottage with garden in 1840. It was owned by Thomas Hodge and occupied by James Edwards. By the late 1840s Charles Smith was a baker, grocer and beer seller here, so it was only natural that he took over about 1867 the discarded Rodney sign from up the hill. Charles Smith continued with his trade and even after his death his widow, Mrs. Lois Smith, continued as a baker and publican, but was assisted in 1881 by her brother, Jacob Barnard. Before 1900 her son, Herbert Smith, had taken over the bakery and beer trade which did not cease until the arrival of a new landlord, Sidney Wager, about 1905. Down to 1929 there was a succession of landlords here, including George Collins, Edward Russell and Edward Bickmore. *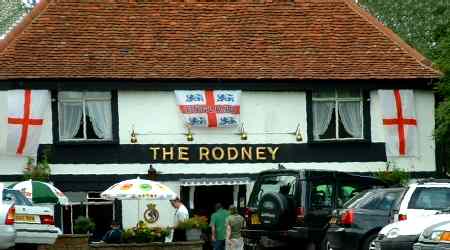 July 2002
Taken by Stephen Parker
The following entries are in this format:
Year/Publican or other Resident/Relationship to Head and or Occupation/Age/Where Born/Source.
1828-9/John Pullen/../../../Pigot's

1839/Mary Pullen/../../../Pigot's

1845/Mrs. Mary Pullen/../../../Post Office

1848/Mary Pullen/Victualler/../../White's

1851/Mrs. Mary Pullen/../../../Post Office
1851/Mary Pullen/widow, victualler/89/Widford, Essex/Census **
1851/Mary White/stepdaughter, assistant publican/48/Maldon, Essex/Census **
1851/James White/son in law, ag lab/33/Little Baddow, Essex/Census **

1871/Charles Smith/baker and publican/60/Isle of Whight, Hampshire/Census **
1871/Herbert Smith/son/10/Little Baddow, Essex/Census **
1871/Emma Box/daughter, married, carver and gilder's wife/../Little Baddow, Essex/Census**
1871/James Box/grandson/01/Westminster, London/Census **
1871/William Rumsey/boarder, widower, ag lab/60/Little Baddow, Essex/Census **
1871/John Argent/boarder, cordwainer/[20]/Sudbury, Suffolk Census **

1874/Mrs. Lois Smith/Baker/../../Kelly's

1878/Mrs. Lois Smith/Baker/../../Kelly's

1881/Lois Smith/Publican/65/Great Bursted, Essex/Census
1881/Jacob Barnard/Brother, Assistant/70/Great Bursted, Essex/Census
1881/Herbert Smith/Son, Baker/27/Little Baddow, Essex/Census
1881/Hyram Sorrell/Lodger, Jobbing Gardener/50/Little Baddow, Essex/Census

1882/Mrs. Lois Smith/../../../Kelly's

1886/Mrs. Lois Smith/Shopkeeper/../../Kelly's

1890/Mrs. Lois Smith/Shopkeeper/../../Kelly's

1891/Herbert Smith/Baker/39/Little Baddow, Essex/Census
1891/Mary L. Smith/Wife/30/South Wales/Census
1891/Lavinia L. Smith/Daughter/7/Little Baddow, Essex/Census
1891/Ada M. Smith/Daughter/3/Little Baddow, Essex/Census
1891/Pryce C. Smith/Son/1/Little Baddow, Essex/Census
1891/? Amy Russell/18/Housemaid/Terling, Essex/Census
1891/Lois Smith/Innkeeper/76/Great Burstead, Essex/Census

1894/Mrs. Lois Smith/Shopkeeper/../../Kelly's

1895/Mrs. Lois Smith/Shopkeeper/../../Kelly's

1899/Herbert Smith/Baker & Beer Retailer/../../Kelly's

1902/Herbert Smith/Baker/../../Kelly's

1906/Sidney Wager/../../../Kelly's

1908/Sidney Wager/../../../Kelly's

1910/George Praed Collins/../../../Kelly's

1912/George Praed Collins/../../../Kelly's

1914/Edward Russell/../../../Kelly's

1917/Edward Bickmore/../../../Kelly's

1922/Edward Bickmore/../../../Kelly's

1925/Edward Bickmore/../../../Kelly's

1929/Edward Bickmore/../../../Kelly's

1933/Edward Bickmore/../../../Kelly's

1937/John Vincent Goldsworthy/../../../Kelly's

1943/John Vincent Goldsworthy/../../../Kelly's



* Chris Day, The Little Baddow History Centre

** Provided by John Mead