Cherry Tree, Little Stambridge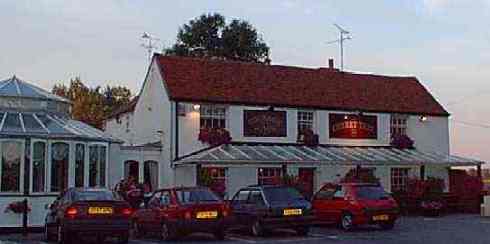 3rd September 1999
Taken by Stephen Parker
Known Residents
The following entries are in this format:
Year/Publican or other Resident/Relationshipto Head and or Occupation/Age/Where Born/Source.

I've been browsing through the Court Rolls of Little Stambridge, Essex and have found mention of the Cherry Tree Inn at several sessions of the manor court.
On 12th April 1793, the court roll records the surrender by John Harriott (he who invented the Thames River Police, I believe) of about one acre of land upon which the Cherry Tree 'hath been lately erected' into the hands of the Thomas Cattell, victualler, who was already in occupation. It looks as if John Harriott came into possession of some 6 acres of land called Winters along with some buildings on it in February 1792 and then in April 1793 hived off an acre with the Cherry Tree on it.
On 2nd March 1795, Thomas Cattell and his wife Ann in turn surrendered the acre to William Blyth, a dredgerman. It is not recorded whether Thomas Cattell continued to run the inn.
It looks as if the Cherry Tree Inn was first built around 1793 and that Thomas and Ann Cattell were the innkeepers during at least the period 1793 to 1795.

1793-5/Thomas & Ann Cattell/../../Little Stambridge Court Rolls *****

1828-9/Samuel Offord/../../../Pigot's

1832-3/Samuel Offord/../../../Pigot's

1839/Samuel Offerd/../../../Pigot's

1841/Samuel Offord/publican/70/Essex/Census *****
1841/Samuel Offord/publican/40/Essex/Census
1841/Sarah Offord/../35/Essex/Census
1841/Sarah Offord/../10m/Essex/Census
1841/William Baker/../12/Essex/Census
1841/Eliza Hales/female servant/15/Essex/Census

1845/Samuel Offerd/../../../Post Office

1848/Samuel Offerd/Victualler/../../White's

1851/Samuel Offord/../../../Post Office

1851/Samuel Offord/victualler/50/Rochford, Essex/Census ****
1851/no forename, Offord/wife/47/Canewdon, Essex/Census ****
1851/Sarah Ann Offord/daughter, scholar/10/Little Stambridge, Essex/Census ****
1851/Frances Offord/daughter, scholar/08/Little Stambridge, Essex/Census ****
1851/Emma Shepperd/house servant/13/Hawkwell, Essex/Census ****
1851/Thomas James/lodger, ag lab/52/Canewdon, Essex/Census ****

1852/S. Offord/../../../Kelly's*

1861/Samuel Offord/Victualler/60/Rochford, Essex/Census**
1861/Sarah Offord/Wife/47/Canewdon, Essex/Census**
1861/Frances Offord/Daughter/18/Little Stambridge, Essex/Census**

1862/Samuel Offord/../../../Kelly's

1867/Samuel Offord/../../../Post Office

1870/William Baker/../../../Kelly's

1874/William Baker/../../../Kelly's

1878/William Baker/../../../Kelly's

1881/John Carling/Licensed Victualler/50/Great Wakering, Essex/Census
1881/Maria Carling/Wife/50/Chelsea, Middlesex/Census
1881/Alice Elizabeth Cole/Niece/15/Bermondsey, Surrey/Census

1882/John Cowling/../../../Kelly's

1886/Henry Turner/../../../Kelly's

1890/Samuel Evans/../../../Kelly's

1894/William Stillman/../../../Kelly's

1895/William Stillman/../../../Kelly's

1898/William Stillman/../../../Kelly's

1899/William Stillman/../../../Kelly's

1901/Caroline Stillman/Publican/52/Clack, Wiltshire/Census***

1902/Peter Will/../../../Kelly's

1906/James Stranks/Coach Builder/../../Kelly's

1908/James Stranks/Coach Builder/../../Kelly's

1910/James Stranks/../../../Kelly's

1912/James Stranks/../../../Kelly's

1914/James Stranks/../../../Kelly's

1917/James Stranks/../../../Kelly's

1922/James Stranks/../../../Kelly's

1925/James Stranks/../../../Kelly's

1929/Percy Walter Richmond/../../../Kelly's

1933/George Harvey/../../../Kelly's

1937/George Harvey/../../../Kelly's



Provided by the Pubs, Inns and Taverns Index for England, 1801-1900

** Provided by CG

*** Provided by Monique Jones

**** Provided by John Mead

***** Provided by Keith Taylor