Swan, Little Totham
The Swan - CAMRA Essex Pub of the Year - 2007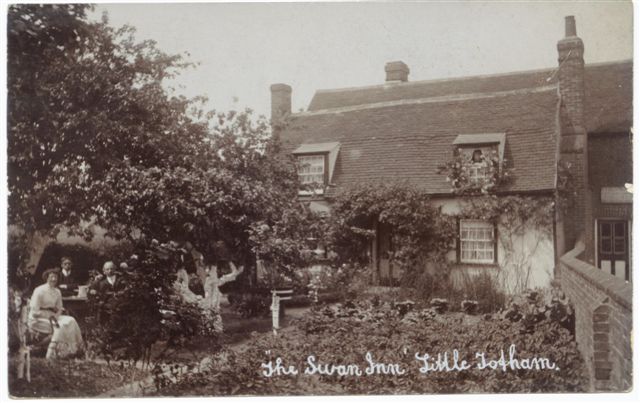 Kindly donated by Colleen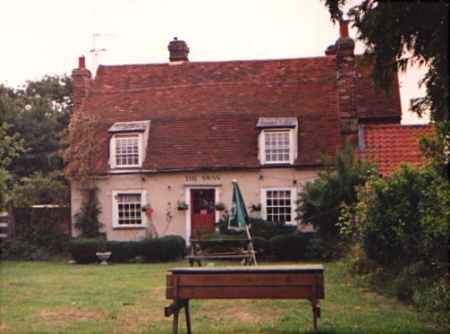 Circa 1995
Taken by Sue Hodgson
Known Residents
The following entries are in this format:
Year/Publican or other Resident/Relationship to Head and or Occupation/Age/Where Born/Source.
The [Ager/Wager link] - my great great great aunt, Martha Ager, married James Wager in 1863 (she didn't have to change her name much!). James' brother was William Wager who ran the Compasses in Great Totham and the Fox in Rivenhall, and his sister was Elizabeth Wager who appears to have lived quite a long life at the Swan in Little Totham. He also had another sister, Eliza. She married Albert Binks whose parents ran the Victoria, Barking, and after Albert's death she remarried William Bone who ran the Blue Anchor in Barking and was last seen in 1901 with the occupation of "Publican" and living at 6 High Street, Ilford, Essex.
Elizabeth Wager married William Belcher in 1867 and she ran the place until at least 1933 (can't find her death registration, but she would have been about 83 when she died). On your web page you have an entry from Kelly's for 1937 where the property is run by a Mrs. Grace Cooper. Grace Belcher (who appears on your webpage in 1881 and 1891) married her cousin Reginald Cooper in 1898 and I think it likely that Grace Cooper & Grace Belcher are the same person (their first child, Albert, is on the 1901 census ). Grace would have been about 61 years old in 1937.
***

1861/William Wager/Beer House Keeper/31/Little Totham, Essex/Census ***
1861/Sarah Wager/Wife, Beer House Keeper's Wife/27/Little Totham, Essex/Census
1861/Herbet Wager/Son, Scholar/9/Little Totham, Essex/Census
1861/Ellen Wager/Daughter, Scholar/5/Little Totham, Essex/Census
1861/Walter Wager/Son, Scholar/3/Little Totham, Essex/Census
1861/William Wager/Son/4m/Little Totham, Essex/Census
1861/Mary Ann Gentry/Servant, House Servant/17/Great Totham, Essex/Census

1862/William Wager/Poulterer & Beer Retailer/../../Kelly's

1867/William Wager/Poulterer & Beer Retailer/../../Post Office

1870/William Wager/Poulterer & Beer Retailer/../../Kelly's

1871/William Wager/Farmer/68/Tolleshunt D'Arcy, Essex/Census*
1871/Lydia Wager/Wife/63/Inworth, Essex/Census*
1871/Eliza Wager/Daughter, Dressmaker/24/LittleTotham, Essex/Census*
1871/David Howard/Lodger, Agricultural Labourer/16/Brightlingsea, Essex/Census*
1871/David Saward/Lodger, Agricultural Labourer/21/LittleTotham, Essex/Census*

1874/Mrs. Lydia Wager/Poulterer & Beer Retailer/../../Kelly's

1878/Mrs. Lydia Wager/Poulterer & Beer Retailer/../../Kelly's

1881/William Belcher/Iron Fitter/38/Great Warley, Essex/Census
1881/Elizabeth Belcher/Wife/32/Little Totham, Essex/Census
1881/Florance Belcher/Daughter/11/Tolleshunt Major, Essex/Census
1881/Ada Belcher/Daughter/8/Tolleshunt Major, Essex/Census
1881/Bertha Belcher/Daughter/6/Tolleshunt Major, Essex/Census
1881/Grace Belcher/Daughter/5/Tolleshunt Major, Essex/Census
1881/Lydia Wager/Mother, Licensed Victualler/75/Little Totham, Essex/Census
1881/Clara Binks/Niece/3/Barking, Essex/Census
1881/William Redgwell/Lodger, Agricultural Labourer/56/Great Totham, Essex/Census
1881/William Quy/Higler & Dealer/28/Little Totham, Essex/Census
1881/Mark Saward/Lodger, General Dealer/28/Little Totham, Essex/Census
1881/Charles Collins/Lodger, Marine Store Dealer/21/Little Totham, Essex/Census

1882/Mrs. Lydia Wager/Poulterer & Beer Retailer/../../Kelly's

1886/Mrs. Lydia Wager/Poulterer & Beer Retailer/../../Kelly's

1890/William Belcher/Poulterer & Beer Retailer/../../Kelly's

1891/William Belcher/Implement Repairer/47/Warley, Essex/Census*
1891/Elizabeth Belcher/Wife/42/LittleTotham, Essex/Census*
1891/Grace Belcher/Daughter/15/Beckingham, Essex/Census*
1891/Minnie Belcher/Daughter/10/LittleTotham, Essex/Census*
1891/Jessie Belcher/Daughter/8/LittleTotham, Essex/Census*
1891/Ernest Belcher/Son/2/LittleTotham, Essex/Census*
1891/Lydia Wager/Mother in Law, Living on own means/87/LittleTotham, Essex/Census*
1891/Norris(?) Humphreys/Lodger, Agricultural Labourer/38/LittleTotham, Essex/Census*
1891/Stephen Appleton/Lodger, Agricultural Labourer/19/LittleTotham, Essex/Census*

1894/William Belcher/Beer Retailer/../../Kelly's

1898/William Belcher/Poulterer & Beer Retailer/../../Kelly's

1899/William Belcher/Beer Retailer/../../Kelly's

1901/William Belcher/Agricultural Implement ?/56/Warley, Essex/Census ***
1901/Elizabeth Belcher/Wife/51/Little Totham, Essex/Census
1901/Jessie Belcher/Daughter/17/Little Totham, Essex/Census
1901/Minnie Belcher/Daughter, Bar Maid/19/Little Totham, Essex/Census
1901/Earnest Belcher/Son/12/Little Totham, Essex/Census
1901/Albert Cooper/Grandson/1/Woodham Ferris, Essex/Census
1901/Laban Collins/Lodger, General Labourer on Farm/17/Little Totham, Essex/Census

1908/Mrs. Elizabeth Belcher/Beer Retailer/../../Kelly's

1910/Mrs. Elizabeth Belcher/Beer Retailer/../../Kelly's

1912/Mrs. Elizabeth Belcher/Beer Retailer/../../Kelly's

1914/Mrs. Elizabeth Belcher/Beer Retailer/../../Kelly's

1917/Mrs. Elizabeth Belcher/Beer Retailer/../../Kelly's

1922/Mrs. Elizabeth Belcher/Beer Retailer/../../Kelly's

1925/Mrs. Elizabeth Belcher/Beer Retailer/../../Kelly's

1929/Mrs. Elizabeth Belcher/Beer Retailer/../../Kelly's

1933/Mrs. Elizabeth Belcher/Beer Retailer/../../Kelly's

1937/Mrs. Grace Cooper/../../../Kelly's



* Provided by Sue Hodgson

*** Provided by Colin Ager