White Horse, Norton Heath, Essex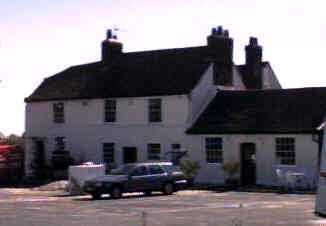 9th September 1999
"In the 1861 census my great-great maternal grandfather, Thomas Fogg (born 18th March 1806 at Norton Mandeville, is shown living there with his second wife, Eliza Ann nee Caton (1805-1883). Also present are five of his nine children namely: Francis (my great grand father), born about 1837, George baptised Norton 21st April 1839, Hannah Ann born about 1842, Richard, baptised Norton 13th October 1844 and Charles, baptised Norton 24th May 1847. Thomas was shown on the census as an agricultural labourer, but died on the 27th November 1863 and his death certificate shows him as a licensed victualler. The certificate shows he died in High Ongar, so I can only assume he was still at the same pub. His Administration in 1863 shows him as a publican. It appears the family left the pub upon Thomas' death.
How he came to be there can be explained by a document at Essex Record Office which I have not yet seen, but is explained in the index as the purchase of the White Horse by Henry Caton of Blackmore, Essex, a baker, for £600 in 1806. I believe this Caton to be the grandfather of Eliza Ann, Thomas's second wife."
From Mick Loxdale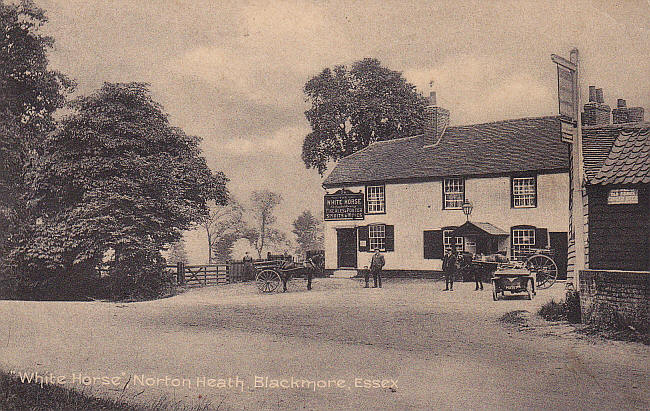 White Horse, Norton Heath, Blackmore - circa 1910 - 1915
Kindly provided by Julian Gooding
Known Residents
The following entries are in this format:
Year/Publican or other Resident/Relationship to Head and or Occupation/Age/Where Born/Source.
1841/Joseph Lucking/Publican/35/Essex/Census ****
1841/Ann Lucking/../30/Essex/Census
1841/Robert Lucking/../9/Essex/Census
1841/Elizabeth Lucking/../7/Essex/Census
1841/Joseph Lucking/../5/Essex/Census
1841/Charlotte Lucking/../3/Essex/Census
1841/Samuel Lucking/../3 months/Essex/Census
1841/William Shipton/Male Servant/15/Essex/Census
1841/Mary Burr/Female servant/15/Essex/Census
1841/Edward Blowes/Agr Labourer/15/Essex/Census

1848/Joseph Luckling/Victualler/../../White's

[In 1851 listed as the White Horse, Blackmore Hamlet ]

1851/Joseph Lucking/Licensed victualler/48/Willingale Doe, Essex/Census ***
1851/Ann Lucking/wife/Moreton, Essex/Census ***
1851/Ann Lucking/daughter/17/Willingale Doe, Essex/Census ***
1851/Joseph Lucking/son/14/Willingale Doe, Essex/Census ***
1851/C. Lucking/daughter/13/Willingale Doe, Essex/Census ***
1851/William Lucking/son/10/High Ongar, Essex/Census ***
1851/Louisa Lucking/daughter/08/High Ongar, Essex/Census ***
1851/Walter Lucking/son/06/High Ongar, Essex/Census ***
1851/James Lucking/son/05/High Ongar, Essex/Census ***

1861/Thomas Fogg/Agricultural Labourer/56/Norton Mandeville, Essex/Census**
1861/Eliza Fogg/Wife/56/High Ongar, Essex/Census**
1861/Francis Fogg/Son, Agricultural Labourer/23/Norton Mandeville, Essex/Census**
1861/George Fogg//22/Norton Mandeville, Essex/Census**
1861/Hannah A. Fogg/Daughter/20/Norton Mandeville, Essex/Census**
1861/Richard Fogg/Son, Agricultural Labourer/16/Norton Mandeville, Essex/Census**
1861/Charles Fogg/Son/13/Norton Mandeville, Essex/Census**
1861/John Black/Lodger, Tailor/50/Isleworth, Middlesex/Census**

1862/Thomas Fogg/../../../Kelly's

1874/William Moss/../../../Post Office

1890/Thomas Williams/../../../Kelly's

1895/John Willis/../../../Kelly's

1898/William J. Scudder/../../../Kelly's

1899/William J. Scudder/../../../Kelly's

1902/Richard Nichols/../../../Kelly's

1906/William A. Brocklebank/Horse Breaker/../../Kelly's

1908/George Goodchild/../../../Kelly's

1910/George Goodchild/../../../Kelly's

1912/George Goodchild/../../../Kelly's

1912/George Goodchild/../../../Kelly's

1914/Charles J. Bonnington/../../../Kelly's

1917/Charles J. Bonnington/../../../Kelly's

1922/John Uphill/../../../Kelly's

1925-6/John Uphill/../../../Kelly's

1929/John Uphill/../../../Kelly's

1933/John Uphill/../../../Kelly's

1937/Mrs. Charlotte J. Knightbridge/../../../Kelly's



** Provided by Mick Loxdale

*** Provided by John Mead

**** Provided by Kevan