Rose Inn, Peldon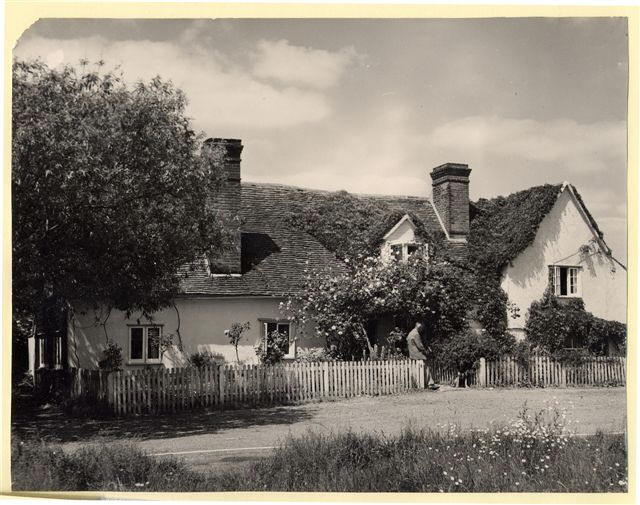 The Rose Inn, 1962
(Thumbnails) On the pub wall, photographed with permission
The second picture is after earthquake damage in 1884
All Kindly donated by Colleen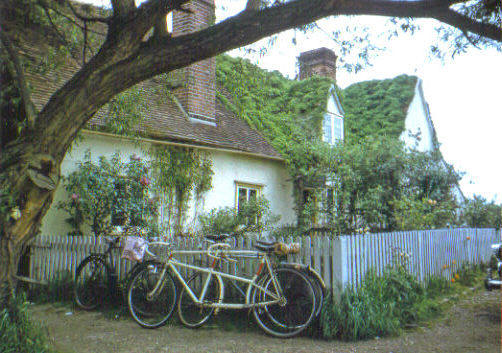 Rose, Peldon in 1957
Kindly provided by David Twitchett - copyright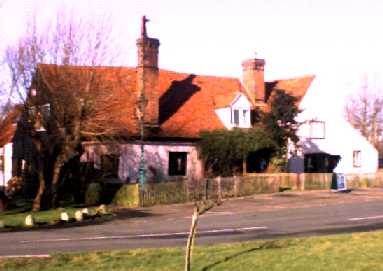 13th February 2000
First registered in 1454, but thought to date back to 1380, the Rose and it's pond were mentioned in the Domesday Book. The pond is thought to have been a hiding place for smugglers booty.
Known Residents
The following entries are in this format:
Year/Publican or other Resident/Relationship to Head and or Occupation/Age/Where Born/Source.
1828-9/John Tibball/../../../Pigot's

1832-3/John Theobald/../../../Pigot's

1839/John Green/../../../Pigot's

1840/John Green/../../../Pigot's*

1841/William Lappage/publican/38/born Essex/Census ***
1841/Sarah Lappage/wife/34/born Essex/Census ***
1841/Elizabeth Clark/female servant/24/born Essex/Census ***
1841/Alfred Firmin/male servant/14/born Essex/Census ***

1845/William Lappage/../../../Post Office

1848/William Lappage/Thatcher & Victualler/../../White's

1851/William Lappage/../../../Post Office

1851/William Lappage/innkeeper/47/Peldon, Essex/Census ***
1851/Sarah Lappage/wife/44/Fingringhoe, Essex/Census ***
1851/Jane Marten/servant/15/Great Wigborough, Essex/Census ***
1851/James Tully/lodger, ag lab/24/Runwell, Essex/Census ***
1851/George Bird/lodger, ag lab/32/Long Melford, Suffolk/Census ***

1852/W. Lappage/../../../Kelly's*

1855/T. Nelson/../../../Kelly's*

1861/Thomas Nelson/Builder & Innkeeper/43/St. Giles, Colchester/Census**
1861/Harriett Nelson/Wife/33/Hadleigh, Suffolk/Census**
1861/Tansey Nelson/Daughter/10/Peldon, Essex/Census**
1861/Emma Nelson/Daughter/8/Peldon, Essex/Census**
1861/Edwin Nelson/Son/6/Peldon, Essex/Census**
1861/George Nelson/Mariner/30/St. Giles, Colchester/Census**
1861/Isaac Creek/Carpenter/49/Peldon, Essex/Census**
1861/Charles Brown/Unable to Work/50/Peldon, Essex/Census**
1861/William Powell/Agricultural Labourer/53/St. Giles, Colchester/Census**

1862/Thomas Nelson/Bricklayer/../../Kelly's

1867/Thomas Nelson/Bricklayer/../../Post Office

1870/Thomas Nelson/Bricklayer/../../Kelly's

1871/Thomas Nelson/Bricklayer/../../Post Office

1871/Thomas Nelson/widower, innkeeper and bricklayer/53/Colchester, Essex/Census ***
1871/Emma A Nelson/daughter/17/Peldon, Essex/Census ***
1871/Edwin T Nelson/son/16/Peldon, Essex/Census ***
1871/Eleanor Green/housekeeper/38/Alresford, Essex/Census ***
1871/Charles Catchpool/carter/13/Tunstall, Suffolk/Census ***
1871/William Dow/lodger, ag lab/Wissett, Suffolk/Census ***
1871/Isaac Creek/lodger, carpenter/59/Peldon, Essex/Census ***
1871/Charles T Cole/lodger, ag lab/54/Peldon, Essex/Census **

1874/Thomas Nelson/Bricklayer/../../Post Office

1878/Thomas Nelson/../../../Kelly's

1881/George Pullen/Innkeeper & Market Farmer/36/East Mersea, Essex/Census
1881/Jane Pullen/Wife/30/Messing, Essex/Census
1881/George W. Pullen/Son/12/East Mersea, Essex/Census
1881/Lily J. Pullen/Daughter/9/East Mersea, Essex/Census

1882/George Pullen/../../../Kelly's

1886/George Pullen Jun./../../../Kelly's

1890/George Pullen Jun./../../../Kelly's

1891/George Pullen/innkeeper and seed grower/44/West Mersea, Essex/Census ***
1891/Jane Pullen/wife/39/Messing, Essex/Census ***
1891/George W Pullen/son/cattle dealer/22/West Mersea, Essex/Census ***
1891/Susan J Pullen/daughter/19/West Mersea, Essex/Census ***

1894/George Pullen/../../../Kelly's

1895/George Pullen/../../../Kelly's

1898/George Pullen/../../../Kelly's

1899/George Pullen/../../../Kelly's

1902/George Pullen/../../../Kelly's

1906/George Pullen/../../../Kelly's

1908/George Pullen/../../../Kelly's

1910/Mrs. Jane Pullen/../../../Kelly's

1912/Mrs. Jane Pullen/../../../Kelly's

1914/Mrs. Jane Pullen/../../../Kelly's

1917/Mrs. Jane Pullen/../../../Kelly's

1922/Mrs. Jane Pullen/../../../Kelly's

1925/Mrs. Jane Pullen/../../../Kelly's

1929/Mrs. Jane Pullen/../../../Kelly's

1933/Mrs. Jane Pullen/../../../Kelly's

1937/Basil I. Pullen/../../../Kelly's

1963 - 1968/C W Ollivant/The Rose Inn - Peldon 248/../../BT Telephone directory



* Provided by the Pubs, Inns and Taverns Index for England, 1801-1900

** Provided by CG

*** Provided by John Mead