Blucher's Head, 44 Market Place, Romford
Romford pub history index
Directory of Pubs in the UK, historical public houses, Taverns, Inns, Beer Houses and Hotels in Essex .
Name Changed to the Duke of Wellington 15th April 1915 due to public opinion. Demolished in 1967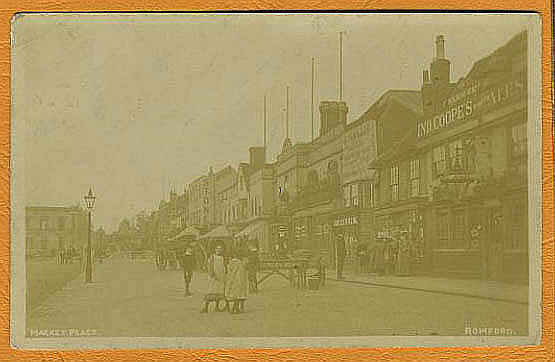 Bluchers Head, Market Place - on right
Kindly provided by Colleen
For the History of Romford & other areas of Havering:
The following entries are in this format:
Year/Publican or other Resident/Relationship to Head and or Occupation/Age/Where Born/Source.
1822/John Marrable/../../../Pigot's*

1823-4/John Marrable/../../../Pigot's

1826/John Marrable/../../../Pigot's

1828-9/John Marrable/../../../Pigot's

1832-3/James Wensley/../../../Pigot's

1839/Samuel Adams Hammond/../../../Pigot's

1841/Samuel Adams Hammond/Innkeeper/45/Essex/Census
1841/Mary Hammond/../45/Essex/Census
1841/Joseph Hammond/../22/Essex/Census
1841/Sarah Hammond/../20/Essex/Census
1841/Mary Ann Hammond/../15/Essex/Census
1841/Hannah Hammond/../13/Essex/Census
1841/Emma Hammond/../9/Essex/Census

1845/Samuel Adams Hammond/Carpenter/../../Post Office

1848/Mary Hammond/../../../White's

1851/Mrs. Mary Hammond/Carpenter/../../Post Office

1851/Mary Hammond/Innkeeper/57/Willingate Doe, Essex/Census***
1851/Mary Ann Hammond/Daughter/28/Romford, Essex/Census
1851/Hannah Hammond/Daughter/23/Romford, Essex/Census
1851/Charles Hammond/Son, Carpenter/21/Romford, Essex/Census
1851/Emma E. Hammond/Daughter/18/Romford, Essex/Census
1851/Thomas Pool/Lodger, Sawyer/30/Doddinghurst, Essex/Census
1851/John Archer/Errand Boy/16/Epping, Essex/Census

1855/Misses Hammond/../../../Kelly's*

1861/Frederick L Mantell/Victualler/33/Epping, Essex/Census
1861/Sarah Mantell/Wife/40/Romford, Essex/Census
1861/Henry Newman/Servant, Ostler/22/Great Clacton, Essex /Census
1861/Susan Goodwin/House Servant/20/Blythburgh, Suffolk/Census

1862/Frederick Lewis Mantell/../../../Kelly's

1863/Frederick Lewis Mantell/../../../White's

1867/Frederick L. Mantell/../../../Post Office

1870/Frederick Lewis Mantell/../../../Kelly's

1871/Frederick Lewis Mantell/../../../Post Office

1871/Frederick L. Mantell/Licensed Victualler/42/Epping, Essex/Census***
1871/Sarah Mantell/Wife/50/Romford, Essex/Census
1871/William Kelley/Ostler/19/Great Waltham, Essex/Census
1871/Annie Wederell/Barmaid/14/Theydon Bois, Essex/Census
1871/Francis Summerfield/Boarder, Plumber/34/Kent/Census

30/08/1872/Frederick Lewis Mantell/../../../Petty Sessions Victuallers Records

1874/Frederick Lewis Mantell/../../../Kelly's

1878/Frederick Lewis Mantell/../../../Kelly's

29/01/1880/Robert Jennings/../../../Petty Sessions Victuallers Records

1881/Robert Jennings /Licensed Victualler/23/London, Middlesex/Census
1881/Mary Jennings/Mother/43/London, Middlesex/Census
1881/Emily Wheatley/Barmaid/14/Romford, Essex/Census
1881/Mark Seely/Hostler/20/Brockley, Suffolk/Census
1881/Robert Baker/Lodger, Carpenter/27/Manchester, Lancashire/Census

Note: Premises not named in 1881

1882/Robert Jennings/../../../Kelly's

30/04/1885/James Heavens/../../../Petty Sessions Victuallers Records

1886/James Heavens/../../../Kelly's

1890/James Heavens/../../../Kelly's

1891/James Heavens/Licensed Victualler/31/Faringdon, Berkshire/Census***
1891/Emily Lucy Heavens/Wife/30/Henley on Thames/Census
1891/Emily Heavens/Daughter/4/Romford, Essex/Census
1891/Frank Heavens/Son/3/Romford, Essex/Census
1891/Alice Heavens/Daughter/2/Romford, Essex/Census
1891/William Heavens/Son/1m/Romford, Essex/Census
1891/Mary Ann Winter/Lady Nurse/63/Blackheath, Kent/Census
1891/Blanche Carroll/Domestic Nurse Girl/14/Romford, Essex/Census
1891/William Newman/Potman/45/Halstead, Essex/Census

02/12/1893/Emily Lucy Heavens/../../../Petty Sessions Victuallers Records

25/01/1894/Emily Lucy Heavens/../../../Petty Sessions Victuallers Records

08/02/1894/Henry Knightbridge/../../../Petty Sessions Victuallers Records

1894/Henry Knightbridge/../../../Kelly's

1895/Henry Knightbridge/../../../Kelly's

31/10/1895/Arthur Albert Rich/../../../Petty Sessions Victuallers Records

1898/Arthur Albert Rich/../../../Kelly's

1899/Arthur Albert Rich/../../../Kelly's

1901/Arthur A Rich/Publican/37/Romford, Essex/Census
1901/Clara Linton/House Keeper/32/Abbotsley, Hants/Census
1901/Harry Green/Potsman/22/Essex/Census

1902/Arthur Albert Rich/../../../Kelly's**

1906/Arthur Albert Rich/../../../Kelly's**

1908/Mrs. Ellen M. Long/../../../Kelly's

1910/Mrs. Ellen M. Long/../../../Kelly's

1911/Thomas Long/Licensed Victualler/45/Bethnal Green, London/Census
1911/Ellen May Long/Wife/50/Buckhurst Hill, Essex/Census
1911/Ellen May Copland/Daughter/27/Buckhurst Hill, Essex/Census
1911/Ivy May Copland/Granddaughter/2/Romford, Essex/Census
1911/Sidney Thomas Copland/Grandson/1/Romford, Essex/Census
1911/Joseph Walter Shepherd/Grandson/6/Bow, London/Census
1911/Violet Ellenor Shepherd/Granddaughter/8/Bow, London/Census

1912/Mrs. Ellen M. Long/../../../Kelly's

1914/Mrs. Ellen M. Long/../../../Kelly's

1917/Mrs. Ellen M. Long/../../../Kelly's

1922/Mrs. Ellen M. Long/../../../Kelly's

1925/Thomas H. Long/../../../Kelly's

1929/Thomas H. Long/../../../Kelly's

1933/Thomas H. Long/../../../Kelly's

1937/Thomas H. Long/../../../Kelly's




* Provided by the Pubs, Inns and Taverns Index for England, 1801-1900

** Provided by Tom Hine

*** Provided by CG