Golden Lion, High Street, Romford
Romford pub history index
For the History of Romford & other areas of Havering:
Listed as far back as 1440. This building dates from the 16th and 17th centuries. Considered "a fine specimen of the old inns which abounded in the town" and "the stables behind are full of reminiscences of the days of the stage coach with its spanking team of horses before they had to give place to the more powerful "iron horse" by Tasker.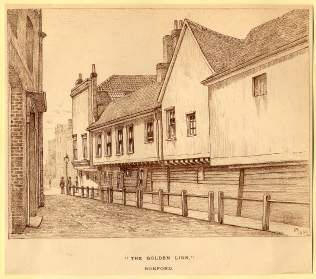 Golden Lion, Romford in 1889, from a sketch by Bamford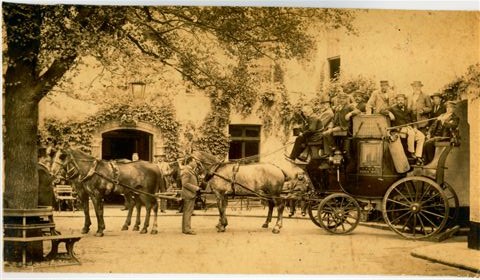 Kindly donated by Colleen
The 1895 Mail Coach
The back of photo states:
'The Essex Mail London (The Plough, Bow Road) to Southend On Sea (Royal Pier Hotel) about 1895. Down journey one day, up journey the day following. Horse changes 'The Golden Lion (Peter Reynolds)

Drivers: Peter Reynolds & Frank Webster.
This photo is thought to have been taken in the courtyard of the Royal Pier Hotel.
Driver Peter Reynolds. At the wheeler heads, Frank Webster. A recognisable passenger behind box seat passengers is Frank Webster foster brother Tom Osbourne. My father seems to have written a list of the boys although now mutilated. One name is recognisable 'Lusty' who would be William Lusty the turtle soup magnate. Other names partly recognisable are Hone. (Hurn). Weter(land?)'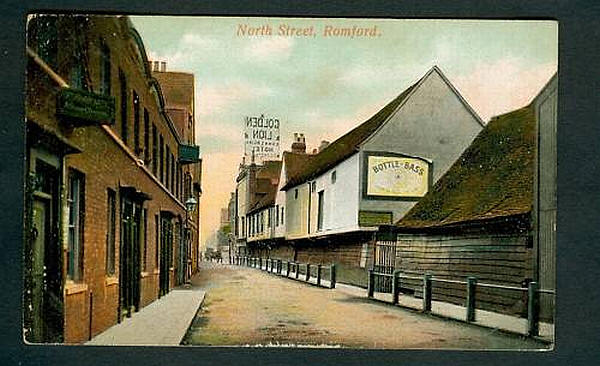 Golden Lion, North Street, Romford - posted in 1913
Kindly provided by Colleen
Formerly known as the Lion and the Red Lion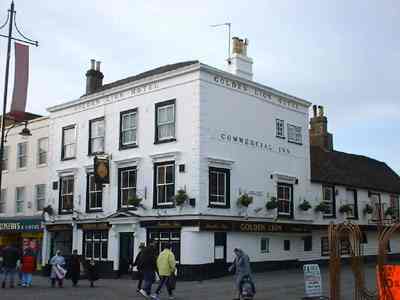 The following entries are in this format:
Year/Publican or other Resident/Relationship to Head and or Occupation/Age/Where Born/Source.
1791/James Cooper/../../../Universal British

1822/Richard Blurton/../../../Pigot's*

1823-4/Richard Blurton/../../../Pigot's

1826/Richard Blurton/../../../Pigot's

1828-9/Richard Blurton/../../../Pigot's

1832-3/Francis Beal/../../../Pigot's

1839/Noah Dunnett/../../../Pigot's

1841/Noah Dunnett/Innkeeper/40/../Census ****
1841/Maria Dunnett/../30/Essex/Census
1841/Emma Dunnett/../4/Essex/Census
1841/Walter Dunnett/../9 months/Essex/Census
1841/Caroline Blakes/Female Servant/20/Essex/Census
1841/Elizabeth Whipps?/Female Servant/15/Essex/Census
1841/George Howard?/Male Servant/15/Essex/Census
1841/John Eley/Ag Labourer/40/Essex/Census
1841/Thomas Poare??/Ag Labourer/40/Essex/Census
1841/George ??/Ag Labourer/14/Essex/Census

1845/Noah Dunnett/../../../Post Office

1848/Noah Dunnett/../../../White's

1851/Noah Dunnett/../../../Post Office

1851/Noah Dunnett/Innkeeper/49/Attleborough, Norfolk/Census**
1851/Maria Dunnett/Wife/44/Warley, Essex/Census**
1851/Emma Dunnett/Daughter/14/Ongar, Essex/Census**
1851/Esther Dow/Barmaid/22/Baddow, Essex/Census**
1851/Emma Lash/Waitress/19/Middlesex/Census**
1851/Ann Grayling/Cook/22/Navestock, Essex/Census**
1851/Thomas Pouttser/Boots/15/Romford, Essex/Census**
1851/Charles Siggers/Cabman/24/Clare, Suffolk/Census**
1851/James Chilcotts/Omnibus Driver/19/Croydon, Surrey/Census**
1851/William Gavad/Ostler/25/Hatfield, Essex/Census**

1855/N. Dunnett/../../../Kelly's*

1861/Noah Dunnett/Cab proprietor, Innkeeper/60/Attleborough, Norfolk/Census ****
1861/Maria Dunnett/Wife/54/Great Warley, Essex/Census
1861/Emma Dunnett/Daughter/24/Ongar, Essex/Census
1861/Lucretia Dunnett/Daughter/22/Romford, Essex/Census
1861/Elizabeth Thomas/Servant, Barmaid/23/Ongar, Essex/Census
1861/Emma Perryn/Servant, Chembermaid/25/Hornchurch, Essex/Census
1861/Maria Salisbury/Servant, Cook/21/Romford, Essex/Census
1861/William Deekes/Servant, Boots/15/Romford, Essex/Census

1862/Noah Dunnett/../../../Kelly's

1863/Noah Dunnett/../../../White's

1867/Peter Reynolds/../../../Post Office

1870/Peter Reynolds/../../../Kelly's

1871/Peter Reynolds/../../../Post Office

1871/Peter Reynolds/Innkeeper/41/Ilford, Essex/Census**
1871/Maria Reynolds/Wife/31/Romford, Essex/Census
1871/Charles Peter Reynolds/Son, Scholar/7/Romford, Essex/Census
1871/Maria Edith Reynolds/Daughter, Scholar/6/Romford, Essex/Census
1871/Kate Reynolds /Daughter, Scholar/5/Romford, Essex/Census
1871/Thomas Reynolds/Son, Scholar/4/Romford, Essex/Census
1871/Florence Reynolds/Daughter/1/Romford, Essex/Census
1871/Mary A. Cork/Barmaid/27/Harlow, Essex/Census
1871/Sophia Sorrell/Cook/37/Romford, Essex/Census
1871/Susan Shuford/Housemaid/32/Finchingfield, Essex/Census
1871/Emma Coutson/Nursemaid/20/Yorkshire/Census
1871/Eliza House/General Servant/17/Romford, Essex/Census
1871/James Mead/Waiter/20/Ingatestone, Essex/Census
1871/Thomas Connters/Coachman/30/Romford, Essex/Census

30/08/1872/Peter Reynolds/../../../Petty Sessions Victuallers Records

1874/Peter Reynolds/../../../Kelly's

1878/Peter Reynolds/Wholesale & Retail Wine & Spirit Merchant/../../Kelly's

1881/Peter Reynolds/Licensed Victualler/50/Ilford, Essex/Census
1881/Maria Reynolds/Wife/40/Romford, Essex/Census
1881/Charles P. Reynolds/Son, Wine Merchant Clerk/17/Romford, Essex/Census
1881/Maria E. Reynolds/Daughter/16/Romford, Essex/Census
1881/Florence Reynolds/Daughter/10/Romford, Essex/Census
1881/Fanny Reynolds/Daughter/8/Romford, Essex /Census
1881/Maud Reynolds/Daughter/6/Romford, Essex/Census
1881/Anne Reynolds/Daughter/3/Romford, Essex/Census
1881/Arthur Reynolds/Son/1/Romford, Essex/Census
1881/Agnes A. Bell/Bookkeeper/34/London, Middlesex/Census
1881/Norah H. Peters/Barmaid/22/Rainham, Essex/Census
1881/Havalid Peak/Cook/30/Cambridge/Census
1881/Emily Gosling/Housemaid/29/Romford, Essex/Census
1881/Elizabeth How/Nursemaid/18/Romford, Essex/Census
1881/George Long/Boots/20/Colchester, Essex/Census

1882/Peter Reynolds/Wholesale & Retail Wine & Spirit Merchant etc./../../Kelly's

1886/Peter Reynolds/../../../Kelly's

1890/Peter Reynolds/../../../Kelly's

1891/Peter Reynolds/Licensed Victualler/62/Ilford, Essex/Census
1891/Maria Reynolds/Wife/52/Romford, Essex/Census
1891/Kate Reynolds/Daughter/25/Romford, Essex/Census
1891/Florence Reynolds/Daughter/21/Romford, Essex/Census
1891/Fannie Reynolds/Daughter/18/Romford, Essex/Census
1891/Maud M. Reynolds/Daughter/16/Romford, Essex/Census
1891/Annie Reynolds/Daughter/10/Romford, Essex/Census
1891/Amy Jane ?/Servant/25/Romford, Essex/Census
1891/?/General Servant/?/Romford, Essex/Census
1891/? Starling/Servant/27/Lambourne, Essex/Census
1891/William Butt/Servant/19/London/Census
1891/Henry Hallows/Barman/26/Romford, Essex/Census
1891/Charles William Davison/Boarder/39/Sunderland, Durham/Census

1894/Peter Reynolds/../../../Kelly's

1895/Peter Reynolds/../../../Kelly's

1898/Peter Reynolds/../../../Kelly's

1899/Peter Reynolds/../../../Kelly's

22/11/1900/John Cannon Egan/../../../Petty Sessions Victuallers Records

1901/John Egan/Licensed Victualler/32/Edmonton, Middx/Census ****
1901/Maria Egan/Wife/28/Earlesford, Surrey/Census
1901/Maria Egan/Daughter/2/Battersea/Census
1901/Maud Humphreys/Barmaid/22/London/Census
1901/Lilly Williams/Barmaid/18/Ireland/Census
1901/May Gilder/Cook/48/Hempstead, Essex/Census
1901/Jennie Muffat/Nurse/22/Battersea/Census
1901/Emily Everitt/Housemaid/18/Romford, Essex/Census
1901/Elizabeth Everitt/Nursegirl/16/Romford, Essex/Census
1901/Robert Fife/Potsman, Barman/25/Pitsea, Essex/Census
1901/Walter Bohamman/Boots/15/Romford, Essex/Census

1902/Duffield & John C. Egan/../../../Kelly's

12/03/1903/Mrs Elizabeth Thomasin Duffield/../../../Petty Sessions Victuallers Records

12/03/1903/Henry John Webster/../../../Petty Sessions Victuallers Records

1906/Henry Tarry/../../../Kelly's

1908/Henry Tarry/../../../Kelly's

1910/Frederick Owen Rush/../../../Kelly's

1911/Frederick Owen Rush/Hotl Proprietor/41/Heybridge, Essex/Census ****
1911/Edith Rush/Wife, Assistant/41/Ipswich, Suffolk/Census
1911/Ivy Rush/Daughter, Assistamt/18/Ipswich, Suffolk/Census
1911/Elsie Leggett/Barmaid/20/Watton, Norfolk/Census
1911/Alice Harding/General Servant/23/Romford, Essex/Census
1911/Lizzie Granger/General Servant/16/Harold Wood, essex/Census
1911/James Hall/Barman/22/Romford, Essex/Census
1911/Charles Cuthbert Langley/Visitor, Cattle Dealer/38/Hanover Square, London/Census

1912/Frederick Owen Rush/../../../Kelly's

1914/Frederick C. Suckling/../../../Kelly's
1914/Charles Reynolds/../../../Kelly's

1917/Frederick C. Suckling/../../../Kelly's
1917/Charles Reynolds/../../../Kelly's

1922/Harry Hollingshead/../../../Kelly's
1922/Arthur Daer/../../../Kelly's

1925/Harry Hollingshead/../../../Kelly's
1925/Arthur Daer/../../../Kelly's

1929/Harry Hollingshead/../../../Kelly's
1929/Arthur Daer/../../../Kelly's

1933/Harry Hollingshead/Proprietor/../../Kelly's
1933/Arthur Daer/Proprietor/../../Kelly's

1937/Harry Hollingshead/Proprietor/../../Kelly's
1937/Arthur Daer/Proprietor/../../Kelly's

1939/Arthur G Daer/Licensed Victualler/Born 22 November 1905/../Electoral Register
1939/Winifred M Daer/Barmaid/Born 2 March 1917/../Electoral Register
1939/Agnes R McDermott/Kitchen Maid/Born 17 august 1912/../Electoral Register

1965/Arthur G Daer/Golden Lion, High street/../../Electoral Register
1965/Winifred M Daer/Golden Lion, High street/../../Electoral Register
1965/Leslie Williams/Golden Lion, High street/../../Electoral Register



* Provided by the Pubs, Inns and Taverns Index for England, 1801-1900

** Provided by CG