Plough, Romford Common, Romford
Romford pub history index
The modern address is listed as Colchester Road, and better known as Gallows Corner. **
For the History of Romford & other areas of Havering:
The Woodman and the Plough are both on the Romford Common, the Plough is now near to Gallows Corner, and the Woodman is near to Hare Street (now the main Road) in the census, it would place it very well as being North of Gidea Park on the way towards Harold Hill. The Plough at gallows Corner was severely damaged by a fire in April 2011. There are now plans for a new KFC to replace the pub.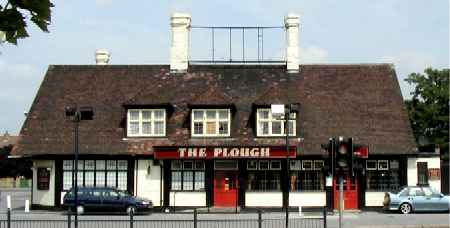 7th July 2003
Taken by Brian Woolley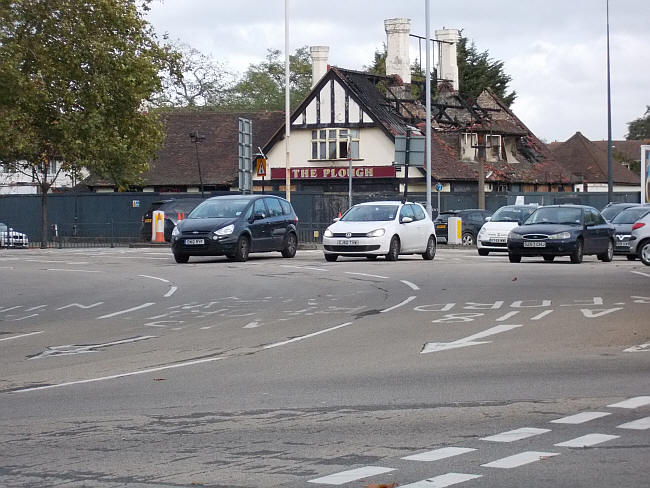 The Plough, Gallows Corner, Romford - in October 2014
The following entries are in this format:
Year/Publican or other Resident/Relationship to Head and or Occupation/Age/Where Born/Source.
1851/John Holder/Straw Carter & Beer Shop/38/Barking, Essex/Census ****
1851/Mary Holder/Wife/41/Barking, Essex/Census
1851/John Harry Aylett/Son/18/Dagenham, Essex/Census
1851/Mary Ann Aylett/Daughter/13/Dagenham, Essex/Census
1851/Sophia Holder/Daughter/6/Dagenham, Essex/Census
1851/George Holder/Son/1/Stock/Census
1851/James Ager/Lodger, Labourer/23/Bursted, Essex/Census
1851/George Garnish/Lodger, Labourer/26/Bursted, Essex/Census

1855/John Holder/Beer Retailer/../../Post Office ****

1861/John Houlder/Straw Carter/45/Ilford, Essex/Census ****
1861/Mary Houlder/Wife/50/Ilford, Essex/Census
1861/Sophia Houlder/Daughter/17/Dagenham, Essex/Census
1861/Rosina Aylett/Grand Daughter/2/Romford, Essex/Census
1861/Joan Pomfret/Servant, Carter/26/Romford, Essex/Census
1861/Phillip Sagger/Servant, Carter/24/Romford, Essex/Census
1861/Alfred Wooley/Servant, Carter/24/Romford, Essex/Census

1871/Mary Houlder/Beer House Keeper, Widow/62/Ilford, Essex/Census ****
1871/George Bacon/Husband, Carpenter/27/Romford, Essex/Census
1871/Sophia Bacon/Wife, Dress Maker/27/Romford, Essex/Census
1871/Rossia Bacon/Daughter/5/Romford, Essex/Census
1871/Ada Bacon/Daughter/3/Romford, Essex/Census
1871/Alice Aylett/Visitor/8/Ilford, Essex/Census
1871/Charles Hale/Lodger, Labourer, Widow/75/Ingrave, Essex/Census

1878/Mrs. MaryAnn Newman/Beer Retailer/../../Kelly's

1881/Mary Ann Newman/Beerhouse Keeper/50/Fyfield, Essex/Census
1881/William Wright/Son in Law, Carpenter/26/Hutton, Essex/Census
1881/Martha Wright/Daughter/30/Wanstead, Essex/Census
1881/Alfred W. Wright/Grandson/2/Romford, Essex/Census
1881/Lucy Wright/Granddaughter/1/Romford, Essex/Census

1882/Charles Woolley/Beer Retailer/../../Kelly's*

1886/Charles Woolley/Beer Retailer/../../Kelly's*

1891/Thomas Woolley/Carpenter & Beerhouse Keeper/45/Hornchurch, Essex/Census*
1891/Sophia Woolley/Wife/46/East Carlton, Norwich, Norfolk/Census*
1891/Harry Woolley/Son, Coachman/21/Romford, Essex/Census*
1891/Alfred Woolley/Son, Bicycle Maker/17/Romford, Essex/Census*
1891/George Woolley/Son, Bicycle Maker/15/Romford, Essex/Census*
1891/Thomas Woolley/Son/12/Romford, Essex/Census*
1891/Anne Woolley/Daughter/10/Romford, Essex/Census*
1891/Frances Woolley/Daughter/8/Romford, Essex/Census*
1891/Ellen Eschbaker/Mothers Help/19/Romford, Essex/Census*
1891/Charles Woolley/Brother, Army Pensioner/53/Hornchurch, Essex/Census*
1891/Samuel Thorogood/Lodger, Painter/24/Romford, Essex/Census*
1891/James Gaywood/Lodger, Farm Labourer/67/Upminster, Essex/Census*

1895/Thomas Woolley/Beer Retailer/../../Kelly's

1899/Thomas Woolley/Beer Retailer/../../Kelly's

1901/Ellen Beagle/Beerhouse Keeper (Widow)/35/Stratford, Essex/Census **
1901/Ernest Thurston/Brother, Carpenter/32/Stratford, Essex/Census
1901/Rose Thurston/Sister-in-Law/26/Brandon, Suffolk/Census
1901/Ethel Dorrington/General Servant Domestic/14/Romford, Essex/Census

1902/Mrs Helen Beagle/beer retailer/../../Kelly's Directory **

1906/Walter Frederick Wren/beer retailer/../../Kelly's Directory **

1911/Charles Everitt/Beerhouse Keeper/56/Romford, Essex/Census
1911/Maria Everitt/Wife, Assistant/55/Weald, Essex/Census
1911/Sidney Everitt/Son, Insurance Agent/21/Romford, Essex/Census
1911/Alfred Devereux/Boarder, General Labourer/28/Arlesey, Bedfordshire/Census
1911/William A Rue/Boarder, General Labourer/24/Barrow on Foar, Leicestershire/Census

1914/Charles Everitt/Beer Retailer/../../Kelly's ****

1917/William Arthur Mardell/beer retailer/../../Kelly's Directory **

1920/W A Mardell/Beer Retailer/../../Kelly's ****

1922/William Arthur Mardell/beer retailer/../../Kelly's Directory **

1925/Herbert Samuel Jarvis/Beer Retailer/../../Kelly's

1929/Herbert Samuel Jarvis/manager/../../Kelly's Directory **
1929/Hollingshead & Daer/proprietors/../../Kelly's Directory

1933/Herbert Samuel Jarvis/manager/../../Kelly's Directory **
1933/Hollingshead & Daer/proprietors/../../Kelly's Directory




* Provided by Roy Woolley, the great grandson of Thomas Woolley

** Provided by Ewan

**** Provided by Kevan