Goose, 143 South Street, Romford RM1 1PL
A listing of historical public houses, Taverns, Inns, Beer Houses and Hotels in Essex. The Essex listing uses information from census, Trade Directories and History to add licensees, bar staff, Lodgers and Visitors.
History of Romford & other areas of Havering
Originally called the Rising Sun for decades. Then it became the Morland Arms, and at present is called The Goose, 143 South Street in 2012 and 2018, Historically (a long time ago), this part of South Street was named Hornchurch Lane. The pub is virtually opposite Romford railway station.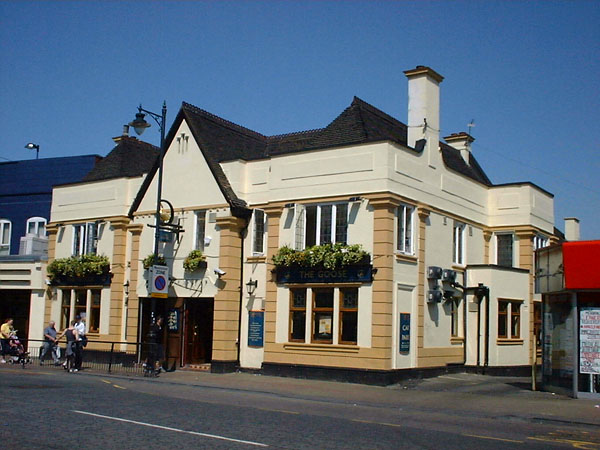 The following entries are in this format:
Year/Publican or other Resident/Relationship to Head and or Occupation/Age/Where Born/Source.
1845/Andrew Kerr/../../../Post Office

1848/Andrew Kerr/../../../White's

1851/Andrew Kerr/../../../Post Office

1851/Caroline Kerr/Licensed Victualler (Blind)/54/Holborne, Middlesex/Census**
1851/Eve Kerr/Daughter/40/Hounslow, Middlesex/Census**
1851/Catherine Kerr/Daughter (Blind)/26/Aveley, Essex/Census**
1851/Louisa Kerr/Daughter/12/Hornchurch, Essex/Census**

1852/A. Kerr/../../../Kelly's*

1855/Mrs. C. Kerr/../../../Kelly's*

1861/Caroline Kerr/Victualler, widow (Blind)/64/St Andrews, Holborn/Census ****
1861/William H Mortlock/Son-in-Law, Miller/29/Ongar, Essex/Census
1861/Louisa Mortlock/Daughter, Barmaid/22/Hornchurch, Essex/Census
1861/Amelia Crow/Niece, House Servant/28/Clerkenwell, Middx/Census
1861/Hannah Bishtor/Servant, House Maid/15/Romford, Essex/Census

1862/John Crane/../../../Kelly's

1863/John Crane/../../../White's

1867/Mrs. Maria Crane/../../../Post Office

1870/William Barnes/../../../Kelly's

1871/William Barnes/../../../Post Office

1871/William Barnes/Licensed Victualler/28/Newboro, Northampton/Census**
1871/Elizabeth R. Barnes/Wife/25/Broughton, Wiltshire/Census**
1871/William Barnes/Son/3/Romford, Essex/Census**
1871/Rosetta E. H. Barnes/Daughter/3m/Romford, Essex/Census**
1871/Alfred Adams/Ostler/19/Walthomstowe, Essex/Census**
1871/Ruth Gay/General Servant/19/Holt, Wiltshire/Census**

30/08/1872/William barnes/../../../Petty Sessions Victuallers Records

1874/William Barnes/../../../Kelly's

07/05/1874/John Little/../../../Petty Sessions Victuallers Records

1878/John Little/../../../Kelly's

1881/John Little/Licensed Victualler/39/Shellow Bowells, Essex/Census
1881/Edith Jane Little/Daughter/12/Enfield, Middlesex/Census
1881/Ernest John Little/Son/9/Enfield, Middlesex/Census
1881/Sarah Ann Orger/Niece, Housekeeper/30/Shellow Bowells, Essex/Census
1881/Sarah Scott/General Domestic Servant/?Fyfield, Essex//Census

1882/John Little/../../../Kelly's

1886/John Little/../../../Kelly's

12/07/1888/Frank Gilbey/../../../Petty Sessions Victuallers Records

26/09/1889/Edith Maria Gilbey/Widow/../../Petty Sessions Victuallers Records

1890/Mrs. Edith M. Gilbey/../../../Kelly's

25/01/1894/Florence Reynolds/../../../Petty Sessions Victuallers Records

1894/Miss Florence Reynolds/../../../Kelly's

1895/Miss Florence Reynolds/../../../Kelly's

1898/Mrs. Florence Reynolds/../../../Kelly's

1899/Miss Florence Reynolds/../../../Kelly's

1901/Florence Reynolds/Licensed Victualler/31/Romford, Essex/Census**
1901/Annie Reynolds/Sister/23/Romford, Essex/Census**
1901/Ethel Maud Baker/Servant, Barmaid/20/Brentwood, Essex/Census**
1901/Lily Tyrell/General Domestic Servant/24/Romford, Essex/Census**
1901/Charles Chinnery/Ostler/25/Foxearth, Essex/Census**
1901/Henry James Perry/Potman/22/Romford, Essex/Census**

1902/Miss Florence Reynolds/../../../Kelly's

1906/Miss Florence Reynolds/../../../Kelly's

1908/Henry Hallows/../../../Kelly's

1910/Henry Hallows/../../../Kelly's

1911/Henry Hallows/Manager/36/Romford, Essex/Census ****
1911/Hannah Selina Hallows/Wife/34/Leighton Buzzard/Census
1911/Ethel Constance Hallows/Daughter/11/Romford, Essex/Census
1911/Nellie Elizabeth Corby/Barmaid/23/West Thurrock, Grays/Census
1911/Emma Edith King/Barmaid/21/Abridge, Essex/Census
1911/Emma Amelia Edwards/General Servant/21/Green Lanes, Essex/Census
1911/Myra Tyrrell/Visitor/14/Romford, Essex/Census
1911/Charles Henry Appleton/Barman/25/Tiverton, Devon/Census
1911/William Barham/Houseboy/14/Suffolk/Census

1912/Henry Hallows/../../../Kelly's

1914/Henry Hallows/../../../Kelly's

1917/Henry Hallows/../../../Kelly's

1922/Wilkin & Kidd/../../../Kelly's

1925/Reynolds & Withers/../../../Kelly's

1929/Reynolds & Willson/../../../Kelly's

1933/Reynolds & Willson/../../../Kelly's

1937/Carr & Willson/../../../Kelly's



* Provided by the Pubs, Inns and Taverns Index for England, 1801-1900

** Provided by CG

**** Provided by Kevan