Search London wiki and Pub wiki history sites
All public house, restaurants, bars etc closed for the forseeable future on 20th March 2020, but this is a history site. But how about the landlords give their tenants a break, no business, then please charge them no rent.
White Hart / Bitter End, 15 High Street, Romford RM1
Romford pub history index
A listing of historical public houses, Taverns, Inns, Beer Houses and Hotels in Essex. The Essex listing uses information from census, Trade Directories and History to add licensees, bar staff, Lodgers and Visitors.
For the History of Romford & other areas of Havering:
Known to have existed in 1489, but rebuilt in 1896. This has been called the Bitter End, at 15 High Street, Romford for many years now (previously just opposite Woolworths). Woolworths have gone, but in a previous existence, the entrance was by Wildings typewriters & Wilson & Whitworth.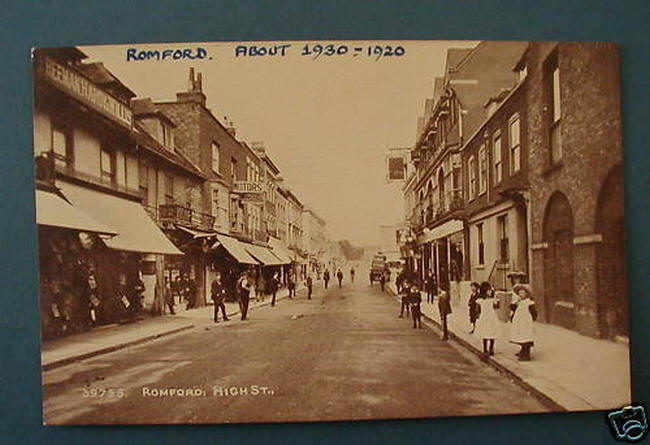 High Street, Romford - circa 1920 to 1930
On the left is Freeman, Hardy & Willis at 4 High Street, and probably the Ind Coope Brewery on the right. Further up the road on the right is almost certainly the White Hart, and in the distance is the junction with South Street where we have the Golden Lion, and then the Market Place continues onwards.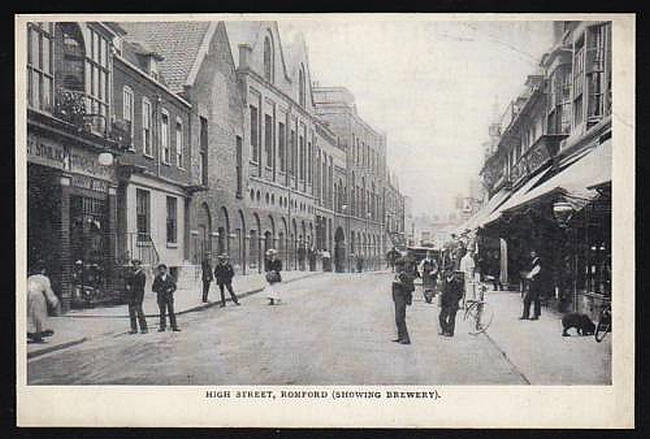 High Street, Romford (showing brewery) - that would be the White Hart entrance on the left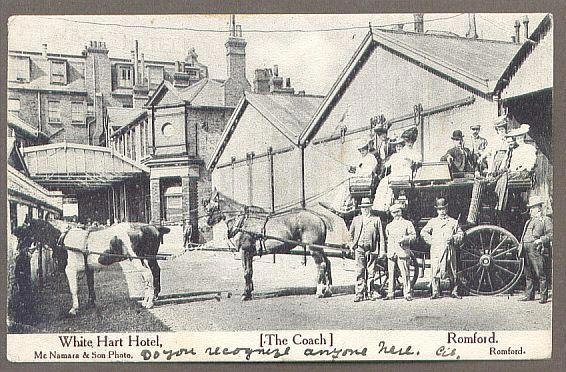 White Hart Hotel, High Street, Romford - this is looking from the Brewery Shopping centre towards London Road
Both kindly provided by Colleen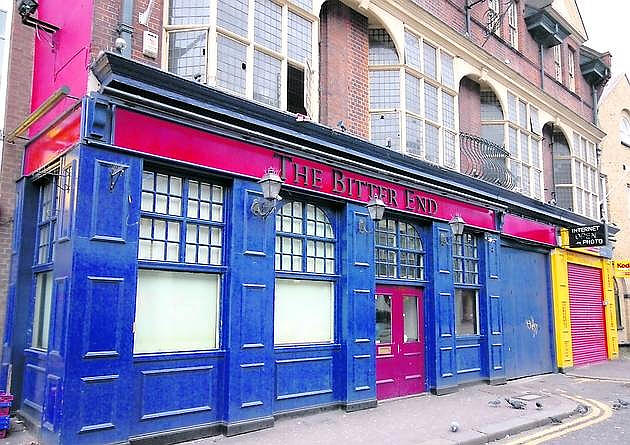 The Bitter End, 15 High Street, Romford
Kindly provided by the Romford Recorder - bless 'em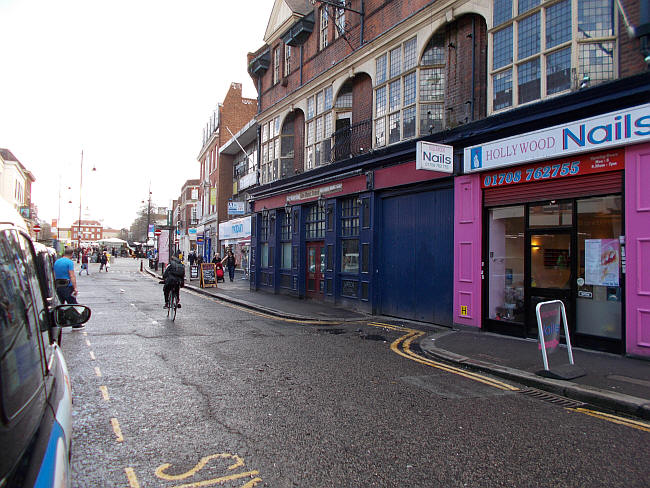 The Bitter End, 15 High Street, Romford - in 2014
The following entries are in this format:
Year/Publican or other Resident/Relationship to Head and or Occupation/Age/Where Born/Source.
1791/William Nunn/../../../Universal British

1805/John Gray, White Hart, Romford/../../Holdens directory ****

1823-4/J. Ashton/../../../Pigot's

1826/J Ashton/../../../Pigot's

1828-9/J. Ashton/../../../Pigot's

1832-3/John S. Ashton/../../../Pigot's

1839/Henry Taverner/../../../Pigot's
1839/George Taverner/../../../Pigot's

1841/George Taverner/Inn keeper/20/Essex/Census ****
1841/Frederic Taverner/../15/Essex/Census
1841/Samuel Harrington/Male Servant/15/Essex/Census
1841/Henry Unwin/Male Servant/15/Essex/Census
1841/Susan Allen/Female Servant/30/Essex/Census
1841/Susan Collier/Female Servant/20/Essex/Census

1845/George Ashton Taverner/../../../Post Office

1848/George Ashton Taverner/../../../White's

1851/George Ashton Taverner/../../../Post Office

1851/George A. Taverner/Innkeeper/33/Chelmsford, Essex/Census**
1851/Julia A. Taverner/Wife/32/Romford, Essex/Census**
1851/Julia E. Taverner/Daughter/1/Romford, Essex/Census**
1851/Walter A. Taverner/Brother/18/Chelmsford, Essex/Census**
1851/Elizabeth Menzies/Visitor/28/Scotland/Census**
1851/Thomas A. Thompson/Banker/25/Southwold, Suffolk/Census**
1851/Sarah Knight/Cook/38/Ilford, Essex/Census**
1851/Charlotte Amy Smith/Housemaid/19/Rainham, Essex/Census**
1851/Mary A. Keele/Nursemaid/16/Romford, Essex/Census**
1851/James Merrington/Boots/18/Romford, Essex/Census**
1851/Samuel Goldsmith/Groom/23/Romford, Essex/Census**

1852/J. Cook/./../../Kelly's*

1855/Mrs Mary Baker/./../../Post Office ****

1861/Joseph Cowland/Hotel Keeper/54/Stratford, Essex/Census ****
1861/Caroline M Cowland/Wife/54/Tottenham, MiddxCensus
1861/Caroline E Cowland/Daughter/24/Stratford, Essex/Census
1861/Emma Cowland/Daughter/20/Stratford, Essex/Census
1861/Matilda Cowland/Daughter/18/Stratford, Essex/Census
1861/Hannah Kirk/Servant, Cook/42/Burton-on-Trent, Stafford/Census
1861/Hannah Clark/Servant, Housemaid/24/Fyfield, Essex/Census
1861/Sarah Crabb/Servant, Kitchenmaid/18/Stondon, Essex/Census
1861/Richard Avis/General Servant/29/Brighton, Sussex/Census
1861/William Robinson/Woolen Drapers commercial traveller/28/Lounnall, York/Census

1862/Joseph Cowland/../../../Kelly's

1863/Joseph Cowland/../../../White's

1867/Joseph Cowland/../../../Post Office

1870/John Hawley/../../../Kelly's

1871/John Hawley/../../../Post Office

1871/John Hawley/Innkeeper/64/Bromley?, Nottinghamshire/Census**
1871/Lucy Hawley/Wife/54/Walford/Census**
1871/John E. Hawley/Son/23/Whetstone, Middlesex/Census**
1871/Henry Hawley/Son/22/Whetstone, Middlesex/Census**
1871/Samuel T. Hawley/Son, Printers Clerk/20/Potters Bar, Herts/Census**
1871/Alfred E. Hawley/Son, Railway Clerk/18/Whetstone, Middlesex/Census**
1871/Arthur F. Hawley/Son/18/Whetstone, Middlesex/Census**
1871/Emily Hawley/Daughter/13/Chatham, Kent/Census**
1871/William G. Couplan/Boarder, Bankers Clerk/26/Bristol, Somersetshire/Census**
1871/Sarah Woolman/General Servant/19/Romford, Essex/Census**
1871/Viate Dennis/Domestic Servant/13/Romford, Essex/Census**
1871/Charles Ludgate/Boots/17/London, Middlesex/Census**
1871/Henry Bansfield/Cab Driver/21/Exeter, Somersetshire/Census**

30/08/1872/John Hawley/../../../Petty Sessions Victuallers Records

13/02/1873/James Seaward/../../../Petty Sessions Victuallers Records

1874/James Seaward/Wholesale Wine & Spirit Merchant/../../Kelly's

04/02/1875/Annie Edgcumbe/../../../Petty Sessions Victuallers Records

03/02/1876/Hr Edmund Florence/../../../Petty Sessions Victuallers Records

01/06/1876/Hr Robert Matyear/../../../Petty Sessions Victuallers Records

15/11/1877/Wm Hy Fox/../../../Petty Sessions Victuallers Records

1878/William Henry Fox/../../../Post Office Directory ***

1881/William H. Fox/Hotel Keeper/35/Godmanchester, Huntingdon/Census
1881/Sophia Fox/Wife/33/Wellingborough, Northampton/Census
1881/Ellen E. Fox/Daughter/7/Graveley, Cambridge/Census
1881/Annie M. Fox/Daughter/6/Graveley, Cambridge/Census
1881/William H. Fox/Son/5/Graveley, Cambridge/Census
1881/Mary A. Wallis/Sister/36/Wellington, Northampton/Census
1881/Clara Wallis/Niece/24/Wellington, Northampton/Census
1881/Laura Fairhead/Barmaid/20/London, Middlesex/Census
1881/Alex Bell/Boots/20/Barking, Essex/Census
1881/Alf Dennis/Page/15/Romford, Essex/Census
1881/Annie Butcher/Servant/16/Romford, Essex/Census
1881/Hannah Deighton/Servant/15/Buckingham/Census
1881/T. Walpole/Boarder, Vetinary Surgeon/21/Norwich, Norfolk/Census

1882/William Henry Fox/../../../Kelly's

29/11/1883/James Patching/../../../Petty Sessions Victuallers Records

1886/John Patching/../../../Kelly's

1890/John Patching/../../../Kelly's

1891/James Patching/Licensed Victualler/54/Brasted, Kent/Census**
1891/Annie N. Patching/Wife/54/Cudham, Kent/Census**
1891/Mary A. Patching/Daughter/19/Cudham, Kent/Census**
1891/Sarah S. Patching/Daughter/17/Cudham, Kent/Census**
1891/Annie H. Patching/Daughter/12/Cudham, Kent/Census**
1891/Mary Walsh/Barmaid/23/Ilford, Essex/Census**
1891/Alice Moss/Barmaid/18/Ware, Hertfordshire/Census**
1891/Grace E. Harden/Cook/20/West Ham, Essex/Census**
1891/Caroline French/Housemaid/19/Barking, Essex/Census**
1891/Frederick Fidgeon/Boots/21/Thundersley, Essex/Census**

Note: Premises not named in 1891

22/02/1894/James Cannon/../../../Petty Sessions Victuallers Records

08/03/1894/James Cannon/../../../Petty Sessions Victuallers Records

1894/James Cannon/../../../Kelly's

1895/James Cannon/../../../Kelly's

30/04/1896/Arthur Bonner/../../../Petty Sessions Victuallers Records

30/04/1896/john Willia Joyce/../../../Petty Sessions Victuallers Records

1898/John William Joyce/../../../Kelly's

1899/John William Joyce/../../../Kelly's

1902/John William Joyce/../../../Kelly's

1906/Alfred Aylett Moore/../../../Kelly's

1908/Henry E. Crane/Wholesale & Retail Wine & Spirit Merchant/../../Kelly's

1910/Henry E. Crane/Motor Garage & Wholesale & Retail Wine & Spirit Merchant/../../Kelly's

1911/Samuel Crane/Hotel Manager/67/Ipswich, Suffolk/Census ***
1911/Annie Crane/Sister-in-Law, Manageress/47/Walworth/Census
1911/Dora Hardy/Housemaid/20/Upminster, Essex/Census
1911/Clara Maud Barber/Cook/21/Ockenden, Essex/Census
1911/Alice Emma Meader/Waitress/21/Grays, Essex/Census
1911/Sophia Annie Lowe/Kitchen Maid/17/St Bartholomew/Census
1911/Alice White/Bar Maid/25/Swindon, Wiltshire/Census
1911/Bertram Brooker/Bar Man/29/New Brompton, Hertfordshire/Census
1911/Albert Hanson Torline/Billiard Marker/24/West Ham, Essex/Census
1911/Henry Ernest Boughery/Chauffeur/22/Brixton/Census

1912/Henry E. Crane/../../../Kelly's

1914/Henry E. Crane/../../../Kelly's

1917/Henry E. Crane/../../../Kelly's

1922/James K. Taylor/Garage & Private Car Proprietor/../../Kelly's

1925/James K. Taylor/Garage & Private Car Proprietor/../../Kelly's

1929/Arthur Wooldridge/..Proprietor/../../Kelly's

1933/S. G. Wooldridge/Proprietress/../../Kelly'slor & Son/../../../Kelly's

1929/Edward William Taylor & Son/../../../Kelly's

1937/Charles Hector Morris/../../../Kelly's



* Provided by the Pubs, Inns and Taverns Index for England, 1801-1900

** Provided by CG

*** Provided by Ewan

**** Provided by Kevan