Anchor, High street, Rowhedge CO5
A story in the Albion of a Customs and Excise man who was hanged in the pub in the 18th century.

This man had apparently been taking bribes from local smugglers to allow them to go about their trade unhindered. However, the Customs officer became greedy and asked for too large a share of the spoils. When the smugglers refused his demands, the officer threatened to turn them in to the authorities - which meant the smugglers would be hanged. So the smugglers hanged the officer instead. The landlord showed me the hook he was hanged from still in one of the overhead beams in the pub - and to add a bit of colour, the pub has attached a noose to it. The landlord told me that those the ghost of the officer, in his red uniform has been seen in the pub, he's never seen the ghost, but has been 'aware' of him.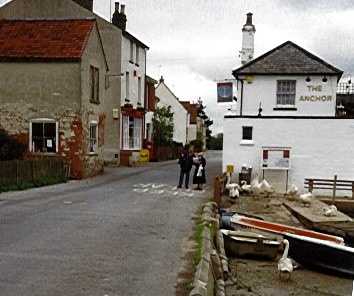 Provided by Jim Talbot who informs:
"The Anchor Inn apparently dates from the 16th century and, being on the side of the river Colne, flooded whenever there was a high tide. I know visiting it in 1997 there was a musty smell in there, the bar opposite the low door as you enter the pub. Onthe left-hand side is a museum of seafaring/village artifacts, the right-hand side the lounge cum restaurant which seems to overhang the river. My great-great grandfather was stated, in the Kelly's Trade Directory 1875, to have been the landlord at that time. "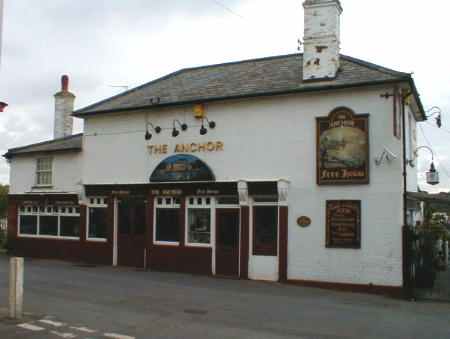 18th August 2000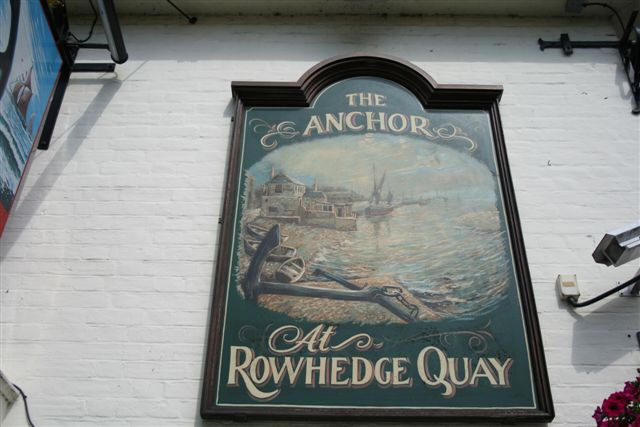 Anchor, Rowhedge sign - in July 2007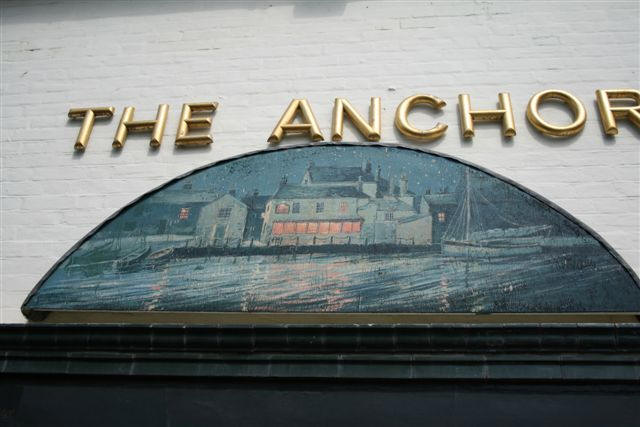 The Anchor, Rowhedge
Both Kindly provided by Colleen
The following entries are in this format:
Year/Publican or other Resident/Relationship to Head and or Occupation/Age/Where Born/Source.
1862/Mrs. Mary Cook/Beer Retailer/../../Post Office

Note: Premises not named in 1862

1867/Mrs. Mary Cook/../../../Post Office

1870/Walter Levett/Ferryman & Master Mariner/../../Kelly's

1871/Walter Levett/Ferryman & Master Mariner/../../Post Office

1874/Joseph Talbot/../../../Kelly's

1875/Joseph Talbot/../../../Kelly's*

1878/Thomas William Pitt/../../../Kelly's

1881/Thomas W. Pitt/Licensed Victualler/27/East Donyland, Essex/Census
1881/Adeliza Pitt/Wife/27/East Donyland, Essex/Census
1881/Maud A. Pitt/Daughter/1/East Donyland, Essex/Census
1881/Elizabeth Bales/General Servant/13/St. Osyth, Essex/Census

1882/Thomas William Pitt/../../../Kelly's

1886/Charles Cook/../../../Kelly's

1890/Mrs. Mary Anne Cook/../../../Kelly's

1894/Mrs. Mary Anne Cook/../../../Kelly's

1895/Mrs. Mary Anne Cook/../../../Kelly's

1898/Mrs. Mary Anne Cook/../../../Kelly's

1899/Mrs. Mary Anne Cook/../../../Kelly's

1902/Mrs. Mary Anne Cook/../../../Kelly's

1906/Robert Samuel Wadley/../../../Kelly's

1908/Robert Samuel Wadley/../../../Kelly's

1910/Arthur Clarence Barnard/../../../Kelly's

1912/Arthur Clarence Barnard/../../../Kelly's

1914/Charles Newcombe Warner/../../../Kelly's

1917/Charles Newcombe Warner/../../../Kelly's

1922/Charles Newcombe Warner/../../../Kelly's

1925/Charles Newcombe Warner/../../../Kelly's

1929/Arthur Cowie/../../../Kelly's

1933/Arthur Cowie/../../../Kelly's

1937/Arthur Cowie/../../../Kelly's

1988/J R Young/../../../Trumans Watney List ***



* Provided by Jim Talbot

** Provided by Colleen

*** Provided By Alex Wilkinson