Three Crowns, Rowhedge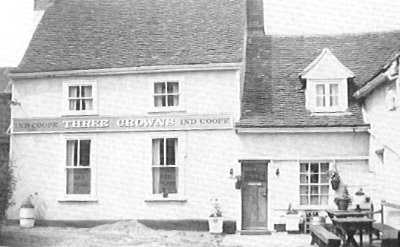 Provided by Jim Talbot who informs:
"The Three Crowns Inn was situatednear the corner of Head Street and High Street. Said to be one of the oldest buildings in Rowhedge remaining a pub up until about the 1960's. It was renowned as a tavern used by smugglers (probably like half the pubs on the coast in England) but of sufficient renown that the Customshouse was situated very close to it. William Cheek was landlord in 1839, leasing the property from Susannah Cole. He was also a boatbuilder and part of a family of fishing folk (on my great-great grandmother's side) in that village"
The following entries are in this format:
Year/Publican or other Resident/Relationship to Head and or Occupation/Age/Where Born/Source.
1845/William Cheek/../../../Post Office
1848/William Cheek/../../../White's
1851/William Cheek/../../../Post Office
1852/W. Cheek/../../../Kelly's*
1855/W. Cheek/../../../Kelly's*
1862/William Cheek/Boat Builder/../../Kelly's
1867/John Clark/Block Maker/../../Post Office
1870/Mrs. John Clark/../../../Kelly's
1871/Mrs. John Clark/../../../Post Office
1874/Mrs. John Clark/../../../Kelly's
1878/Mrs. Mary A. Howlen/../../../Kelly's
1881/Mary Ann Southgate/Innkeeper/22/East Donyland, Essex/Census
1881/Sarah B. Everitt/Visitor, Dressmaker/24/East Donyland, Essex/Census
1881/Emily Gage/Domestic Servant/18/West Mersea, Essex/Census
1882/Isaac Rudland/../../../Kelly's
1886/Isaac Rudland/../../../Kelly's
1890/Mrs. Anne Rutland/../../../Kelly's
1894/Mrs. Ann Rudland/../../../Kelly's
1895/Mrs. Ann Rudland/../../../Kelly's
1898/Mrs. Ann Rudland/../../../Kelly's
1899/Mrs. Ann Rudland/../../../Kelly's
1902/Arthur Rudland/../../../Kelly's
1906/Arthur Rudland/../../../Kelly's
1908/Barrington Henry Beaumont/../../../Kelly's
1910/John Morgan/../../../Kelly's
1912/Daniel Edward Cudmore/../../../Kelly's
1914/Daniel Edward Cudmore/../../../Kelly's
1917/Daniel Edward Cudmore/../../../Kelly's
1922/Oscar Lay/../../../Kelly's
1925/Oscar Edward Lay/../../../Kelly's
1933/William Ong/../../../Kelly's
1937/William Ong/../../../Kelly's
* Provided by the Pubs, Inns and Taverns Index for England, 1801-1900