Cross Keys, 32 High Street, Saffron Walden
Saffron Walden pub history index
Known as the Bull in 1709, but had become the Cross Keys by 1778. It reopened in 2012 as a 6 bedroom boutique hotel.
Directory of Pubs in the UK, historical public houses, Taverns, Inns, Beer Houses and Hotels in Essex . The Essex listing uses information from census, Trade Directories and History to add licensees, bar staff, Lodgers and Visitors.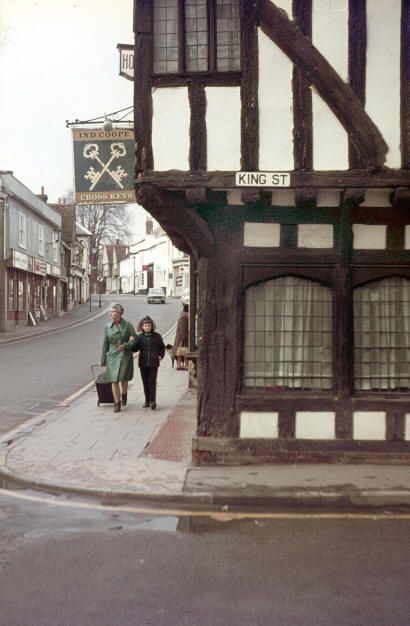 Cross Keys, High Street & King Street, Saffron Walden in 1965
Kindly provided by Dudley Diaper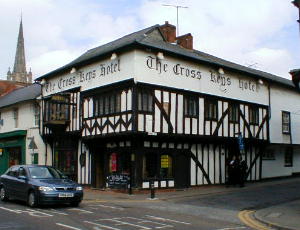 24th March 2000
Built in the 15th century
The following entries are in this format:
Year/Publican or other Resident/Relationship to Head and or Occupation/Age/Where Born/Source.
1822/Allen Hopwood/../../../Pigot's*

1823-4/Allen Hopwood/../../../Pigot's

1828-9/Thomas Moreton/../../../Pigot's

1832-3/Mary Ackland/../../../Pigot's

1839/Mary Ackland/../../../Pigot's*

1841/Mary Ackland/Inn Keeper/50/Essex/Census ****
1841/William Ackland/Attorneys clerk/15/Essex/Census
1841/Elizabeth Kent/Female Servant/20/Essex/Census
1841/Ann Tinkin/Female Servant/12/../Census

1845/Mrs. Mary Ackland/../../../Post Office

1848/William Spicer/../../../White's

1851/Daniel Barker/../../../Post Office

1851/Daniel Barker/innkeeper/39/Steeple Bumpstead, Essex/Census **
1851/Emma Barker/wife/36/Steeple Bumpstead, Essex/Census **
1851/Eliza Moore/visitor, farmer's daughter/26/Steeple Bumpstead, Essex/Census **
1851/Louisa Starcey/house servant/22/Newport, Essex/Census **
1851/Edward Osborn/groom and general servant/35/Steeple Bumpstead, Essex/Census **
1851/Larry Shaw/lodger, hawker/35/Buntingford, Hertfordshire/Census **
1851/Walter Shaw/lodger, his son, hawker/15/Buntingford, Hertfordshire/Census **
1851/Arthur Shaw/lodger, his son, hawker/15/Buntingford, Hertfordshire/Census **

1852/D. Barker/../../../Kelly's*

1853/D. Barker/../../../Saffron Walden Year Book ***

1855/D. Barker/../../../Kelly's*

1856/Daniel Barker/../../../Post Office

1861/Daniel Barker/Inn Keeper/49/Steeple Bumpstead, Essex/Census ****
1861/Emma Barker/Wife/45/Hempstead, Essex/Census
1861/Elizabeth Moore/Niece/17/Radwinter, Essex/Census
1861/Martha Andrews/Servant/21/Helion Bumpstead, Essex/Census
1861/Sarah Knight/Servant/17/Helion Bumpstead, Essex/Census
1861/William Rider/Servant/20/Debden, Essex/Census
1861/W Read/Lodger, Commercial Traveller/50/London, Middx/Census

1862/Daniel Barker/Licensed to Let Post Horses/../../Kelly's

1866/William Cowell/../../../Saffron Walden Year Book ***

1867/William Cowell/../../../Post Office

1870/William Cowell/../../../Kelly's

1871/William Cowell/../../../Post Office

1871/William Cowell/Publican/35/Cambridge/Census ****
1871/Harriet Cowell/Wife/30/Eynesbury, Hunts/Census
1871/William Henry Cowell/Son/12/St Ives, Hunts/Census
1871/Harriet Cowell/Daughter/8/St Ives, Hunts/Census
1871/Laura Ritchie/Visitor, BarMaid/24/Bircham, Norfolk/Census
1871/Annie Cade/Visitor, BarMaid/24/St Ives, Hunts/Census
1871/William Warren /Lodger, Brewers Agent/23/Bishops stortford, Herts/Census
1871/George C Farman/Boarder, Inland Revenue Officer/31/Ipswich, Suffolk/Census
1871/Charles Swan/Servant, Boots/19/Saffron Walden, Essex/Census
1871/William Read/Servant, Under Ostler/20/Lt Walden, Essex/Census
1871/Jane Jeffery/House Maid/19/Great Chesterford, Essex/Census
1871/Ellen Perry/Cook/23/?, Camb./Census

1874/William Cowell/../../../Kelly's

1878/William Cowell/../../../Kelly's

1881/William P. Moye(?)/Hotelkeeper/42/Gawton, Suffolk/Census
1881/Agnes Ellen Moye(?)/Wife/46/Hadleigh, Suffolk/Census
1881/Kate Elizabeth Hart/Barmaid/28/Edenbridge, Kent/Census
1881/Annie Mills/Domestic Servant/22/Coldharbour, Surrey/Census
1881/Eleanor Esland/Domestic Servant/15/Burston, Norfolk/Census
1881/Robert Jeffrey/Ostler/15/Great Chesterford, Essex/Census
1881/Walter Dyson/Boots/19/Clare, Suffolk/Census
1881/Thomas Bartlet/Visitor, Gentleman/47/London, Middlesex/Census
1881/Frances Esther Bartlet/Visitor, Gentlemans Wife/43/London, Middlesex/Census

1882/Percy Trower/../../../Kelly's

1886/James Bird/../../../Kelly's

1890/Mrs. Nathan Pitstow/../../../Kelly's

1891/Selina Pitstow/Hotel Keeper/63/Saffn Walden, Essex/Census ***
1891/Ernest Pitstow/Son, Paperhanger/30/Saffn Walden, Essex/Census
1891/Alice Pitstow/Daur/25/Saffn Walden, Essex/Census
1891/Annie Pitstow/Daur/20/Saffn Walden, Essex/Census
1891/William Chuck/Serv, Boots/19/Stevenage, Herts/Census
1891/Janet Nunn/Serv, General Servant/16/Shudy Camps, Cambs/Census

1894/Mrs. Selina Pitstow/../../../Kelly's

1895/Mrs. Selina Pitstow/../../../Kelly's

1896/Selina Pitstow/../../../Saffron Walden Year Book ***

1898/Mrs. Selina Pitstow/../../../Kelly's

1899/Mrs. Selina Pitstow/../../../Kelly's

1901/Selina Pitstow/Hotel Proprietress/73/Saff Walden, Essex/Census ***
1901/Alice Pitstow/Daur/35/Saff Walden, Essex/Census
1901/Annie Pitstow/Daur/30/Saff Walden, Essex/Census
1901/Agnes Fordham/Serv, Servant (domestic)/20/New Sampford, Essex/Census
1901/Arthur Brooks/Serv, Ostler & Boots/18/Newport, Essex/Census
1901/Kate Blackwell/Serv, Servant (domestic)/Henham, Essex/Census
1901/Ebenezer Alston/Boarder, Carpenter & Joiner/28/Bps Stortford, Herts/Census

1902/Mrs. Selina Pitstow/../../../Kelly's

1906/Mrs. Selina Pitstow/../../../Kelly's

1908/Mrs. Selina Pitstow/../../../Kelly's

1910/Mrs. Selina Pitstow/../../../Kelly's

1911/Selina Pitstow/Licensed Victualler/83/Saffron Walden, Essex/Census ***
1911/Priscilla Griggs/Daughter, Manageress/52/Saffron Walden, Essex/Census
1911/Alice Archer/Daughter, Assistant/46/Saffron Walden, Essex/Census
1911/Ethel Reynolds/Servant, Servant Domestic/26/Saffron Walden, Essex/Census
1911/Alfina Shaw/Servant, Servant Domestic/17/Hadstock, Essex/Census
1911/Cecil W Nockolds/Boarder, Marine Engineer/36/Saffron Walden, Essex/Census

1912/Mrs. Priscilla Griggs/../../../Kelly's

1914/Mrs. Priscilla Griggs/../../../Kelly's

1917/Mrs. Priscilla Griggs/../../../Kelly's

1922/Mrs. Priscilla Griggs/../../../Kelly's

1925/Mrs. Priscilla Griggs/../../../Kelly's

1929/Mrs. Priscilla Griggs/../../../Kelly's

1933/Mrs. Priscilla Griggs/../../../Kelly's

1937/M. Walker/Proprietor/../../Kelly's



* Provided by the Pubs, Inns and Taverns Index for England, 1801-1900

** Provided by John Mead

*** Provided by Adrian Wright

**** Provided by Kevan