Fox, 83 - 85 Walden Road, Saffron Walden
Saffron Walden pub history index
The address was formerly at Sewards End Road. It closed on the 21st July, 1966 and was turned into 2 private dwellings.
Directory of Pubs in the UK, historical public houses, Taverns, Inns, Beer Houses and Hotels in Essex . The Essex listing uses information from census, Trade Directories and History to add licensees, bar staff, Lodgers and Visitors.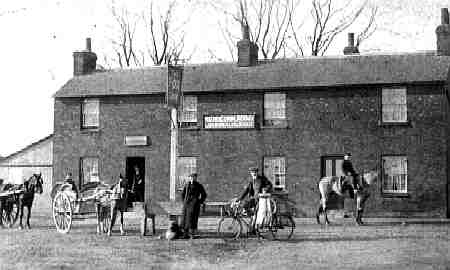 Provided by Daryl Bland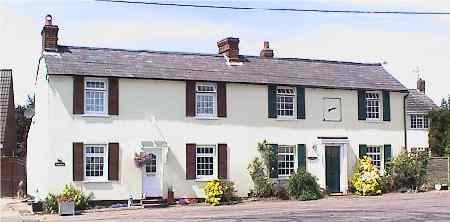 The building in August 2002
Provided by Daryl Bland
The following entries are in this format:
Year/Publican or other Resident/Relationship to Head and or Occupation/Age/Where Born/Source.
1851 / Thomas Saunders / Beer House Keeper / 41 / Radwinter, Essex / Census
1851 / Susan Saunders / Wife / 35 / Debden, Essex / Census
1851 / Jeremiah Saunders / Son, Millers App / 15 / Radwinter, Essex / Census
1851 / John Saunders / Son, Scholar / 11 / Radwinter, Essex / Census
1851 / William Bunton / Son, Scholar / 10 / Debden, Essex / Census
1851 / Charles Saunders / Son, Scholar / 4 / Radwinter, Essex / Census

1855 / Thomas Saunders / Beer Retailer / .. / .. / Post Office

1859 / Thomas Saunders / Beer Retailer / .. / .. / Post Office

1861 / Thomas Saunders / Publican / 51 / Radwinter, Essex / Census
1861 / Susan Saunders / Wife / 44 / Debden, Essex / Census
1861 / Charles Saunders / Son, Scholar / 13 / Radwinter, Essex / Census
1861 / Mary Saunders / Daur, Scholar / 11 / Radwinter, Essex / Census
1861 / Ann Susan Saunders / Daur, Scholar / 9 / Safn Walden, Essex / Census
1861 / Ellen Saunders / Daur, Scholar / 7 / Safn Walden, Essex / Census
1861 / Thomas Saunders / Father, Formerly Agricultural Labourer / 83 / Saffron Walden, Essex / Census
1861 / William Bunting / Step Son, Grocer / 20 / Debden / Census

1870/Richard Downham/../../../Kelly's

1871/Richard Downham/../../../Post Office

1871/Richard Downham/Publican/54/Saffron Walden, Essex/Census ****
1871/Emma Downham/Wife/46/Saffron Walden, Essex/Census
1871/Martha Richardson/Niece/13/Saffron Walden, Essex/Census
1871/Joseph Richardson/Nephew/8/Saffron Walden, Essex/Census

1874/Richard Downham/../../../Kelly's

1878/Richard Downham/../../../Kelly's

1881/Richard Downham/Licensed Victualler/60/Saffron Walden, Essex/Census
1881/Emma Downham/Wife/56/Saffron Walden, Essex/Census
1881/Martha Richardson/Niece, General Servant/23/Saffron Walden, Essex/Census
1881/Joseph Richardson/Nephew, Pupil Teacher/18/Saffron Walden, Essex/Census

1882/Richard Downham/../../../Kelly's

1886/Richard Downham/../../../Kelly's

1886 / Richard Downham / Farmer & Innkeeper / .. / .. / Saffron Walden

1888 / Richard Downham / Farmer & Innkeeper / .. / .. / Saffron Walden

1890/Joseph Richardson/../../../Kelly's

1891 / Joseph Richardson / Publican / 28 / Saffron Walden, Essex / Census
1891 / Mary Richardson / Wife / 28 / Saffron Walden, Essex / Census
1891 / Harold Richardson / Son / 7 Mths / Saffron Walden, Essex / Cen

1894/Joseph Richardson/../../../Kelly's

1895/Joseph Richardson/../../../Kelly's

1896 / Joseph Richardson / .. / .. / .. / Saffron Walden

1897 / Joseph Richardson / .. / .. / .. / Saffron Walden

1898/Joseph Richardson/../../../Kelly's

1899/Joseph Richardson/../../../Kelly's

1900 / Mrs Richardson / .. / .. / .. / Saffron Walden

1901 / Mary A Richardson / Inn Keeper / 38 / Saffron Walden, Essex / Census
1901 / Harold R Richardson / Son / 10 / Saffron Walden, Essex / Census
1901 / Dorothy L Chapman / Servant, General Servant (Domestic) / 15 / Saffron Walden /
Census
1901 / Peter Kidd / Boarder, Woodman / 23 / Saffron Walden / Census
1901 / Martin H Kidd / Boarder, Woodman's Boy / 14 / Saffron Walden / Census

1902/Mrs. Mary Richardson/../../../Kelly's

1903 / Mary Ann Richardson / .. / .. / .. / Saffron Walden

1904 / Mrs Mary Richardson / .. / .. / .. / Kelly's

1905 / Mary Ann Richardson / .. / .. / .. / Saffron Walden

1905 / Mary A Richardson married Herbert Paine in Saffron Walden district

1906 / George Paine / .. / .. / .. / Saffron Walden

1907 / Herbert Paine / .. / .. / .. / Saffron Walden

1906/Mrs. Mary Payne/../../../Kelly's

1908/Mrs. Mary Payne/../../../Kelly's

1909 / Mary Ann Paine / .. / .. / .. / Saffron Walden

1910 / Mary Ann Paine / .. / .. / .. / Saffron Walden

1910 / Sale – Mrs M Paine to E W Jarvis / Inventory & Valuation

1911 / Ernest William Jarvis / Baker & Publican / 33 / Saffron Walden / Census
1911 / Jessie Jarvis / Wife, Assisting in the Business / 34 / Saffron Walden / Census
1911 / Nellie Jarvis / Companion, Assisting in the Business /20 / Saffron Walden / Census

1912/Ernest William Jarvis/../../../Kelly's

1912 / Sale – Ernest Jarvis to Arthur Coe / Inventory & Valuation

1913 / Coe / .. / .. / .. / Saffron Walden

1914/Arthur J. Coe/../../../Kelly's

1915 / Arthur Coe / .. / .. / .. / Ratebook

1917/Arthur J. Coe/../../../Kelly's

1922/Arthur J. Coe/../../../Kelly's

1925/Arthur J. Coe/../../../Kelly's

1929/Arthur J. Coe/../../../Kelly's

1933/Alfred Ernest Ellis/../../../Kelly's

1934 / A E Ellis / .. / .. / .. / Saffron Walden

1936 / A S Skinner / .. / .. / .. / Saffron Walden

1937/Charles Channing/../../../Kelly's

1941 / C Canning / .. / .. / .. / Saffron Walden

1949/50 / R Hunt / .. / .. / .. / Saffron Walden

1960 / S L Ludgate / .. / .. / .. / Saffron Walden

1962 / W Howard / .. / .. / .. / Saffron Walden




* The entirety of the page provided by Adrian Wright
**** Provided by Kevan