Railway Arms, Station Road, Saffron Walden
Saffron Walden pub history index
Directory of Pubs in the UK, historical public houses, Taverns, Inns, Beer Houses and Hotels in Essex . The Essex listing uses information from census, Trade Directories and History to add licensees, bar staff, Lodgers and Visitors.
Known as the Railway Arms until 1902, the Railway Hotel from 1906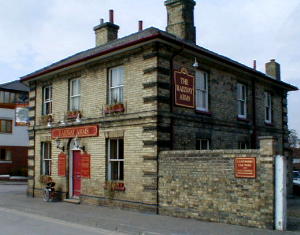 24th March 2000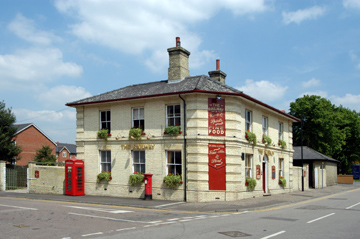 Professionally photographed by Gordon Ridgewell
The following entries are in this format:
Year/Publican or other Resident/Relationship to Head and or Occupation/Age/Where Born/Source.
1870/Joseph Cowell/Coal Merchant/../../Kelly's

1871/Joseph Cowell/Coal Merchant/../../Post Office

1871/Joseph Cowell/Hotel Keeper, Licensed Victualler/30/Steeple Bumpstead, Essex/Census ****
1871/Georgianna Cowell/Wife/30/Toppesfield, Essex/Census
1871/Elles Cowell/Daughter/1/S Walden, Essex/Census
1871/William Cowell/Father, Former Ag Labourer/76/Steeple Bumpstead, Essex/Census
1871/Louisa Cross/Sister/27/Toppesfield, Essex/Census

1874/John Kitson Chadwick/../../../Kelly's

1878/John K. Chadwick/Coal Merchant/../../Kelly's

1881/John Kitson Chadwick/Coal Merchant & Innkeeper/40/Macclesfield, Cheshire/Census
1881/Eliza S. Chadwick/Wife/32/Ingatestone, Essex/Census
1881/Rose E. Chadwick/Daughter/12/Ongar, Essex/Census
1881/Alfred T. Chadwick/Son/11/Ongar, Essex/Census
1881/George G. Chadwick/Son/9/Ongar, Essex/Census
1881/Ida E. Chadwick/Daughter/8/Ongar, Essex/Census
1881/Charles E. Chadwick/Son/3m/Saffron Walden, Essex/Census
1881/Alice Barker/General Servant/21/Saffron Walden, Essex/Census

1882/John K. Chadwick/Coal Merchant/../.. /Kelly's

1886/John K. Chadwick/Coal Merchant/../../Kelly's

1888/John K. Chadwick/Innkeeper, Coal & Coke Merchant/../../Saffron Walden Year Book ***

1890/John K. Chadwick/Coal Merchant/../../Kelly's

1891/Jno Kitson Chadwick/Innkeeper/50/Macclesfield, Cheshire/Census ***
1891/Eliza Sophia Chadwick/Wife/42/Ingatestone, Essex/Census
1891/Charles T Chadwick/Son, Scholar/10/Saffron Walden, Essex/Census
1891Louisa G Chadwick/Daur/8/Saffron Walden, Essex/Census
1891/Eva K Chadwick/Daur/6/Saffron Walden, Essex/Census
1891/Sarah Ann Bacon/Servant, General Servant Domestic/23/Saffron Walden, Essex/Census

1894/John Kitson Chadwick/Coal Merchant/../../Kelly's

1895/John Kitson Chadwick/../../../Kelly's

1896/John Kitson Chadwick/Coal Merchant/../../Saffron Walden Year Book ***

1898/John Kitson Chadwickk/Coal Merchant/../../Kelly's

1899/John Kitson Chadwickk/Coal Merchant/../../Kelly's

1901/John K Chadwick/Publican/60/Macclesfield, Cheshire/Census ***
1901/Eliza Sophia Chadwick/Wife/52/Ingatestone, Essex/Census
1901/Rose Emma Chadwick/Daur/30/Ongar, Essex/Census
1901/George Edgar Chadwick/Son, Railway Clerk/28/Ongar, Essex/Census
1901/Chas Stanley Chadwick/Son/Poultry Sales Boy/20/S Walden, Essex/Census
1901/Florence M Stebbing/Visitor/24/Deptford, Kent/Census
1901/John Jas Hamilton/Visitor, Stock-Broker/33/Scotland/Census
1901/Hadley S Swama/Serv, General Servant (Domestic)/17/Hadstock, Essex/Census

1902/John Kitson Chadwickk/Coal Merchant/../../Kelly's

1906/John Kitson Chadwickk/Coal Merchant/../../Kelly's

1908/Thomas Houghton/../../../Kelly's

1910/Thomas Houghton/../../../Kelly's

1911/Thomas Houghton/Hotel Keeper/41/Sawbridgeworth, Herts/Census ***
1911/Edith Gertrude Houghton/Wife/35/Wandsworth, SW/Census
1911/Gertrude Marian Houghton/Daughter/9/St Bumpstead, Essex/Census
1911/Edna May Houghton/Daughter/5/St Bumpstead, Essex/Census
1911/Florence Woodley/Servant/18/Littlebury, Essex/Census

1912/Thomas Houghton/../../../Kelly's

1914/Thomas Houghton/../../../Kelly's

1917/Thomas Houghton/../../../Kelly's

1922/John George Downes/../../../Kelly's

1925/Arthur William Lawrence/../../../Kelly's

1929/Arthur William Lawrence/../../../Kelly's

1933/Arthur William Lawrence/../../../Kelly's

1937/Arthur William Lawrence/../../../Kelly's

2014/Patrick Donnelly and Samantha Cooze/../../../Charles Wells website



*** Provided by Adrian Wright

**** Provided by kevan