Rose & Crown, Market Place, Saffron Walden
Saffron Walden pub history index
Built in the 15th century. Destroyed by fire at Christmas, 1969, with the loss of eleven lives.
Directory of Pubs in the UK, historical public houses, Taverns, Inns, Beer Houses and Hotels in Essex . The Essex listing uses information from census, Trade Directories and History to add licensees, bar staff, Lodgers and Visitors.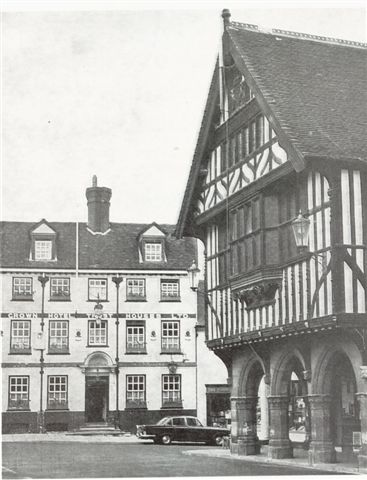 The Rose & Crown - with the Town Hall on the right.
Kindly donated by Colleen
The following entries are in this format:
Year/Publican or other Resident/Relationship to Head and or Occupation/Age/Where Born/Source.
1822/Robert Clark/../../../Pigot's*

1823-4/Robert Clark/../../../Pigot's

1828-9/Robert Clark/../../../Pigot's

1832-3/R.P. Isaacson/../../../Pigot's

1839/William Leverett/../../../Pigot's

1841/William Leveritt/Inn keeper/51/Essex/Census ****
1841/William Washingsaw/Commercial/34/../Census
1841/Charles Wassau/Commercial/28/../Census
1841/Charles Heulage/Commercial/35/../Census
1841/Mary Drane/Female Servant/20/Essex/Census
1841/Betsy Stock/Female Servant/20/../Census
1841/Charlotte Smith/Female Servant/20/Essex/Census
1841/John Drane/Male Servant/21/Essex/Census
1841/Mark Clayden/Male Servant/22/../Census
1841/Thomas Crick/Male Servant/18/../Census
1841/William Bigmore/Tapster/50/Essex/Census
1841/Mary Bigmore//50/Essex/Census

1845/William Leverett/Agent to the Royal Farmers' & General Fire & Life & Hailstorm Insurance/../../Post Office

1848/William Loder/../../../White's

1851/William Spicer/../../../Post Office

1851/Jane Spicer/widow, innkeeper/42/London/Census **
1851/Mary Spicer/daughter/24/Saffron Walden, Essex/Census **
1851/Jane Spicer/daughter/03/Saffron Walden, Essex/Census **
1851/Mary Dellor/house servant/22/Clavering, Essex/Census **
1851/Mary Wilson/house servant/23/Hington, Cambridgeshire/Census **
1851/Mary Taylor/house servant/20/Wimbish, Essex/Census **
1851/William Bigmore/servant/65/Haverhill, Essex/Census **
1851/Mary Bigmore/his wife/63/Hington, Cambridgeshire/Census **
1851/George Sherrin/servant, boots/24/Great Chesterford, Essex/Census **
1851/William Swan/servant, postlad/20/London/Census **
1851/William Carling/visitor, officer of Inland Revenue/46/London/Census **
1851/Thomas Wild/warehouseman/48/Worcestershire/Census **

1855/Mrs Jane Spicer/../../../Post Office Directory ***

1856/Mrs. Jane Spicer/../../../Post Office

1861/William Spicer/Inn Keeper/38/Saffron Walden, Essex/Census ****
1861/Ann Spicer/Wife/40//Census
1861/Mary Jane Spicer/Daughter/7/Saffron Walden, Essex/Census
1861/William T H Spicer/Son/8 months/Saffron Walden, Essex/Census
1861/Charles Worledge/Servant, Ostler/52/Lowestoft, Suffolk/Census
1861/Susan Richardson/Cook/40/Saffron Walden, Essex/Census
1861/Isaac Speed/Assistant Ostler/21/Saffron Walden, Essex/Census
1861/James Byatt/Boots/19/Saffron Walden, Essex/Census
1861/Francis Bunting/HouseMaid/15/Debden, Essex/Census
1861/Judith Bunton/HouseMiad/17/Radwinter, Essex/Census
1861/Daniel Gray/Boarder, Organ Builder/49/Southwark, Surrey/Census
1861/George H Whitfield/Servant, Waiter/18/Poole, Dorsetshire/Census
1861/Emma Jones/Sister, Visitor, Gardeners wife/37/Saffron Walden, Essex/Census
1861/Charles E Jones/Visitor/2/Reigate, Surrey/Census
1861/Emma Mynott/NurseMiad/21/Saffron Walden, Essex/Census

1862/William Spicer/../../../Kelly's

1867/William Spicer/../../../Post Office

1870/William Spicer/../../../Kelly's

1871/William Spicer/Inn Keeper/48/Saffron Walden, Essex/Census ****
1871/Ann Spicer/Wife/52/Greater Malbus, Yorkshire/Census
1871/William T H Spicer/Son/10/Saffron Walden, Essex/Census
1871/Susanna Richardson/Cook/49/Elmdon, Essex/Census
1871/Frederick Freeman/Boots/20/Saffron Walden, Essex/Census
1871/Ann Hall/General Servant/22/Radwinter, Essex/Census
1871/Benjamin Mann/Travelling Groom/44/Downham Market, Suffolk/Census
1871/Emma Miller/General Servant/18/Ashdon, Essex/Census
1871/Rebecca Ridgewell/General Servant/14/Wimbish, Essex/Census
1871/Isaac Speed/Groom/33/Linton, Cambs./Census

1871/William Spicer/../../../Post Office

1874/William Spicer/../../../Kelly's

1878/William Spicer/../../../Kelly's

1881/William Spicer/Hotelkeeper/58/Saffron Walden, Essex/Census
1881/Ann Spicer/Wife/62/Acaster Malbus, York/Census
1881/Mary Holmes/Visitor/22/Acaster Malbus, York/Census
1881/Zilpah Cowell/Domestic Servant/22/Sampford, Essex/Census
1881/Isabella Clark/Domestic Servant/19/Saffron Walden, Essex/Census
1881/Annie Richardson/Domestic Servant/24/Bromley, Kent/Census
1881/William Smith/Domestic Servant Yard Man/24/Littlebury, Essex/Census
1881/John Reynolds/Boots/18/Saffron Walden, Essex/Census

1882/William Charles Carter/../../../Kelly's

1886/Mrs. William Carter/../../../Kelly's

1888/C. G. Payne/../../../Saffron Walden Year Book ***

1890/Charles George Payne/../../../Kelly's

1891/Charles G Payne/Hotel Keeper/40/Soho, London/Census ***
1891/Mary Ann Payne/Wife/45/Shoreham, Sussex/Census
1891/Albert C H Payne/Son/8/Scholar/Brighton, Sussex/Census
1891/Reginald G C Payne/Son/5//Burgess Hill, Sussex/Census
1891/Fanny Bonnette/Serv, Hotel Keeper's Asst & Barmaid/27/France/Census
1891/Ella Robson/Serv, Hotel Keeper's Asst & Barmaid/25/Durham/Census
1891/Florence Dalgetty/Serv, Waitress Domestic Service/24/South Africa/Census
1891/Ellen C Parill/Serv, Chamber Maid Domestic Service/22/Poplar, London/Census
1891/Florence Shaw/Serv, House Maid Domestic Servant/16/Chatteris, Camb/Census
1891/Edith R Swan/Serv, Kitchen Maid Domestic Service/13/Saffn Walden, Essex/Census
1891/Richard M Anderson/Servant, Boots Domestic Servant/19/Saffn Walden, Essex/Census
1891/William Chatfield/Servant, General Servant/34/Cuckfield, Sussex/Census
1891/Susan Wakley/Boarder/Living on her own means/76/Stockland, Devon/Census
1891/Susan S Wakley/Boarder/Living on her own means/52/Stockland, Devon/Census
1891/Jonathan Freeman/Head Servant, Hotel Tap Manager/55/Saffn Walden, Essex/Census
1891/Louise Freeman/Wife/54/Saffn Walden/Essex/Census
1891/Kate C Freeman/Daur, Waitress/17/Saffn Walden, Essex/Census
1891/Albert Freeman/Scholar/12/Saffn Walden, Essex/Census
1891/Alice Marsh/Visitor/45//Littlebury, Essex/Census

1894/Charles George Payne/Proprietor/../../Kelly's

1895/Charles George Payne/../../../Kelly's

1896/George H Potts/../../../Saffron Walden Year Book ***

1898/Charley Edwick/Proprietor/../../Kelly's
1898/George Edwick/Proprietor/../../Kelly's

1899/Charley Edgwick/Proprietor/../../Kelly's
1899/George Edgwick/Proprietor/../../Kelly's

1901/Charley D Edwick/Hotel Proprietor/46/Newport, Essex/Census ***
1901Ellen E Edwick/Wife/47/Tottenham, London/Census
1901/John T Edwick/Son/11//Newport, Essex/Census
1901/Charles G Edwick/Son/9/Newport, Essex/Census
1901/Marian Butter/Servant, Housekeeper and Barmaid/31/Snaresbrooke, Essex/Census
1901/Silas M Mc Williams/Servant, Barmaid/26/Aldershot, Hants/Census
1901/Jennie Dunsdon/Servant, Waitress/29/Penrith, Cumberland/Census
1901/Selena Gowlett/Servant, Chambermaid Domestic/22/Radwinter, Essex/Census
1901/Lily Barker/Servant, Housemaid Domestic/19/Saffron Walden, Essex/Census
1901/Bridget Ryan/Servant, Kitchen Maid Domestic/24/Killaloe, Ireland/Census
1901/Herbert Swan/Servant, Boots Domestic/18/Saffron Walden, Essex/Census
1901/Arthur Hall/Manager of Rose & Crown Tap/26/Cambridge/Census

1902/Charley Edgwick/Proprietor/../../Kelly's
1902/George Edgwick/Proprietor/../../Kelly's

1906/Charles M. Roberts/Proprietor/../../Kelly's

1908/Charles M. Roberts/Proprietor/../../Kelly's

1910/Charles M. Roberts/Proprietor/../../Kelly's

1911/Charles Michael Roberts/Hotel Proprietor/66/Seething, Norfolk/Census ***
1911/Kate Roberts/Wife, Asst in Business/61/Norwich, Norfolk/Census
1911/Ellen Warren/Assistant, Housekeeper/30/Great Horkesley, Essex/Census
1911/Annie Beasly/Assistant, Bar Maid/27/Colchester, Essex/Census
1911/Alice Howard/Servant, Chamber Maid/24/Westacre, Norfolk/Census
1911/Annie Woodley/Servant, House Maid/22/Ickleton, Cambridgeshire/Census
1911/Ethel Grand/Servant, Kitchen Maid/24/Norwich, Norfolk/Census
1911/Bertie Pond/Servant, Hotel Boots/30/London, Middlesex/Census
1911/Nellie Smith/Wife, Manageress Rose Tap/42/Saffron Walden, Essex/Census
1911/Elizabeth Cooper/Mother/73/Trumpington, Cambs/Census

1912/Charles M. Roberts/Proprietor/../../Kelly's

1914/Home Counties Public House Trust Ltd./Proprietors/../../Kelly's
1914/W. Nicholls/Manager/../../Kelly's

1917/Home Counties Public House Trust Ltd./Proprietors/../../Kelly's
1917/C. J. Holt/Manager/../../Kelly's

1922/Home Counties Public House Trust Ltd./Proprietors/../../Kelly's
1922/Walter Raymond/Manager/../../Kelly's

1925/Trust Houses Ltd./../../../Kelly's

1929/Trust Houses Ltd./../../../Kelly's

1933/Trust Houses Ltd./../../../Kelly's

1935/A Trainor/../../../Saffron Walden Yearbook ****

1937/Trust Houses Ltd./../../../Kelly's



* Provided by the Pubs, Inns and Taverns Index for England, 1801-1900

** Provided by John Mead

*** Provided by Adrian Wright

**** Provided by Kevan