Sun, Market Hill, Saffron Walden
Saffron Walden pub history index
Directory of Pubs in the UK, historical public houses, Taverns, Inns, Beer Houses and Hotels in Essex . The Essex listing uses information from census, Trade Directories and History to add licensees, bar staff, Lodgers and Visitors.
Later addressed as 59 Gold Street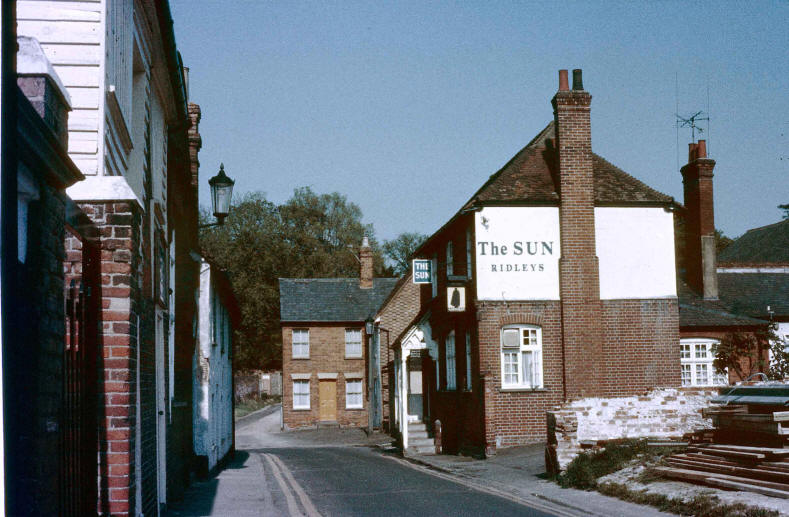 Sun, 59 Gold Street, Saffron Walden - at 22 May 1977
Kindly provided by Dudley Diaper
The following entries are in this format:
Year/Publican or other Resident/Relationship to Head and or Occupation/Age/Where Born/Source.
1822/John Burdett/../../../Pigot's*

1823-4/John Burdett/../../../Pigot's

1828-9/John Burdett/../../../Pigot's

1832-3/Eliza Burdett/../../../Pigot's

1834/William Green/../../../..*

1839/Joseph Scruby/../../../Pigot's

1840/Joseph Scruby/../../../Pigot's*

1841/Joseph Scruby/Inn keeper/30/../Census ****
1841/Eliza Scruby//35/../Census
1841/Emily Scruby//4/Essex/Census
1841/Theodore Scruby//3/Essex/Census
1841/Amelia Scruby//1/Essex/Census
1841/William Johnson/Iron monger/50/../Census
1841/Bird Porter/butcher/40/Essex/Census
1841/William Regelous/Ostler/40/Essex/Census
1841/Charles Clayden/Male servant/25/Essex/Census
1841/Eliza Bassett/Female Servant/25/Essex/Census
1841/Jane Webb/Female Servant/20/Essex/Census
1841/Sarah Bush/Female Servant/15/Essex/Census

1845/Joseph Scruby/../../../Post Office

1848/Joseph Scruby/../../../White's

1851/Joseph Scruby/../../../Post Office

1851/Joseph Scruby/innkeeper/40/Pampisford, Cambridgeshire/Census **
1851/Eliza Scruby/wife/48/Haddenham, Cambridgeshire/Census **
1851/Emily B Scruby/daughter/14/Saffron Walden, Essex/Census **
1851/Theadore Scruby/son/13/Saffron Walden, Essex/Census **
1851/Amelia Scruby/daughter/11/Saffron Walden, Essex/Census **
1851/Charlotte Scruby/daughter/08/Saffron Walden, Essex/Census **
1851/Eliza Bassett/widow, servant/32/Wimbish, Essex/Census **
1851/George Barker/servant/17/Saffron Walden, Essex/Census **
1851/John Smith/servant/17/Woodford, Essex/Census **
1851/William Regelous/servant/60/Ugley, Essex/Census **

1852/J. Scruby/../../../Kelly's*

1856/Charles Fenn/../../../Post Office

1862/Henry Harold/../../../Kelly's

1867/Mrs. Mary Ann Harold/../../../Post Office

1898/Thomas William Overall/Beer Retailer/../../Kelly's

1899/T. W. Overall/Beer Retailer/../../Kelly's

1902/Thomas William Overall/Beer Retailer/../../Kelly's

1906/Thomas William Overall/Beer Retailer/../../Kelly's

1908/Thomas William Overall/Beer Retailer/../../Kelly's

1912/Thomas William Overall/Beer Retailer/../../Kelly's

1914/Thomas William Overall/Beer Retailer/../../Kelly's

1917/Thomas William Overall/Beer Retailer/../../Kelly's

1922/Thomas William Overall/Beer Retailer/../../Kelly's

1925/Mrs. Emily Overall/Beer Retailer/../../Kelly's

1929/Mrs. Emily Overall/Beer Retailer/../../Kelly's

1933/James W. Bradford/Beer Retailer/../../Kelly's

Note: Premises not named between 1898 & 1933

1937/James W. Bradford/../../../Kelly's



* Provided by the Pubs, Inns and Taverns Index for England, 1801-1900

** Provided by John Mead

**** Provided by Kevan