Search London wiki and Pub wiki history sites
All public house, restaurants, bars etc closed for the forseeable future on 20th March 2020, but this is a history site. But how about the landlords give their tenants a break, no business, then please charge them no rent.
Crown, South Benfleet
Later known as the Half Crown after being partly demolished by a lorry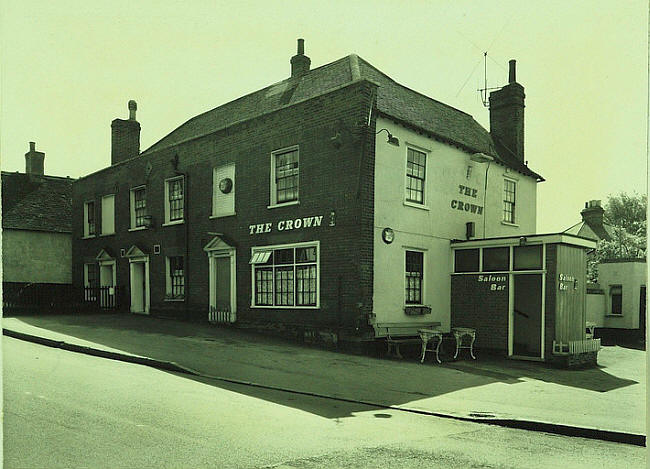 Crown, South Benfleet - in 1962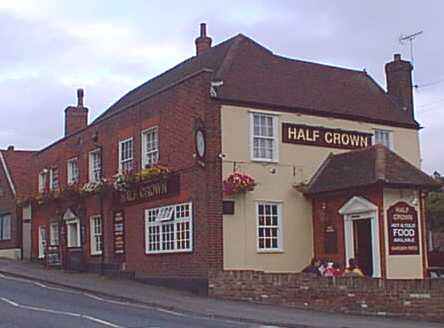 22nd July 2000
Taken by Stephen Parker
The following entries are in this format:
Year/Publican or other Resident/Relationship to Head and or Occupation/Age/Where Born/Source.
1861/Charles Daines/beer seller/44/South Benfleet, Essex/Census **
1861/Mary A Daines/wife/37/Fobbing, Essex/Census **
1861/Daniel Nutton/lodger, ag lab/65/Laindon, Essex/Census **
1861/William Carter/lodger, ag lab/42/High Garrett, Essex/Census **
1861/William Saunders/lodger, ag lab/44/Halstead, Essex/Census **
1861/John Argent/lodger, ag lab/28/Stoke, Essex/Census **

1862/Charles Daines/Beer Retailer/../../Post Office

1867/Charles Daines/Beer Retailer/../../Post Office

1871/Charles Daines/Beer Retailer/../../Post Office

1874/Charles Daines/Beer Retailer/../../Post Office

1871/Charles Daines/beer retailer/54/South Benfleet, Essex/Census **
1871/Mary Ann Daines/wife/46/Fobbing, Essex/Census **

1878/Charles Daines/Beer Retailer/../../Post Office

1881/Charles Daines/Beerhouse Keeper/64/South Benfleet, Essex/Census
1881/Mary Daines/Wife/56/Fobbing, Essex/Census
1881/Harriet Howard/Niece/17/South Benfleet, Essex/Census
1881/William Brand/Nephew/10/Leigh, Essex/Census

1882/Charles Daines/Beer Retailer/../../Kelly's

1886/John Pease/Beer Retailer/../../Kelly's

1890/George Wright/Beer Retailer/../../Kelly's

1891/George Wright/publican/55/Southchurch, Essex/Census **
1891/Annie Wright/wife/26/Tottenham, Middlesex/Census **
1891/John Wright/son, ferry master (barge)/18/South Benfleet, Essex/Census **

1895/William Pierce/Beer Retailer/../../Kelly's

1899/William Pierce/Beer Retailer/../../Kelly's

1902/William Pierce/Beer Retailer/../../Kelly's

1906/William Pierce/Beer Retailer/../../Kelly's

1908/William Pierce/Beer Retailer/../../Kelly's

1910/George Chappell/Beer Retailer/../../Kelly's

1912/George Chappell/Beer Retailer/../../Kelly's

Note: Prior to 1914, premises only named in 1881

1914/John Robertson/Beer Retailer/../../Kelly's

1917/Edward W. Simmons/Beer Retailer/../../Kelly's

1922/Edward W. Simmons/Beer Retailer/../../Kelly's

1925-6/Edward W. Simmons/Beer Retailer/../../Kelly's

1929/Edward W. Simmons/Beer Retailer/../../Kelly's

1933/Edward W. Simmons/Beer Retailer/../../Kelly's

1937/Edward W. Simmons/../../../Kelly's

1940 - 1941/C E Trott/../../../Freehold

1950 - 1965/H J Tillett/../../../Freehold

October 1966/J A Tillett/../../../Freehold



** Provided by John Mead