Search London wiki and Pub wiki history sites
Cap & Feathers, Tillingham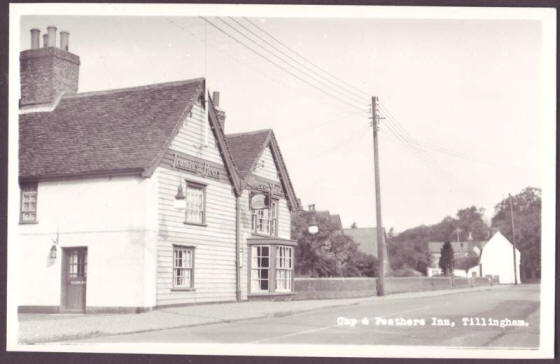 Cap & Feathers, Tillingham - tied to Trumans
Kindly provided by Colleen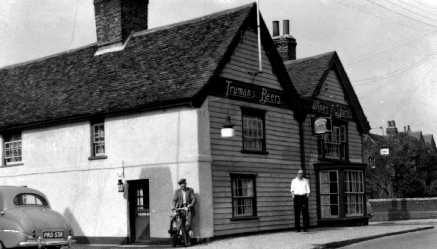 Provided by Barry Hilliard
"The Cap and Feathers stands on some of the oldest ecclesiastical property in the land. It was in the Sixteenth Century that the tithes of Tillingham were given to the Cathedral of St. Paul.

As a place of hostelry its history can be traced back to the Twelfth Century when if was a pilgrim's lodging house..

In the Sixteenth Centuryit became the village inn though how the Cap and Feathers came to be its name is a matter of pure conjecture..

The old part of the inn fronts Vicarage Lane and it here that the plaster structure may be suspect, for certainly this section has an odd bulbous look, with the appearance of sagging being emphasised by a curving chimney stack! The Cap and Feathers retains a great deal of the past but caters very much for the present. Its fame for miles is the "ploughman's snack". Where once the land worker chewed a loaf of bread and a chunk of cheese before taking nourishment from a pint pot, now stand duffle-coated engineers from Bradwell power station, sales representatives and insurance agents consuming thick slices of bread, ham, cheese, sausages, pies and hot dogs.

Licensee Mr. Anthony Hilliard has been well rewarded for the pains he took to build up a suitable lunch-time snack service.

Mr. Hiliard has also done a great deal to improve the decor of his bars where the dominant feature is the old oak beams.

The "regulars" say it is impossible to knock a nail into the beams. One beam in the saloon was bevelled so that a farmer could walk through the passage there at the time without having his hat knocked off!

There is a large collection of brasses and curios in the saloon where the somewhat unusual corner-piece is a stuffed bear, the knife that cut him open, and a photograph of his heart!

Old lamps, now electrically operated, can be found all over he place. The biggest, of moulded brass, came from the Dengie Church

Above the saloon is a very old clubroom used evry month by the local Odd Fellows. At one time Tillingham Football Club used to change at the inn.

Known by the locals as "The Feathers" and by some of the newcomers from Bradwell as "The Camp," Tillingham's oldest inn is still very much the focal point for village wisdom.

No doubt what he heard in "The Feathers" provided much in the way of material for the late Mr. S. L. Bensusan, writer of the Essex marshland, who used Tillingham folk and the village in so many of his stories."

From the Maldon and Burnham Standard, November 24, 1960. Provided by Barry Hilliard.
Known Residents
The following entries are in this format:
Year/Publican or other Resident/Relationship to Head and or Occupation/Age/Where Born/Source.
1839/Robert Willsmer/../../../Pigot's

1841/Robert Willsmer/Publican/25/Essex/Census*
1841/Sarah (nee Coster) Willsmer/../20/Essex/Census*
1841/Harriet Coster/../15/Essex/Census*
1841/Joseph Gover/Commercial Traveller/30/../Census*
1841/George Pile/Commercial Traveller/35/../Census*
1841/Rebecca Pile/../20+/../Census*
1841/Hannah Read/../15/Essex/Census*
1841/Henry Hunicks/Colt Buster(?)/20/Essex/Census*
1841/Samuel Griggs/Agricultural Labourer/15/../Census*
1841/William Headborn/Hairdresser/15/Essex/Census*

Note: Robert Willsmer died shortly after the 1841 census. Sarah remarried George Vinson 4 years later*

1845/George Vinson/../../../Post Office

1848/George Vinson/../../../White's

1851/Mrs. Sarah Ann Vinson/../../../Post Office

1851/John Moss/innkeeper/53/Great Totham, Essex/Census ***
1851/Mary Ann Moss/wife/53/Brentwood, Essex/Census ***
1851/Mary Ann Moss/daughter/23/West Ham, Essex/Census ***
1851/Nancy Ellen Moss/daughter/17/West Ham, Essex/Census ***
1851/John Moss/son, scholar/11/East Horndon, Essex/Census ***
1851/James Nunn/groom/25/Glemsford, Essex/Census ***
1851/Sarah Pamplin/house servant/20/Asheldham, Essex/Census ***
1851/William Heard/lodger (infirm), late ag lab/79/Tolleshunt D'Arcy, Essex/Census ***
1851/George Death/lodger, thatcher/22/Wormingford, Essex/Census ***

1855/W. Dixey/../../../Kelly's**

1861/John H. Turner/Farmer & Innkeeper/38/St. Lawrence, Essex/Census*
1861/Charlotte Turner/Wife/30/Tudbury, Suffolk/Census*
1861/Richard H. Turner/Son/4/Tillingham, Essex/Census*
1861/John H. Turner/Son/3/Tillingham, Essex/Census*
1861/Charlotte Turner/Daughter/4m/Tillingham, Essex/Census*
1861/Hannah Hitchin/Nurse/42/Maldon, Essex/Census*
1861/George Turner/Groom/22/Ash, Bocking, Essex/Census*
1861/Sarah Carter/House Servant/14/Tillingham, Essex/Census*
1861/Isaac Spurgin/Lodger, Bricklayer/44/Tollesbury, Essex/Census*

1862/John Harrison Turner/Farmer/../../Kelly's

1867/John Harrison Turner/Farmer/../../Post Office

1870/John Harrison Turner/Farmer/../../Kelly's

1871/John Harrison Turner/Farmer/../../Post Office

1874/Arthur George Rayner/../../../Kelly's

1878/Arthur George Rayner/../../../Kelly's

1881/Charles Everett/Licensed Victualler/53/Tolleshunt D'Arcy, Essex/Census
1881/Sarah Everett/Wife/54/Cold Norton, Essex/Census
1881/Emily Everett/Daughter, Barmaid/21/Tolleshunt D'Arcy, Essex/Census
1881/Mary Ann Everett/Daughter, Barmaid/16/Tolleshunt D'Arcy, Essex/Census
1881/Emma Everett/Daughter/14/Tolleshunt D'Arcy, Essex/Census
1881/Henry Filbery/Ostler/19/Burnham, Essex/Census

1882/Charles Everitt/../../../Kelly's

1886/Charles Everitt/../../../Kelly's

1890/Charles Everitt/../../../Kelly's

1894/Charles Everitt/../../../Kelly's

1895/Charles Everitt/../../../Kelly's

1898/William F. Cook/../../../Kelly's

1899/William F. Cook/../../../Kelly's

1902/William F. Cook/../../../Kelly's

1906/William F. Cook/../../../Kelly's

1908/William Frederick Allen Cook/../../../Kelly's

1910/William Frederick Allen Cook/../../../Kelly's

1912/William Frederick Allen Cook/../../../Kelly's

1914/William Ladd/../../../Kelly's

1917/William Ladd/../../../Kelly's

1922/William Ladd/../../../Kelly's

1925/William Ladd/../../../Kelly's

1929/William Ladd/../../../Kelly's

1933/William Ladd/../../../Kelly's

1937/Harry Nicholls/../../../Kelly's

Mr H S Nicholls, licensee of the Star and Garter, Chelmsford (death recorded). Mr Nicholls prior to taking over the Star and Garter in 1945 was licensee of the Cap and Feathers, Tillingham, for ten years. ****

1945/Mr H S Nicholls/../../../Black Eagle Journal ****

1960/Anthony Hilliard/../../../Local Newspaper




* Provided by Caroline Graham

** Provided by the Pubs, Inns and Taverns Index for England, 1801-1900

*** Provided by John Mead

**** Provided by Alex Wilkinson