Grove Tavern, 74 Grove Road, Walthamstow
Walthamstow pub history index
A listing of historical public houses, Taverns, Inns, Beer Houses and Hotels in Essex. The Essex listing uses information from census, Trade Directories and History to add licensees, bar staff, Lodgers and Visitors.
This pub was built in 1868 and was initially named the Britannia. In 1870 it was re-named the Grove Tavern. It closed in January 2008. **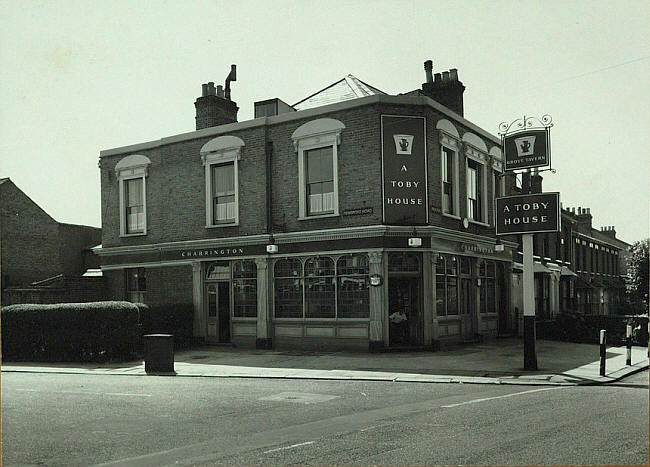 Grove Tavern, 74 Grove Road, Walthamstow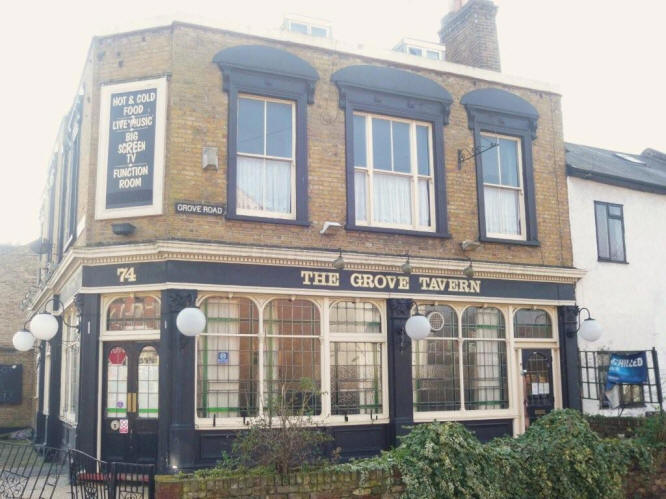 Grove Tavern, 74 Grove Road, E17 - in January 2008
Kindly provided by Stephen Harris
Residents at this address.
1872/Lewis Morgan/../../../Essex Records Office – Register of Alehouses **

1879/Humfrey/../../../Truman Hanbury Buxton Brewery archive **

1880/James Ayrton/../../../Essex Records Office – Register of Alehouses **

1881/Frederick Jones/../../../Essex Records Office – Register of Alehouses **

1881/James F Jones/../../../1881 census **

1882/James Jones/../../../Kelly's Directory **

1896/William Jordan Cairns/../../../Petty Sessions

06/8/1898/Thomas Dipple/../../../Petty Sessions

?/Amelia Jane Ann Dipple/../../../Petty Sessions

1901/Amelia J A Dipple/Publican, Widow/45/Hackney, London/Census
1901/William R Dipple/Son, Barman/18/Woolwich, Kent/Census
1901/Thomas H Dipple/Son, Clerk/16/Woolwich, Kent/Census
1901/Lily M Dipple/Daughter/15/Poplar, London/Census
1901/Jennie Dipple/Niece, Barmaid/18/Hackney, London/Census
1901/Matilda Johnson/General Domestic/22/Islington, London/Census

22/2/1902/Samuel Bertin/../../../Petty Sessions

1902/Samuel Bertin/../../../Kelly's

27/5/1905/George Smith/../../../Petty Sessions

1917/Geo Smith/../../../Kelly's

08/7/1919/David Joshua Jessop/../../../Petty Sessions

05/3/1921/William Thomas Irons/../../../Petty Sessions

1922/David Joshua Jessop/../../../Kelly's

1947 - 1954/Darlington/../../../Freehold

1960 - 1965/H S Darlington/../../../Freehold