Greenfield Stores, 61 Milton Road, Walthamstow E17
Walthamstow pub history index
A listing of historical public houses, Taverns, Inns, Beer Houses and Hotels in Essex. The Essex listing uses information from census, Trade Directories and History to add licensees, bar staff, Lodgers and Visitors.
This was an off-licence, which is now closed **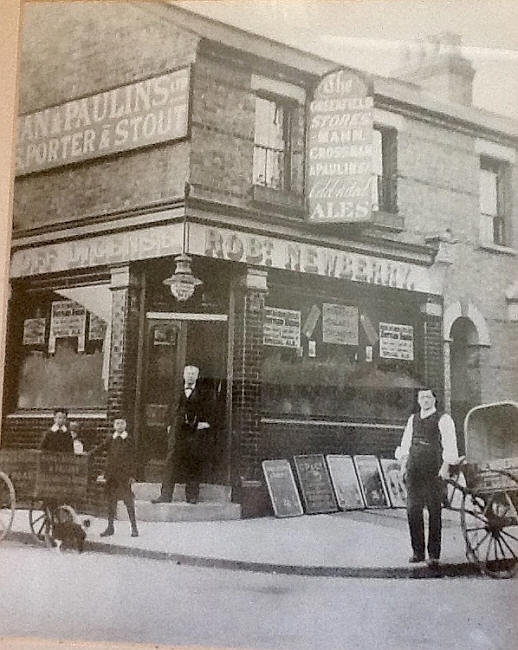 The Greenfield Stores, 61 Milton Road, Walthamstow - probably in 1906 with three generations of the Newberry's.
Kindly provided by Geoff Duke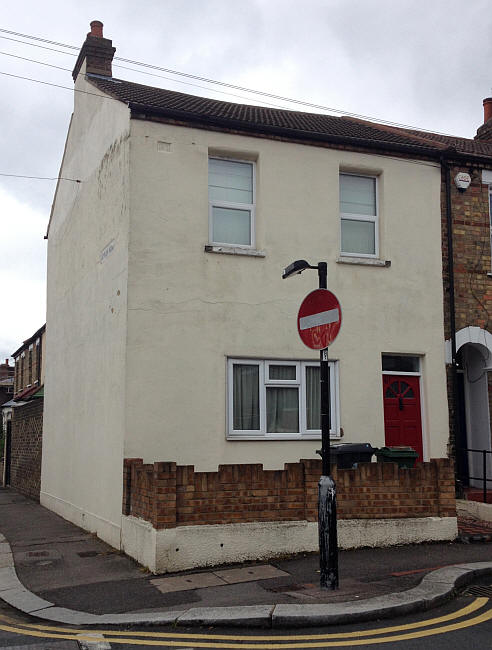 61 Milton Road, Walthamstow E17 - in May 2014
Kindly provided by Tim Mullineaux
Residents at this address.
1896/G T Osborne/Beer Retailer/../../Kelly's

1901/John Hockley/Beer Retailer & general/49/Little Waltham/Census
1901/Agnes Hockley/Wife/44/Broomfield, Essex/Census
1901/Emily Hockley/Daughter/14/Chelmsford, Essex/Census
1901/Ellen Hockley/Daughter/12/Chelmsford, Essex/Census
1901/Agnes Hockley/Daughter/10/Camberwell, Surrey/Census
1901/Daisy Hockley/Daughter/8/Camberwell, Surrey/Census
1901/Arthur Hockley/Son/5/Willesden, London/Census

1902/John Hewson Hockley/Beer Retailer/../../Kelly's

This was my families Off Licence at 61 Milton Road, Walthamstow. Three generations of the 'Newberrys' owned it from 1906 to the 1970's . *

1906/Robert Newberry/Beer Retailer/../../Kelly's

1911/Robert Newberry/Beer Retailer/62/Hoxton, London/Census
1911/Mary Ann Newberry/Wife/63/Bethnal Green, London/Census
1911/Robert Pearce Newberry/Son, Assistant/40/Hackney, London/Census
1911/Robert Arthur Newberry/Grandson/14/Earlsfield, Surrey/Census

1920/Robert Newberry/Beer Retailer/../../Kelly's

1922/Robert Newberry/Beer Retailer/../../Kelly's **

1930/Robert Newberry of 61 Milton road Walthamstow Essex died 3 April 1930 Probate London 6 May to Robert Pearce Newberry off-license holder. Effects £2371 13s 7d/Probate

1971/R A Newberry/../../../BT Telephone Directory



* Provided by Geoff Duke

** Provided by Stephen Harris