Chequers, 145 High Street, Walthamstow E17
Walthamstow pub history index
A listing of historical public houses, Taverns, Inns, Beer Houses and Hotels in Essex. The Essex listing uses information from census, Trade Directories and History to add licensees, bar staff, Lodgers and Visitors.
This pub was present by 1757 ***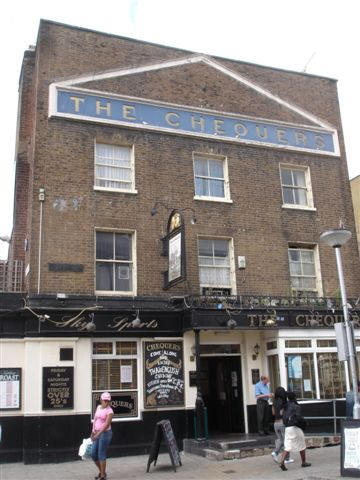 Chequers, High Street, Walthamstow, E17 - in August 2007
Kindly provided by Stephen Harris
Residents at this address.
1826/Harry Watkins/../../../Pigot's

1832-3/Richard Wilson/../../../Pigot's

1839/Richard Wilson/../../../Pigot's

1845/Richard Wilson/../../../Post Office

1848/Richard Wilson/../../../White's

1851/Richard Wilson/../../../Post Office

1851/Richard Wilson/licensed victualler/39/London, Middlesex/Census **
1851/Sarah Wilson/wife/34/Highgate, Middlesex/Census **
1851/Ann Susannah Wilson/daughter/05/Highgate, Middlesex/Census **
1851/Sarah H Wilson/daughter/02/Walthamstow, Essex/Census **
1851/Mary E Wilson/daughter/10m/Walthamstow, Essex/Census **
1851/Edward Richardson/ostler/40/Walthamstow, Essex/Census **
1851/Emma Watson/house servant/21/Woodford, Essex/Census **
1851/Hannah Cob/nursemaid/17/Waddington, Oxfordshire/Census **
1851/Frederick Berry/lodger, labourer/18/Hackney, Middlesex/Census **

1855/R Wilson/../../../Post Office

1861/Sarah Wilson/Licensed Victualler/../../History of Walthamstow 1861

1861/Sarah Wilson/Innkeeper/42/../Census*
1861/Ann Wilson/Daughter/16/../Census*
1861/Ellen Wilson/Daughter/6/../Census*
1861/Emily J. Clobbing(?)/Niece/../../Census*
1861/Margaret Clobbing(?)/Niece/../../Census*
1861/June Ellingham/Servant/../../Census*
1861/Martha ??ants/Servant/../../Census*
1861/George Corbutt/Servant/../../Census*
1861/Glennis In??/Niece/../../Census*

1862/Mrs. Sarah Wilson/../../../Kelly's

1870/William Henry Allnutt/../../../Kelly's

1874/William Hallows/../../../Kelly's

1878/William Gough Hallows/../../../Kelly's

1881/William G. Hallows/Licensed Victualler/42/London, Middlesex/Census
1881/Laura Hallows/Wife/41/Liverpool/Census
1881/Henry Hallows/Son/22/Liverpool/Census
1881/Laura Hallows/Daughter/20/Liverpool/Census
1881/Rosetta Hallows/Daughter/15/London, Middlesex/Census
1881/George Riches/Visitor, Clerk/21/London, Middlesex/Census
1881/Ada White/Visitor/19/London, Middlesex/Census
1881/Edward Davis/Barman/19/Worcester/Census
1881/Ester Hawley/General Servant/19/London, Middlesex/Census
1881/Joseph Taylor/Potman/19/Saffron Walden, Essex/Census

1882/William Gough Hallows/../../../Kelly's

1886/William Gough Hallows/../../../Kelly's

1902/Edward Archer/../../../Kelly's

1896/Henry Thomas Arnold/../../../Petty Sessions

03/6/1899/Arthur Robert Rome/../../../Petty Sessions

1901/John Hickling/Manager Hotel/35/London/Census
1901/Florence Hickling/Wife/31/Essex/Census
1901/Florence Hickling/Daughter/9/Walthamstow/Census
1901/Gladys Hickling/Daughter/5/Walthamstow/Census
1901/Edith Hickling/Daughter/1/Walthamstow/Census
1901/Cyril Hickling/Son/2 months/Walthamstow/Census
1901/Constabce Mellish/Barmaid/21/London/Census
1901/Mabel Bennett/Barmaid/23/London/Census
1901/Bessie Shirley/Cook/37/Ireland/Census
1901/George Deppe/Barman/21/Walthamstow/Census
1901/Edith Britton/Housemaid/16/London/Census

31/5/1902/John Hickling/../../../Petty Sessions

11/4/1903/William Joseph Silcock/../../../Petty Sessions

28/5/1904/William James Silcock/../../../Petty Sessions

1908/Young & Sons/../../../Kelly's

26/2/1910/James Young/../../../Petty Sessions

23/9/1911/Alfred James Sparham & Robert Benjamin Prichard/../../../Petty Sessions

1917/Alfred Sparham/../../../Kelly's
1917/Robert Prichard/../../../Kelly's

1917/Alfred Sparham/../../../Kelly's
1917/Robert Benjamin Prichard/../../../Kelly's

3/11/1917/John Archibald Higham & Robert Benjamin Prichard/../../../Petty Sessions

26/7/1919/Shirley Edward Lake & Robert Benjamin Prichard/../../../Petty Sessions

06/3/1920/Shirley Edward Lake & Henry Turness / Furness/../../../Petty Sessions

1921/Suburban Caterers Ltd/../../../Hughes Directory

1922/H Furness/../../../Kelly's

11/11/1922/Abraham Jack Lux/../../../Petty Sessions

1925/Abraham Jack Lux/../../../Kelly's

19/12/1925/Ernest Louis Short & Robert Moir/../../../Petty Sessions



* Provided by Jenny

** Provided by John Mead

*** Provided by Stephen Harris