Queens Arms, 42 Orford Road, Walthamstow E17
Walthamstow pub history index
A listing of historical public houses, Taverns, Inns, Beer Houses and Hotels in Essex. The Essex listing uses information from census, Trade Directories and History to add licensees, bar staff, Lodgers and Visitors.
This pub opened in 1859 **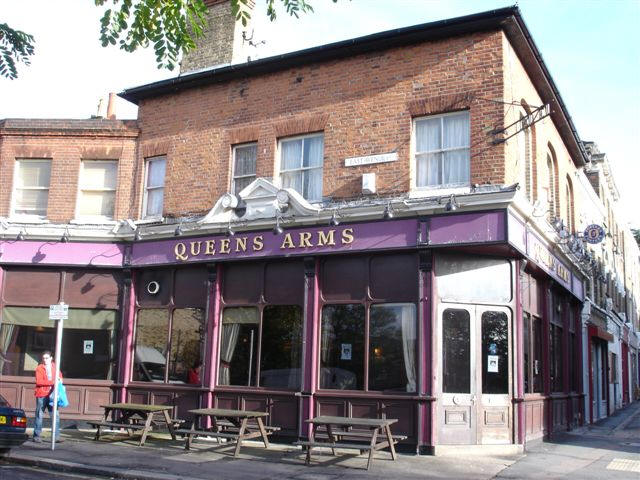 Queens Arms, 42 Orford Road, E17 - in November 2006
Kindly provided by Stephen Harris
Residents at this address.
1861/J Wilcox/Beer House Keeper/../../History of Walthamstow 1861

1870/James Lamb/../../../Kelly's

1874/Mrs. Sarah Richardson/../../../Kelly's

1878/Mrs. Sarah Richardson/../../../Kelly's

1881/Sarah Richardson/Licensed Victualler/50/Hitchin, Herford/Census
1881/Kezia Gascoigne/Sister, Licensed Victualler/40/Hitchin, Herford/Census
1881/Mary H. Rawson/Niece, Milliner/20/Finsbury, Middlesex/Census
1881/Ada E. Rawson/Niece, Milliner/18/Finsbury, Middlesex/Census
1881/Alice M. Rawson/Niece/13/Finsbury, Middlesex/Census
1881/Frederick Nightingale/Potman/31/Stapleford Tawney, Essex/Census

1882/Mrs. Sarah Richardson/../../../Kelly's

1886/Mrs. Sarah Richardson/../../../Kelly's

1896/Edwin James Locke/../../../Petty Sessions

1902/Edward James Locke/../../../Petty Sessions

1901/Edwin J Locke/Licensed Victualler/49/Bristol, Gloucester/Census
1901/Hellen Locke/48/London//Census
1901/Walter Nuttall/Barman/18/London/Census
1901/Bert Milton/Barman/18/Walthamstow, Essex/Census
1901/Frank Odonnell/Barman/19/Durham/Census
1901/Ethel Locke/Daughter/6/Kent/Census
1901/Walter Monk/Barman/17/Essex/Census
1901/Florrie Breen/Barmaid/23/Birmingham, Warwick/Census
1901/Rose Cullen/Domestic Servant/27/Tring, Herts/Census

1902/Edward James Locke/../../../Kelly's

1908/Edward James Locke/../../../Kelly's

16/5/1908/Helena Locke/../../../Petty Sessions

16/10/1908/Helena Silver/../../../Petty Sessions

06/1/1912/Henry Ferguson Inman Hallows/../../../Petty Sessions

1912/Henry Ferguson Inman Hallows/../../../Kelly's

Note: Henry was also at the Lorne Arms in 1912

21/11/1914/Elizabeth Higgins/../../../Petty Sessions

1917/Mrs. Elizabeth Higgins/../../../Kelly's

25/1/1919/Maurice William Drewry Rainer/../../../Petty Sessions

1922/Maurice W D Rainer/../../../Kelly's

26/1/1924/Robert James Webster & Leonard James Webster/../../../Petty Sessions

1925/Webster Brothers/../../../Kelly's

26/9/1925/Leonard James Webster/../../../Petty Sessions

11/6/1927/Charles Henry Webster sen & jun/../../../Petty Sessions

28/1/1928/Charles Henry Webster sen & Olive Brooker/../../../Petty Sessions

7/11/1928/Bernard Levy/../../../Petty Sessions

21/9/1932/Henry Sydney Kingsley/../../../Petty Sessions



** Provided by Stephen Harris