Blue Anchor, West Tilbury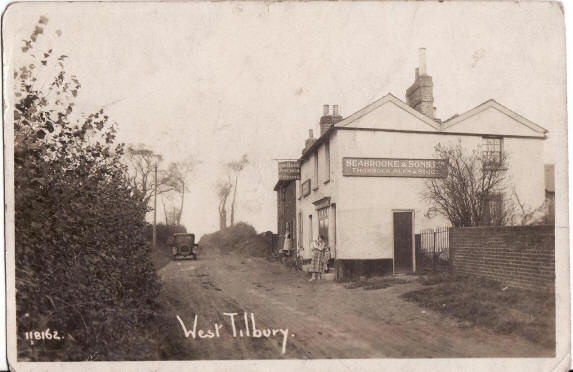 Blue Anchor, West Tilbury - circa 1930
The picture shows Florence Hunt in the rear doorway and her niece Violet Ashdown outside the Blue Anchor pub, with two of her children. You can see F.A Hunt over the door.
Kindly provided by David Jaundrell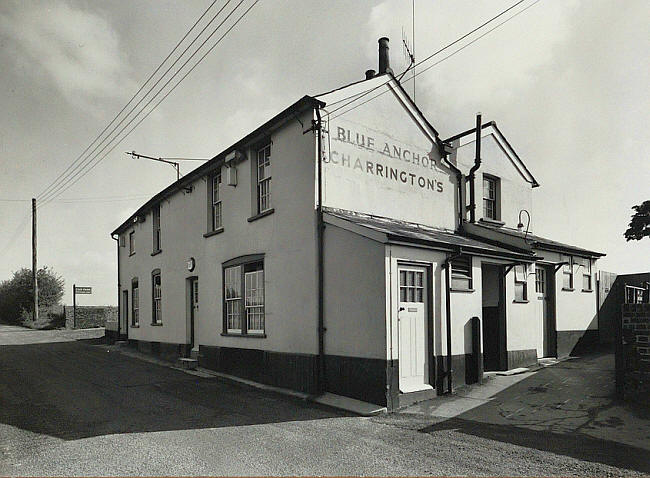 Blue Anchor, West Tilbury
The following entries are in this format:
Year/Publican or other Resident/Relationship to Head and or Occupation/Age/Where Born/Source.
1881/Henry Phillips/Publican & Grocer/47/Rainham, Essex/Census
1881/Emma J. Phillips/Wife/43/Strood, Kent/Census
1881/Arthur Phillips/Son, Grocers Shopman Etc./15/Barking, Essex/Census
1881/Emma J. Halford/Daughter of Wife/10/Forest Gate, Essex/Census
1881/Clara Halford/Daughter of Wife/8/Ingrave, Essex/Census
1881/Alice Halford/Daughter of Wife/6/Ingrave, Essex/Census
1881/Rebecca Driscal/General Servant/15/London, Middlesex/Census
1881/Edward Downes/Lodger, Agricultural Labourer/21/Hadleigh, Essex/Census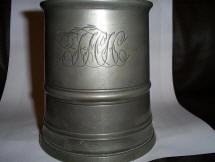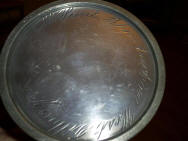 Pewter Tankard of Thomas Henry Hunt, inscribed T H H on side & the underside underside says "T H Hunt Blue Anchor West Tilbury
Kindly provided by David Jaundrell
1882/Thomas Henry Hunt/Beer Retailer & Grocer/../../Kelly's

1886/Thomas Henry Hunt/Beer Retailer & Grocer/../../Kelly's

1890/Thomas Henry Hunt/Beer Retailer & Grocer/../../Kelly's

1891/Thomas Henry Hunt/Grocer/48/Englegate Green, Surrey/Census
1891/Elizabeth Hunt/Wife/47/Barking, Essex/Census
1891/Elizabeth Frances Hunt/Daughter/24/Barking, Essex/Census
1891/Florence Ann Hunt/Daughter/23/Barking, Essex/Census
1891/Thomas William Hunt/Son/14/Low Street, Essex/Census
1891/Frederick George Hunt/Son/8/West Tilbury, Essex/Census

1895/Thomas Henry Hunt/Beer Retailer & Grocer/../../Kelly's

1899/Thomas Henry Hunt/Beer Retailer & Grocer/../../Kelly's

1901/Thomas H Hunt/Grocer etc, Victualler/58/Egham, Surrey/Census
1901/Elizabeth Hunt/Wife/57/Barking, Essex/Census
1901/Florence A Hunt/Daughter, Grocers Assistant/30/Barking, Essex/Census
1901/Frederick G Hunt/Son, Engine Fitters Apprentice/18/West Tilbury/Census

1902/Thomas Henry Hunt/Beer Retailer & Grocer/../../Kelly's

1906/Thomas Henry Hunt/Beer Retailer & Grocer/../../Kelly's

1908/Thomas Henry Hunt/Beer Retailer & Grocer/../../Kelly's

1910/Miss Florence Ann Hunt/Beer Retailer/../../Kelly's

1912/Miss Florence Ann Hunt/Beer Retailer/../../Kelly's

1914/Miss Florence Ann Hunt/Beer Retailer/../../Kelly's

1917/Miss Florence Ann Hunt/Beer Retailer/../../Kelly's

1922/Miss Florence Ann Hunt/Beer Retailer/../../Kelly's

1925-6/Miss Florence Ann Hunt/Beer Retailer/../../Kelly's

1929/Miss Florence Ann Hunt/Beer Retailer/../../Kelly's

1933/Miss Florence Ann Hunt/Beer Retailer/../../Kelly's

1937/Miss Florence Ann Hunt/Beer Retailer/../../Kelly's

Note: Premises only named in 1881 & 1891 & 1901