Castle, High Street, Wickford
A listing of historical public houses, Taverns, Inns, Beer Houses and Hotels in Essex. The Essex listing uses information from census, Trade Directories and History to add licensees, bar staff, Lodgers and Visitors.
Pub closed in 1998 and demolished to be replaced by a supermarket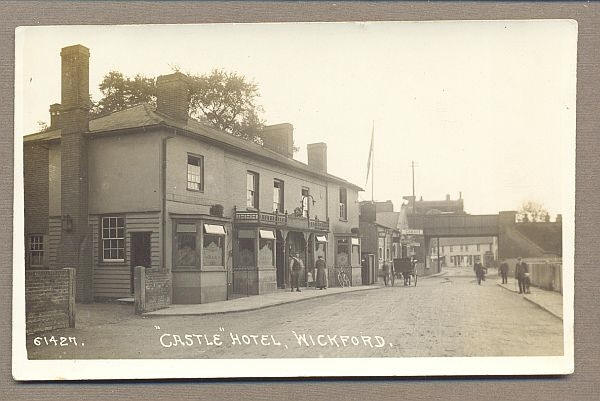 The Castle Hotel, Wickford - circa 1935
Kindly provided by Colleen
The following entries are in this format:
Year/Publican or other Resident/Relationship to Head and or Occupation/Age/Where Born/Source.
1828-9/Robert White/../../../Pigot's

1832-3/Robert White/../../../Pigot's

1839/John Jeffries/../../../Pigot's

1845/Charles Houghton/../../../Post Office

1848/Samuel Bridge/Victualler/../../White's

1851/Samuel Bridge/../../../Post Office

1851/Samuel Bridge/publican/42/Nevendon, Essex/Census **
1851/Mary Ann Bridge/wife/52/Rettendon, Essex/Census **
1851/Emelia Nunn/maidservant/18/South Benfleet, Essex/Census **
1851/Elizabeth Ealy/maidservant/16/Langdon Hills, Essex/Census **
1851/John King/ostler/33/Southend, Essex/Census **
1851/Joseph Davis/boots/13/Brentwood, Essex/Census **

1855/S. Bridge/../../../Kelly's*

1861/Ruben Dines/innkeeper/51/Witham, Essex/Census **
1861/Ann Dines/wife/47/Rettendon, Essex/Census **
1861/Sophia A Dines/daughter/24/South Fambridge, Essex/Census **
1861/Ruben Dines/son, butcher/19/South Fambridge, Essex/Census **
1861/Mary Ann Dines/daughter, scholar/15/South Fambridge, Essex/Census **
1861/James Dines/son, scholar/10/South Fambridge, Essex/Census **
1861/Louisa Dines/daughter, scholar/08/South Fambridge, Essex/Census **
1861/John W Dines/son, scholar/06/South Fambridge, Essex/Census **
1861/Emma E Dines/daughter/04/Wickford, Essex/Census **
1861/Ann Handley/house servant/17/Rawreth, Essex/Census **
1861/John Sorrell/ostler/47/Fryerning, Essex/Census **

1862/Reuben Dines/../../../Kelly's

1867/Reuben Dines/../../../Post Office

1870/Reuben Dines/../../../Kelly's

1871/Reuben Dines/../../../Post Office

1871/Reuben Dines/innkeeper/61/Witham, Essex/Census **
1871/Ann Dines/wife/56/Rettendon, Essex/Census **
1871/Mary A Dines/daughter/23/South Fambridge, Essex/Census **
1871/James Dines/son/20/South Fambridge, Essex/Census **
1871/Emma E Dines/daughter/14/Wickford, Essex/Census **
1871/Ann Handley/domestic servant/27/Rawreth, Essex/Census **
1871/John Dale/lodger, ag lab/65/Ramsden Crays, Essex/Census **
1871/James Balls/lodger, wheelwright/41/Maldon, Essex/Census **
1871/Isaac Gardiner/lodger, ag lab/45/Great Baddow, Essex/Census **
1871/Samuel Letch/lodger, ag lab/20/Nevendon, Essex/Census **
1871/Richard Carter/lodger, ag lab/36/Olten, Cambridgeshire/Census **
1871/George Dyson/lodger, jockey/20/Newmarket, Suffolk/Census **

1874/Robert Brice/../../../Kelly's

1878/John Bull/../../../Kelly's

1881/John Bull/Innkeeper/51/South Ockendon, Essex/Census
1881/Charlotte Bull/Wife/55/Ramsden Crays, Essex/Census
1881/Clara B. Wood/Niece, Assistant/16/Mile End, Middlesex/Census
1881/Ann Barns/General Servant/18/Laindon, Essex/Census
1881/James Turner/Ostler/15/Rettendon, Essex/Census
1881/Henry Lloyd/Lodger, Carpenter/45/Burstead, Essex/Census
1881/Zachariah Willsher/Lodger, Agricultural Labourer/26/Thundersley, Essex/Census

Note: Premises not named in 1881

1882/John Bull/../../../Kelly's

1886/John Bull/../../../Kelly's

1891/James Ruffhead/innkeeper/27/Sterrington, Bedfordshire/Census **
1891/Mary Ruffhead/wife/31/Nottingham/Census **
1891/Florence Ruffhead/daughter, scholar/12/Courteenhall, Northamptonshire/Census **
1891/Evelyn M Ruffhead/daughter, scholar/09/Courteenhall, Northamptonshire/Census **
1891/James S Ruffhead/son, scholar/07/St Pancras, London/Census **
1891/Agussa A Ruffhead/daughter/02/London/Census **
1891/Miriam J Field/niece, barmaid/21/Sterrington, Bedfordshire/Census **
1891/Elizabeth Lavender/general servant/17/Rochford, Essex/Census **

1894/James Ruffhead/Coal & Coke Merchant/../../Kelly's

1895/James Ruffhead/../../../Kelly's

1898/James Ruffhead/Coal & Coke Merchant/../../Kelly's

1899/James Ruffhead/../../../Kelly's

1902/James Ruffhead/Coal & Coke Merchant/../../Kelly's

1908/Mrs. Mary Ruffhead/../../../Kelly's

1912/Mrs. Mary Ruffhead/../../../Kelly's

1917/Mrs. Mary Ruffhead/../../../Kelly's

1925/Walter Blakeley/../../../Kelly's

1933/Walter Blakeley/../../../Kelly's

1937/Walter Blakeley/../../../Kelly's



* Provided by the Pubs, Inns and Taverns Index for England, 1801-1900

** Provided by John Mead