George, Newland Street, Witham
Witham pub history index

The George Inn and the Red Lion circa 1910 -1920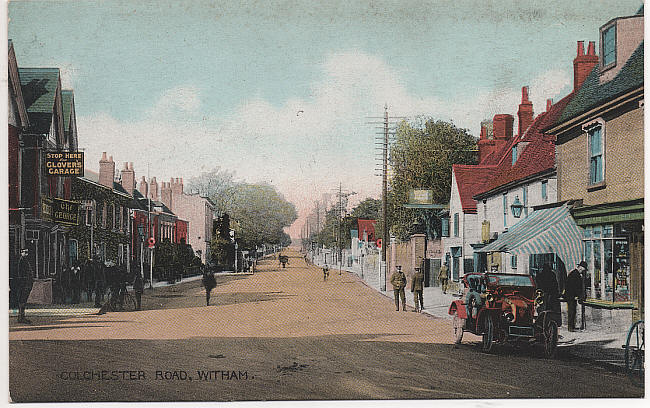 The George, Colchester Road, Witham - in 1925
Kindly donated by Colleen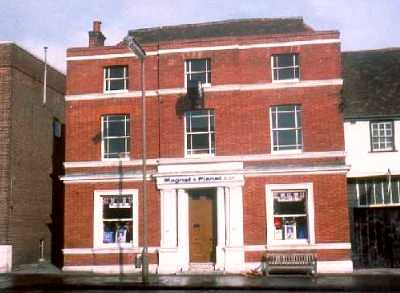 1977
Part of the original George which was licensed from the 1500's until circa 1800. Although the facia has changed, the internal structure is still the old George, Now the Town Hall.
Provided by Janet Gyford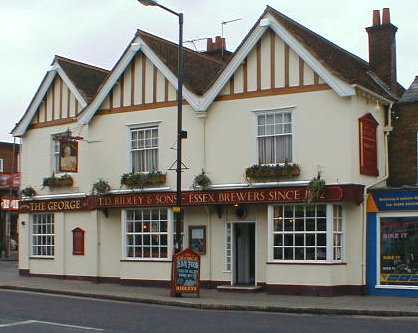 10th January 2001. The newer George, on a different site.
The following entries are in this format:
Year/Publican or other Resident/Relationship to Head and or Occupation/Age/Where Born/Source.
1791/William Sheldrick/../../../Universal British

1822/George Fenn/../../../Pigot's*

1823-4/George Fenn/../../../Pigot's

1828-9/George Fenn/../../../Pigot's

1932-3/George Fenn/../../../Pigot's

1839/William Cousins/../../../Pigot's*

1840/William Cousins/../../../Census

1841/William Cousins/Innkeeper/35/Not Essex/Census***
1841/Rachel Cousins/../35/Essex/Census***
1841/Rachel Cousins/../4/Essex/Census***
1841/Emma Cousins/../3/Essex/Census***
1841/Catherine Cousins/../1/Essex/Census***
1841/Maria Cousins/../4m/Essex/Census***
1841/Charlott Tilmoth/../18/Not Essex/Census***
1841/Louisa Hammond/Servant/30/Essex/Census***
1841/Eliza Freeborn/Servant/23/Essex/Census***
1841/William Aspino(?)/Servant/17/Essex/Census***

1845/William Cousins/../../../Post Office

1848/Walter Borroughs/../../../White's

1851/Walter Burroughs/../../../Post Office

1851/Walter Burroughs/Innkeeper 38/Bury St. Edmonds, Suffolk/Census*
1851/Caroline Burroughs/Wife/35/Leigh, Essex/Census*
1851/Eliza Burroughs/Daughter/10/Leigh, Essex/Census*
1851/Emily Burroughs/Daughter/7/Southminster, Essex/Census*
1851/Ellen Burroughs/Daughter/7/Witham, Essex/Census*
1851/William Wood/Ostler/24/Witham, Essex/Census*
1851/Elizabeth Saunders/Housemaid/22/Braintree, Essex/Census*
1851/Ellen Burge/Governess/17/Hampshire/Census*
1851/Henry Goldsbury/Lodger, Brushmaker/32/London, Middlesex/Census*
1851/Thomas Webster/Lodger, Baker/21/Sedgeford, Norfolk/Census*
1851/Edward Noble/Lodger,Linen Weaver/22/Topham, Norfolk/Census*
1851/Mary Move/Lodger, Housekeeper/57/Hockley, Essex/Census*

1855/W. Borroughs/../../../Kelly's

1862/Henry Chappell/Millwright & Appraiser/../../Kelly's

1863/Henry Chappell/Millwright & Appraiser/../../White's***

1867/Henry Chappell/Millwright/../../Post Office

1870/Henry Chappell/Brewer/../../Kelly's

1871/Henry Chappell/Brewer & Innkeeper/55/Witham, Essex/Census****
1871/Jane Chappell/../48/Witham, Essex/Census****
1871/Annie Chappell/Barmaid/18/Witham, Essex/Census****
1871/Arthur Barnard Chappell/../14/Witham, Essex/Census****
1871/Edith Alice Chappell/../12/Witham, Essex/Census****
1871/Kate Elizabeth Chappell/../10/Witham, Essex/Census****
1871/Charles Annett(?) Chappell/../8/Witham, Essex/Census****
1871/Henrietta Jane Chappell/../5/Witham, Essex/Census****
1871/Francis Abery/Visitor/59/London, Middlesex/Census****
1871/Sarah Cottee(?)/General Servant/19/Tollesbury, Essex/Census****
1871/Ann Hood/General Servant/16/Terling, Essex/Census****
1871/John Dadman/Pot boy /17/Rivenhall, Essex/Census****

1874/Henry Chappell/Brewer & Appraiser/../../Kelly's

1878/James Oakshot Manning/../../../Kelly's

1881/James Oakshot Manning/Publican/34/Newmarket/Census
1881/Sarah Manning/Wife/30/Barton, Suffolk/Census
1881/Alfred Cramer/Servant/16/Hatfield, Essex/Census

1882/James Oakshott Manning/../../../Kelly's

1886/James Oakshott Manning/../../../Kelly's

1890/Robert Steele Stoneham/../../../Kelly's

1894/Robert Steele Stoneham/../../../Kelly's

1895/Robert Steele Stoneham/../../../Kelly's

1898/Robert Steele Stoneham/../../../Kelly's

1899/Robert Steele Stoneham/../../../Kelly's

1901/Robert S Stoneham/Inn Keeper/42/Witham, Essex/Census
1901/Sarah Stoneham/Wife/53/Burton, Suffolk/Census
1901/Mary A Pulford/Niece, Barmaid/28/Woodbridge, Suffolk/Census

1902/Robert Steele Stoneham/../../../Kelly's

1906/Frederick William Filley/../../../Kelly's

1908/Frederick William Filbey/../../../Kelly's

1910/Frederick William Filbey/../../../Kelly's

1912/Frederick William Filbey/../../../Kelly's

1914/George Jeffery/../../../Kelly's

1917/George Jeffery/../../../Kelly's

1922/George Jeffery/../../../Kelly's

1925/Rufus Henry Brett/../../../Kelly's

1929/Rufus Henry Brett/../../../Kelly's

1933/Clifford Charles Osborne/../../../ Kelly's

1937/Clifford Charles Osborne/../../../Kelly's



* Provided by the Pubs, Inns and Taverns Index for England, 1801-1900

** Provided by Angela Ward

*** Provided by Janet Gyford

**** Provided by CG