White Hart, High Road, Woodford Bridge
Woodford Bridge pub history index
A listing of historical public houses, Taverns, Inns, Beer Houses and Hotels in Essex. The Essex listing uses information from census, Trade Directories and History to add licensees, bar staff, Lodgers and Visitors.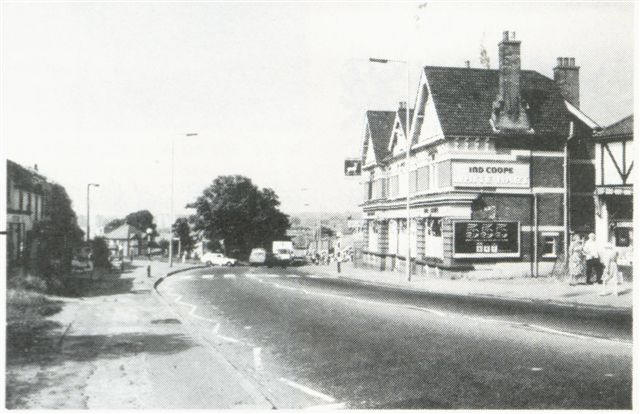 The White Hart, Woodford Bridge
Kindly provided by Colleen
The following entries are in this format:
Year/Publican or other Resident/Relationship to Head and or Occupation/Age/Where Born/Source.
1826/F. J. Williams/../../../Pigot's

1828-9/F. J. Williams/../../../Pigot's

1832-3/John Gould/../../../Pigot's

1839/Thomas Radley/../../../Pigot's

1845/Thomas Radley/../../../Post Office

1848/Thomas Radley/../../../White's

1851/Thomas Radley/../../../Post Office

1851/Thomas Radley/widower, victualler/44/Chigwell, Essex/Census **
1851/Robert Gould/stepson/20/not known/Census
1851/George Gould/stepson/17/Woodford, Essex/Census
1851/Mary Ann Radley/daughter, scholar/13/Woodford, Essex/Census

1852/T. Radley/../../../Kelly's*

1855/T. Radley/../../../Kelly's*

1860/Thomas Radley/../../../Kelly's*

1862/Thomas Radley/Blacksmith/../../Kelly's

1865/T. Radley/../../../Kelly's*

1867/Thomas Radley/Blacksmith/../../Post Office

1870/George Gould/../../../Kelly's

1871/George Gould/../../../Post Office

1874/George Gould/../../../Kelly's

1876/George Gould/../../../Kelly's*

1878/George Gould/../../../Kelly's

1881/George Gould/Publican/44/Woodford, Essex/Census
1881/Esther Gould/Wife/47/Chigwell, Essex/Census
1881/Mary Gould/Daughter/21/Chigwell, Essex/Census
1881/John Gould/Son, Clerk/19/Woodford, Essex/Census
1881/George Gould/Son, Clerk/18/Woodford, Essex/Census
1881/Esther Gould/Daughter/13/Woodford, Essex/Census
1881/Minnie Starling/Domestic Servant/17/Lambourne, Essex/Census

Note: Premises not named in 1881

1882/Mrs. Esther Gould/../../../Kelly's

1885/Mrs. Esther Gould/../../../Kelly's*

1886/James Kimber/Wine & Spirit Merchant/../../Kelly's

1890/James Kimber/../../../Kelly's

1891/George Gunn/Licensed Victualler/47/Camberwell, Surrey/Census
1891/Annie Gunn/Wife/39/Hertford, Hertfordshire/Census
1891/Isabel Gunn/Daughter/11/Willesden, Middlesex/Census
1891/Catherine Gunn/Daughter/9/Willesden, Middlesex/Census
1891/Grace Gunn/Daughter/8/Willesden, Middlesex/Census
1891/Gilbert Gunn/Son/7/Willesden, Middlesex/Census
1891/Ellen M. Gunn/Daughter/5/Hampstead, Middlesex/Census
1891/Wallace Gunn/Son/3/Islington, London/Census
1891/Hilda Gunn/Daughter/5m/Islington, London/Census
1891/Albert Linnett/Barman/15/Bromley By Bow/Census
1891/William Harrison/Manager/28/?, London/Census
1891/Elizabeth Harrison/General Servant/32/?, Essex/Census

1894/Alfred Reeves/../../../Kelly's

1895/Alfred Reeves/../../../Kelly's

1896/James Henry Wildon/../../../Petty Sessions

02/4/1898/Harry William Dawson/../../../Petty Sessions

1898/Harry Dawson/../../../Kelly's

1899/Harry Dawson/../../../Kelly's

1902/Harry William Dawson/../../../Petty Sessions

1902/Harry William Dawson/../../../Kelly's

20/8/1904/Joseph Thomas Stokes/../../../Petty Sessions

14/10/1905/Arthur Ernest Forrow/../../../Petty Sessions

1906/Harry Forrow/../../../Kelly's

05/1/1907/Thomas Movius/../../../Petty Sessions

16/11/1907/Frederick Mellish Johnson/../../../Petty Sessions

1908/Frederick M. Johnson/../../../Kelly's

1910/Frederick M. Johnson/../../../Kelly's

1911/Frederick Johnson/Licensed Victualler, Widow/41/Shalford, Essex/Census
1911/Mary Johnson/Mother, Assistant/64/Barking, Essex/Census
1911/Cicely Johnson/Daughter/13/Shoreditch, London/Census
1911/Elizabeth Weir/Barmaid/22/Haggerston, London/Census

06/1/1912/Annie Elizabeth Smith/../../../Petty Sessions

1912/Mrs. Annie E. Smith/../../../Kelly's

04/1/1913/Stephen Arthur Parish/../../../Petty Sessions

24/1/1914/Ernest Percy John Cole/../../../Petty Sessions

1914/Ernest P. J. Cole/../../../Kelly's

05/6/1915/William Lewis/../../../Petty Sessions

6/11/1915/Thomas Kew Whiteside/../../../Petty Sessions

16/12/1916/Frank Smeed/../../../Petty Sessions

1917/Frank Smeed/../../../Kelly's

28/4/1917/Elizabeth Oades/../../../Petty Sessions

1922/Ben Oades/../../../Kelly's

09/6/1923/Foord Russell Hill/../../../Petty Sessions

1925/Foord Russell Hill/../../../Kelly'

6/11/1926/Harry William Dawson/../../../Petty Sessions

1929/Harry William Dawson/../../../Kelly's

1933/Albert T. Simmons/../../../Kelly's

1937/William Mason/../../../Kelly's

From 1945 ish onwards the family of Leonard Tyler lived at the White Hart Woodford Bridge. ***



* Provided by the Pubs, Inns and Taverns Index for England, 1801-1900

** Provided by John Mead

*** Provided by Pamela Murphy de Freitas