Search London wiki and Pub wiki history sites
All public house, restaurants, bars etc closed for the forseeable future from 20th March 2020, but this is a history site.
Black Horse, 17 Castle Street, Cirencester, Gloucestershire
At 80 Castle Street in 1927
Cirencester pub history index
Directory of Pubs in the UK, historical public houses, Taverns, Inns, Beer Houses and Hotels in Gloucestershire. The Gloucestershire listing uses information from census, Trade Directories and History to add licensees, bar staff, Lodgers and Visitors.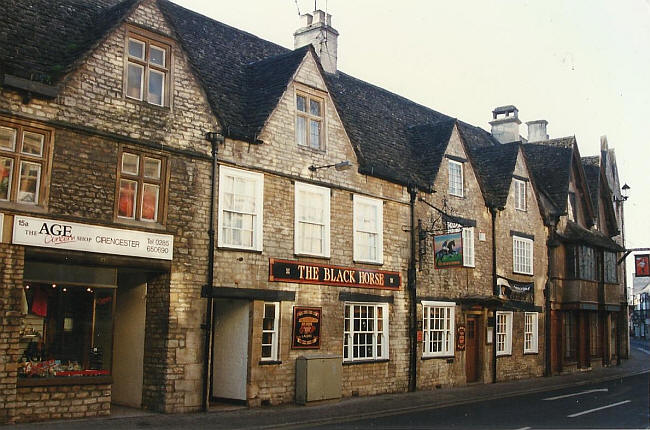 Black Horse, Cirencester - in the mid 1980's
Kindly provided by Derek King
The following entries are in this format:
Year/Publican or other Resident/Relationship to Head and or Occupation/Age/Where Born/Source.
1822-23/John Sealy/Castle Street/Pigots Directory *

1830/Thomas Kimber/Black Horse Tavern, Castle Street/Pigots Directory *

1847/Thomas Kimber/Black Horse Inn, Castle Street/Baily & Jones Appendix to Moores Almanack *

1849/Robert Arnold/Black Horse, Castle Street/Hunt & Co Directory *

1850/Robert Arnold/Black Horse Inn, Castle Street/North Wiltshire Directory *

1851/Robert Arnold/42/Innkeeper/Somerford, Wiltshire, Census *
1851/Eliza Arnold/42/Wife/.../Hankerton, Wiltshire, Census
1851/Sarah Arnold/17/Daughter/.../Cirencester, Gloucestershire, Census
1851/William Arnold/15/Son/.../Cirencester, Gloucestershire, Census
1851/Susan Arnold/12/Daughter/Scholar/Cirencester, Gloucestershire, Census
1851Mary Arnold/10/Daughter/Scholar/Cirencester, Gloucestershire, Census
1851/Frances Eliza Arnold/6/Daughter/Scholar/Cirencester, Gloucestershire, Census
1851/Thomas Hall/30/Lodger/Labourer/Cirencester, Gloucestershire, Census

1851/Edward Moss/44/Innkeeper/Rendcombe, Gloucestershire/Census *
1851/Hester Moss/30/ife//Cirencester, Gloucestershire/Census
1851/John Edward Moss/11/Son//Cirencester, Gloucestershire/Census
1851/Ann Hitchins/16/Servant/House Servant,Berkeley, Gloucestershire/Census

1861/Cornelius Joachim/Black Horse Inn, Castle Street/Keyworth Appendix to Moores Almanack *

1861/Cornelius Joachim/28/Innkeeper/Cirencester, Gloucestershire, Census *
1861/Mary Joachim/25/Wife/.../Paddington, Middlesex, Census
1861/Sarah Ook/30/Servant/House Servant/Bibury, Gloucestershire, Census
1861/Charlie Wigmore/16/Servant/Charlton, Wiltshire, Census

1863/Cornelius Joachim/Black Horse, Castle Street/Post Office Directory *

1871/Joel Berry/45/Innkeeper/Ampney Crucis, Gloucestershire/Census *
1871/Harriett Berry/45/Wife//Castle Eaton, Gloucestershire/Census
1871/Elizabeth Berry/23/Daughter//Ampney Crucis, Gloucestershire/Census
1871/William Berry/17/Son//Ampney Crucis, Gloucestershire/Census
1871/Joseph Berry/15/Son//Ampney Crucis, Gloucestershire/Census
1871Thomas Berry/13//Ampney Crucis, Gloucestershire/Census
1871/Emma Berry/10/Daughter//Ampney Crucis, Gloucestershire/Census
1871/Edward Berry/5/Son//Ampney Crucis, Gloucestershire/Census
1871/Robert Howes/27/Boarder/Painter & Plumber/Stratton, Gloucestershire/Census
1871/Sarah Howes/19/Boarder//Ampney Crucis, Gloucestershire/Census
1871/William Wills/58/Lodger/Carpenter/Cirencester, Gloucestershire/Census
1871/James Cole/25/Lodger/Plasterer/Cheltenham,Gloucestershire/Census
1871/Henry Timbrell/21/Lodger/Porter /Cirencester, Gloucestershire/Census

1874/Jacob Jenkinson/Black Horse Inn, Castle Street/Mercer and Crocker Directory *

1881/Thomas Mass/Publican & Reporter/37/Stratton, Gloucester/Census ****
1881/Annie Mass/Wife/39/Cirencester, Gloucester/Census
1881/Mary A Mass/Daughter/14/Stratton, Gloucester/Census
1881/Fanny Mass/Daughter/12/Stratton, Gloucester/Census
1881/Arthur Mass/Son/11/Stratton, Gloucester/Census
1881/Mahalaha Mass/Daughter/3/Stratton, Gloucester/Census
1881/Hannah Curtis/Cook/16/Duntisbourne, Gloucester/Census

1882/Thomas Mass/Black Horse Inn, Castle Street/North Wiltshire Directory *

1882 December/Black Horse Inn/License transfer Mr T Mann to Mr C Legg/Gloucester Citizen *

1891/Richard Barry/32/Licensed Victualler/Co Cork, Ireland/Census *
1891/Emily Barry/30/Wife//Kemble, Gloucestershire/Census
1891/David Barry/6/Son//Cirencester, Gloucestershire/Census
1891/Richard Barry/4/Sons//Cirencester,Gloucestershire/Census
1891/Catherine Barry/3/Daughter//Cirencester, Gloucestershire/Census
1891/Florence M Barry/7months/Daughter//Cirencester, Gloucestershire/Census
1891/Caroline Jordal /16/Servant/General Servant/Water Gaton, Wiltshire/Census
1891/Thos Eammings/18/Stableman/Tipperary, Ireland/Census

1894/Mrs Barry/../../../Kellys Directory ****

1898/Mrs Barry/Black Horse Inn, 79 Castle Street/Baily & Woods Cirencester Directory *

1900/Mrs Barry/Black Horse Inn, 79 Castle Street/Baily & Woods Cirencester Directory *

1901/R Chappell/Black Horse Inn, 79 Castle Street/Baily & Woods Cirencester Directory *

1901/Robert Chappell/32/Innkeeper/Shipton Moyne, Gloucestershire/Census *
1901/Emily Chappell/39/Wife//Kemble, Gloucestershire/Census
1901/David Barry/16/Harness & Saddler apprentice/Cirencester, Gloucestershire/Census
1901/Richard Barry/14/Railway Clerk/Cirencester, Gloucestershire/Census
1901/Catherine Barry/13/ /Cirencester, Gloucestershire/Census
1901/Florence M Barry/10/Step Daughter//Cirencester, Gloucestershire/Census
1901/Selina Hayward/21/Servant/Domestic Servant/Calcutt, Gloucestershire/Census

1902/R Chappell/Black Horse Inn, 79 Castle Street/Baily & Woods Cirencester Directory *

1902/Robert Chappell/../../../Kellys Directory ****

1906/Robert Chappell/../../../Kellys Directory ****

1910/Robert Chapple/../../../Kellys Directory ****

1927/Wm Geo Thornton/../../../Kellys Directory ****

1939/Albert Hy Bowers/../../../Kellys Directory ****



* Provided By Paul Best

**** Provided By Kevan