Search London wiki and Pub wiki history sites
All public house, restaurants, bars etc closed for the forseeable future from 20th March 2020, but this is a history site.
Railway Inn, 29 Sheep Street, Cirencester, Gloucestershire
At 10 Sheep Street in 1881 census and 1927
Cirencester pub history index
Directory of Pubs in the UK, historical public houses, Taverns, Inns, Beer Houses and Hotels in Gloucestershire. The Gloucestershire listing uses information from census, Trade Directories and History to add licensees, bar staff, Lodgers and Visitors.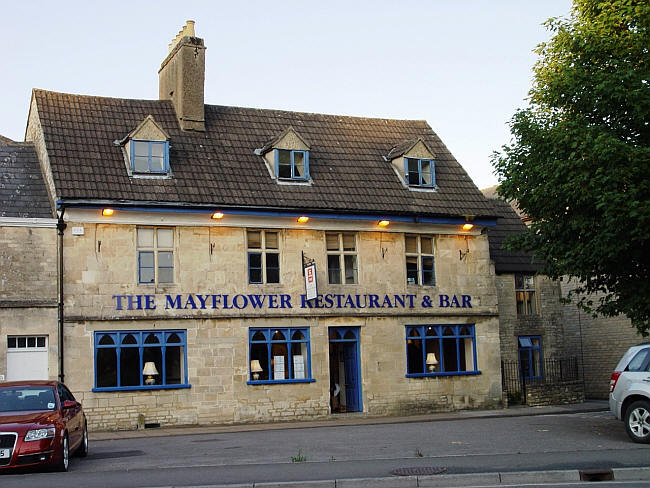 Railway Inn, 20 Sheep Street, Cirencester - in July 2013
Kindly provided by Paul Best
The following entries are in this format:
Year/Publican or other Resident/Relationship to Head and or Occupation/Age/Where Born/Source.
1850/William Brown/Railway, Sheep Street/North Wiltshire Directory *

1861/Joseph Pinchin/Railway Inn, Sheep Street/Keyworth Appendix to Moores Almanack *

1871/John Lock/32/Head/ ../Cirencester, Gloucestershire, Census *
1871/Georgina Lock/30/Wife/ ../Cirencester, Gloucestershire, Census
1871/Gertrude Lock/9/Daughter/Scholar/Cirencester, Gloucestershire, Census
1871/John Lock/4/Son/Scholar/Cirencester, Gloucestershire, Census
1871/George Viner/4/Grandson/Scholar//Cirencester, Gloucestershire, Census
1871/John Barnard/44/Lodger/Labourer/Cirencester, Gloucestershire, Census
1871/Thomas Lane/44/Lodger/Haulers Labourer/Cirencester, Gloucestershire, Census

1874/John Lock/Railway Inn, Sheep Street/Mercer and Crocker Directory *

1879/John Jew/Aerated Drink Manufacturer Railway Tavern, 10 Sheep Street/Bailys Cirencester Directory *

1881/John Jew/Innkeeper/45/Cirencester, Gloucester/Census ****
1881/Elizth Jew/Wife/51/Cirencester, Gloucester/Census
1881/Edward Jew/Son, General Labourer/18/Cirencester, Gloucester/Census
1881/Louie Jew/Daughter/9/Cirencester, Gloucester/Census
1881/Florence Jew/Daughter/6/Cirencester, Gloucester/Census
1881/John Jew/Son/9/Cirencester, Gloucester/Census
1881/Jane Ritchins/Domestic Servant/16/Little Sodbury, Gloucester/Census
+ Boarders & Lodgers

1882/John Jew/Railway Tavern, Sheep Street/North Wiltshire Directory *

1889/John Jew/Railway Inn & Timber & Drainpipe Merchant 10 Sheep Street/Kellys Directory *

1894/John Jew/../../../Kellys Directory ****

1897/John Jew/Railway Inn P *H, 10 Sheep Street/Kellys Directory *

1898/John Jew/Railway Inn, 10 Sheep Street/Baily & Woods Cirencester Directory *

1900/John Jew/Railway Inn, 10 Sheep Street/Baily & Woods Cirencester Directory *

1901/John Jew/Railway Inn, 10 Sheep Street/Baily & Woods Cirencester Directory *

1901/John Jew/66/Tavern Keeper/Cirencester, Gloucestershire, Census *
1901/Elizabeth Jew/Wife/70/.../Cirencester, Gloucestershire, Census
1901/John Jew/23/Son/Carpenter/Cirencester, Gloucestershire, Census
1901/Henry Timbrell/43/Boarder/General Labourer/Cirencester, Gloucestershire, Census
1901/Beatrice A Chandler/18/Servant/Servant Domestic/Bath, Somerset, Census

1902/John Jew/Railway Inn, 10 Sheep Street/Baily & Woods Cirencester Directory *

1902/John Jew/../../../Kellys Directory ****

1906/John Jew/../../../Kellys Directory ****

1910/Augustus Harman/../../../Kellys Directory ****

1923/Augustus Harman/../../../Kellys Directory ****

1927/Augustus Harman/../../../Kellys Directory ****

1939/Harold Weaver/../../../Kellys Directory ****



* Provided By Paul Best

**** Provided By Kevan