Search London wiki and Pub wiki history sites
All public house, restaurants, bars etc closed for the forseeable future from 20th March 2020, but this is a history site.
Twelve Bells, 12 Lewis Lane, Cirencester, Gloucestershire
At 52 Lewis Lane in 1927
Cirencester pub history index
Directory of Pubs in the UK, historical public houses, Taverns, Inns, Beer Houses and Hotels in Gloucestershire. The Gloucestershire listing uses information from census, Trade Directories and History to add licensees, bar staff, Lodgers and Visitors.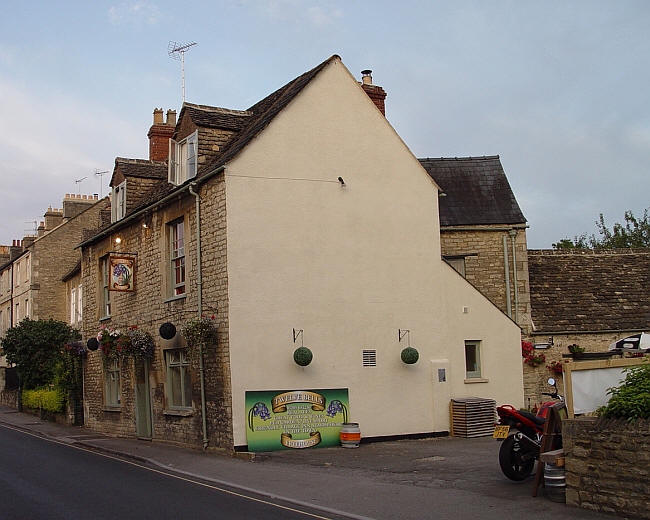 Twelve Bells, Lewis Lane, Cirencester - in 2013
Twelve Bells sign, Lewis Lane, Cirencester - in July 2013
Kindly provided by Paul Best
The following entries are in this format:
Year/Publican or other Resident/Relationship to Head and or Occupation/Age/Where Born/Source.
1868/William Hinton/Twelve Bells, Lewis Lane/Slaters Directory *

1874/Frederick Weskett/Twelve Bells Inn, Lewis/Mercer and Crocker Directory *

1879/Frederick Weskett/Twelve Bells, 51 Lewis Lane/Bailys Cirencester Directory *

1881/Frederick Weskett/Inn Keeper & Haulier/39/Wantage, Berkshire/Census ****
1881/Frances Weskett/Wife/36/Pontymoll, Monmouth/Census
1881/Frederick W Weskett/Son, Post Masters Assistant (CS Clerk)/16/Pontymoll, Monmouth/Census
1881/Alfred Weskett/Son, Post Masters Assistant (CS Clerk)/15/Exeter, Devon/Census
1881/Elizabeth Weskett/Daughter/13/Exeter, Devon/Census
1881/Frances L Weskett/Daughter/11/Cirencester, Gloucester/Census
1881/Austin Weskett/Son/7/Cirencester, Gloucester/Census
1881/Albert Weskett/Son/5/Cirencester, Gloucester/Census
1881/Edwin Weskett/Son/4/Cirencester, Gloucester/Census
1881/Annie Weskett/Daughter/3/Cirencester, Gloucester/Census
1881/Robert Jelley/Lodger, Groom/39/Northampton/Census

1882/Frederick Weskett/Twelve Bells Inn, Lewis Lane/North Wiltshire Directory *

1884 February/Twelve Bells Inn/Holdover license granted to Mr George Fowler/Gloucester Citizen *

1889/George Henry Wicks/Retailer & Smith 51 Lewis Lane/Kellys Directory *

1894/Geo Hy Wicks/../../../Kellys Directory ****

1897/George Hy Wicks/Twelve Bells P *H, Lewis Lane/Baily & Woods Cirencester Directory *

1898/George Wicks/Twelve Bells Inn, 51 Lewis Lane/Baily & Woods Cirencester Directory *

1899 December/Twelve Bells Inn/License transfer to Mr William Thomas Tanner/Gloucestershire Citizen *

1900/W T Tanner/Twelve Bells Inn, Lewis Lane/Baily & Woods Cirencester Directory *

1901/-- Tanner/Twelve Bells Inn, Lewis Lane/Baily & Woods Cirencester Directory *

1902/-- Tanner/Twelve Bells Inn, Lewis Lane/Baily & Woods Cirencester Directory *

1902/Wm Thos Tanner/../../../Kellys Directory ****

1906/Wm Thos Tanner/../../../Kellys Directory ****

1910/John James Hall/../../../Kellys Directory ****

1923/Tom Ravenhill/../../../Kellys Directory ****

1927/Tom Ravenhill/../../../Kellys Directory ****

1939/Victor Gillman/../../../Kellys Directory ****



* Provided By Paul Best

**** Provided By Kevan